Sdeung Phearong: NGO Chief's Success Story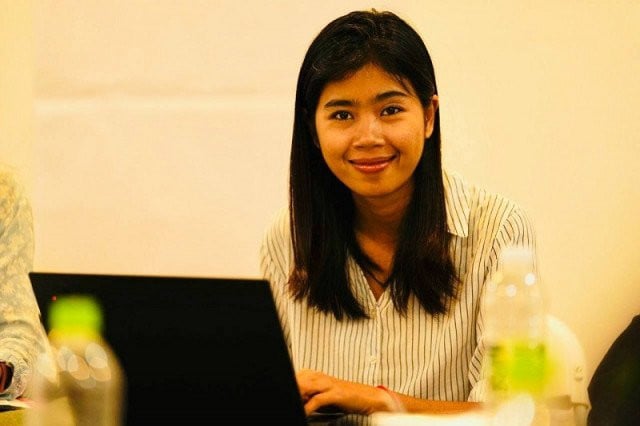 A girl's journey against the odds
PHNOM PENH – Sdeung Phearong nearly missed out on the chance of higher education. After high school in 2012, she begged her parents to let her leave her village in Kampong Cham province and study in Phnom Penh.
Her family was poor and knew it was risky but she was tearful and persistent.
So, with the help of a teacher who was a director of a Khmer association, her parents made the difficult decision to let her travel alone from Damnak Pongro village to the capital.
It was the start of a journey which saw her complete her degree, enter the workforce and rise to become executive director of a non-governmental organization at the age of 28.
Phearong now leads Banteay Srei, an organization that promotes gender equality and women's leadership in rural areas.
The position lets her use the knowledge and skills she has obtained to support other women in rural areas to show their leadership potential.
She wants to see Cambodian society support and provide more opportunities for women to strengthen their abilities and become leaders.
She says there is still gender inequality and that Cambodia will develop more quickly when women are given full opportunities.
Social pressure and disregard for education for young females prevent many from discovering their potential or force them to marry young, negative perspectives which along with poverty nearly trapped Phearong.
She has become the only one among her five siblings to get a higher education.
Phearong said she could not believe that she had been able to achieve this job sooner than expected but sees the value of her relentless efforts, mental strength and dedication over almost a decade.
She hardly found time to rest over this period. While she was doing her bachelor's degree in International Relations (IR), she had to study twice as hard as others to keep up with those who grew up in the city.
Regardless of her busy university schedule, she made time to do volunteer work and worked part-time at night and on weekends to support herself.
"This success was achieved quickly but other people may think that it takes a long time," she said.
"I tried my best. I was trying so hard that I did not have time to have fun at all." She said she lost a part of her life – the time for meeting up with friends and hanging out with them.
"To succeed, I had to sacrifice, and I did sacrifice a lot. And those around me also devoted a lot to helping me. I have a mentor. I have a teacher who guides me," she said.
They were like a school to her and she had learned a lot from them.
Commitment to Leadership Potential in Rural Areas
With great power comes great responsibility. Becoming an executive director of a civil society organization sooner than expected is a source of pride but it comes with worries and a heavy burden of responsibility.
Although she has many years of experience of being a decision-maker, Phearong said that learning never ends. There were many things she needs to improve to fulfill the role effectively and to impact the target community positively.
"I believe that every woman has leadership abilities but they are not given the full opportunity to show their potential," she said.
"So, with the role that I have here, I think it is an opportunity for me to work with them, to help them find themselves, strengthen themselves, and become a role model in the community."
In the last 10 years, she has worked extensively as a volunteer, leader and decision-maker in national and international organizations. She was also an intern at the EU delegation to Cambodia and an assistant to the British Ambassador to Cambodia.
She saw more and more women playing leadership and decision-making roles in the economic, civil, public, and private sectors. Many women are running small businesses, while in private companies there are more qualified women in leadership roles.
Likewise, in civil society organizations, more women have played a role as a leader than before.
Phearong, however, noted that gender equality is required for many roles in those sectors, especially in politics and government jobs.
Nevertheless, she admits that promoting gender equality takes time. From her perspective, women will not be able to fully empower and unleash their full potential without support and opportunities.
She gives as an example of encouragement from a husband, family and society.
"First, give women the opportunity to participate if they need to be encouraged. Another thing is that anything that can be shared should be shared with women," she says.
"A woman should not play the role of earning money for the family and have to take care of all the housework as she used to. It makes her exhausted and, in the worst case, feel like giving up.
"So, she has to choose which one she wants. Normally, a woman is highly emotional because the love she has for her parents, her husband, and her children is overwhelming.
"Therefore, if she was to choose between work and children, then, believe me, she wouldn't give up on her children, because she loves them a lot."
Phearong believes that we can not achieve gender equality in the next 10 years unless everyone understands each other, helps share their work and encourages each other to achieve goals together.
She hopes that in the next 10 years, gender inequality will be diminished and Cambodia will be full of men, women, girls and youth who will get a quality education.
On top of that, she also wants to see more strong women as role models for the next generation of women.
Related Articles