SEA Games 2023: Cuban coaches to Train Cambodia Volleyball Teams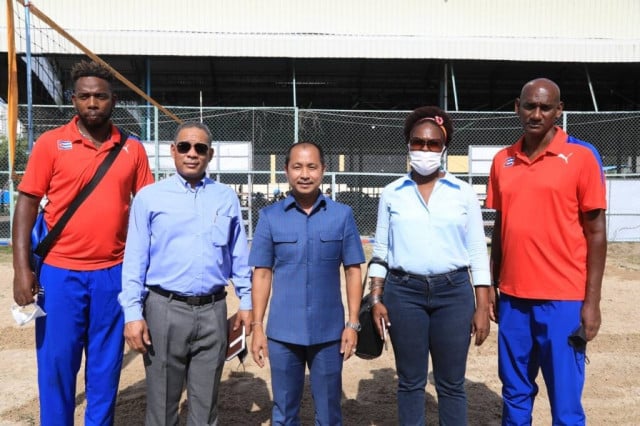 PHNOM PENH – The Volleyball Federation of Cambodia has brought two coaches and two technical officers from Cuba to train Cambodian indoor and beach volleyball national teams, ahead of the 32nd Southeast Asian Games (SEA Games) 2023.
The Cuban delegation includes Karell Pena Ventoza, coach for the beach volleyball team, Berto Friol Barrios, who will train the indoor volleyball team, and Leonid Abum Castillo and Natyelis Riol Cardenas, who are technical officers.
The four Cubans met with Ang Serey Piseth, secretary general of the Volleyball Federation of Cambodia on Aug. 29 at the Olympic Stadium. They also visited the facilities of the beach volleyball national team, which are also located in the stadium's compound.
During the 2021 SEA Games in Vietnam (which were postponed to May 2022 because of COVID-19), the Cambodian beach volleyball team won some games but failed to get on the podium. They finished in 5th place.
"As federation leaders, we do not want this ranking, we want a medal. [This is why] we invited a Cuban coach to train the beach volleyball team," Piseth said. "We also plan to create a beach volleyball trophy to test the technique and assess the results of the training."
The secretary-general stressed that the Cambodian indoor volleyball team already has a Chinese coach, Li Jun, who led the players to win a bronze medal at the SEA Games in Vietnam. That third place helped Cambodia break its medal record, by bringing 62 medals back from Hanoi.
The federation wants to repeat the feat next year in Cambodia, or even hopes to increase the medal tally. The Cuban volleyball coaches and technical advisors are here to fulfill that strategy.
SEA Games 2023 will be held from May 5 to 16, 2023. It will be the first time in Cambodia's history the country hosts the multi-sports regional contest.
Related Articles