SEA Games Volunteers Rewarded with Memories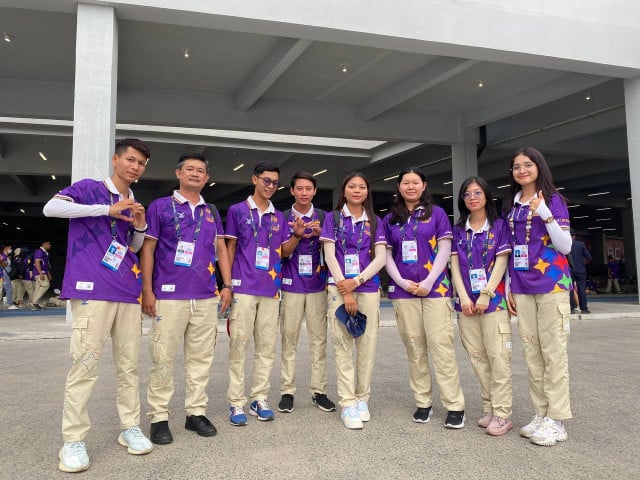 PHNOM PENH – Six thousand volunteers who made the 32nd SEA Games possible have been left with memories and experiences — from sweet to bitter — which will linger for a long time in their hearts.
"It's an honor to be a part of this incredible event," said Lao Nara, who helped at the Sepak Takraw and chinlone competitions at the Olympic Stadium.
She said she was excited with her role as a volunteer for the international event.
"The memorable memory for me is being able to meet my team," she said. "They are the examples for me to be able to enjoy and work hard even though everything is so hard and messy sometimes."
Vong Saravuth said the end of the Games was a new beginning for Cambodia's international image.
"I'm glad I was one of the volunteers at this event and I think that's one of the stories I will tell my kids and my next generation about how well we have started the event," he said.
Lanh Leak, the liaison officer of Malaysia's athletes, said he volunteered because it was a good opportunity as a Cambodian to be a part of the Games.
"We were trying our best to support the 32nd SEA Games," he said.
Peun Sotheary, the liaison officer for Myanmar's athletes, said she volunteered because this was the first time in 64 years that Cambodia hosted this historic event.
"This is our first time as a volunteer as a teenager and we have this opportunity to do the work, so it's such an honor for us," she said.


Demanding yet exciting duty
Lanh Leak recalled that the volunteers warmly welcomed delegations and athletes at the airport despite how long they had waited for their arrival.
The volunteers kept smiling and tried to communicate with the athletes and sport delegations of other countries to understand each other. They also accompanied the guests to their accommodations or the sport village where they were staying.
Sotheary said the liaison officers had to wake up early to facilitate the process of bringing athletes from their accommodation to the venues.
Lanh Leak said they had to arrive at the hotels around 6am. "We had a schedule for ourselves, making sure we wouldn't be late for the guests so that the guests wouldn't be waiting for us. However, we are happy to be a part of it."
Sotheary, who graduated recently from high school, said she learned many things from being a volunteer. Meeting new people, especially people from other countries, taught her how to behave as a volunteer in this kind of public event.
Vong Saravuth said that building a network, knowing new types of sport and the effective use of social media to spread information had been his three lessons from volunteering, which benefits individuals and society.
"Volunteerism seems like a free-of-charge job," said Saravuth. "But I just want to remind everyone that if we do it out of love, energy, and time, volunteerism is one of the priceless things, meaning it's the most valuable thing that we can give to society."
Lanh Leak has volunteered at other events but there were memories that made the SEA Games special. One was the good communication and views exchanged with the Malaysian team.
"We learned from each other. We understood each other. We felt like they are also a part of us, our family and our memory," Lanh Leak said.
Related Articles