Second Expressway to Connect Capital to Bavet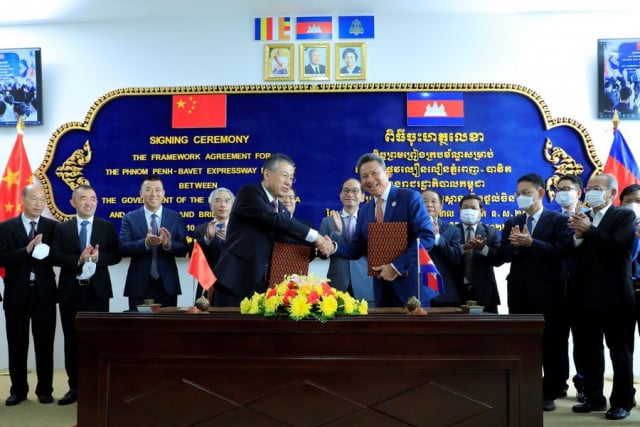 PHNOM PENH – Construction of Cambodia's second expressway, connecting Bavet city in Svay Rieng province to Phnom Penh, will start next year.
The Ministry of Public Works and Transport and the China Road and Bridge Corporation (CRBC) have signed a framework agreement to build the road after the success of the Phnom Penh-Sihanoukville Expressway.
The signing ceremony took place on Nov. 10 attended by Sun Chanthol, Minister of Public Works and Transport, and senior representatives of the CRBC.
The 138km expressway is projected to cost $1.6 billion, funded by the CRBC.
Chanthol said the second expressway will be less wide and shorter than the Phnom Penh-Sihanoukville Expressway. Construction will be completed in late 2026 or early 2027.
The expressway will connect China, Myanmar, Thailand, Cambodia and Vietnam through the ASEAN highway route 1, which is being expanded from two to four lanes from Poi Pet to Phnom Penh and from Phnom Penh to Bavet.
It will join up with the Vietnamese expressway from Ho Chi Minh City to Moc Bai on the other side of the border from Bavet.
"The expressway will become a driver for socio-economic development of Kandal, Prey Veng, and Svay Rieng provinces, and will also improve Cambodia-Vietnam connectivity by facilitating the flow of people, goods, and capitals across the border significantly," a senior Chinese company representative said.
The representative said the firm is looking forward to signing a public-private partnership contract soon which will open a new chapter of the win-win cooperation and friendship between Cambodia and China.
The first expressway was completed ahead of schedule. The Chinese firm said its success proved the capability and efficiency of the construction.
Work on the Phnom Penh-Sihanoukville Expressway, which is 187km long and 24m wide, began in March 2019. It crosses Kandal, Kampong Speu, and Koh Kong provinces.
According to the Ministry of Public Works and Transport, the number of vehicles using the expressway during the free period in October reached 437,381 within 31 days. Charges resumed on Nov. 1.
Related Articles