Selling Green Peafowl Eggs Grows Alarmingly in Kratie Sambo Wildlife Sanctuary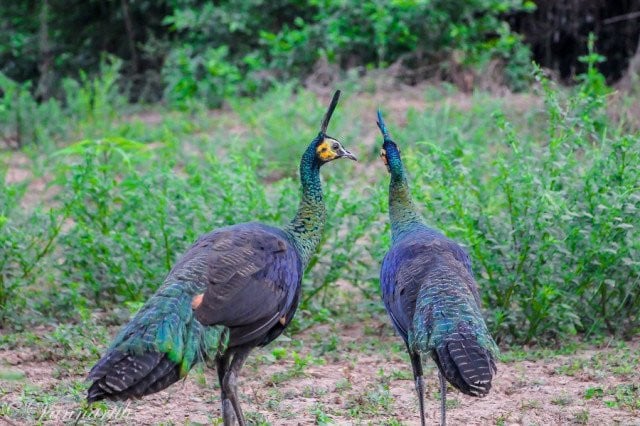 This new trend, which started around two years ago, threatens an already endangered species
KRATIE – The business of selling green peafowl eggs is growing alarmingly in Sambo Wildlife Sanctuary, Kratie province, Sambo district, as no conservative measure has been set out to preserve the endangered species.
Chief of the Koh Sam Seb (30 Islands) Ecotourism Community, Khut Samoul, said that the business of collecting green peafowl eggs from the wild seems to have increased significantly in the last two years. Traders either sell the eggs immediately after collecting them, or keep them until they hatch so people can raise the young and decorate their homes.
A green peafowl egg can be sold around 40,000 to 50,000 riels, or roughly $10-$12.5, he said.
The business of trading green peafowl eggs continues to occur widely across Prey Sambo Nature Reserve, especially in the area of Koh Sam Seb, said Khut Samoul. He is concerned that this illegal trade will reduce the presence of green peafowls and may lead to the extinction of this species in the future, he added.
According to local people, the green peafowl egg pickers are mostly from the Kui and Bunong indigenous groups.
"So far, there is no measure to protect and conserve green peafowls. Thus, indigenous people appreciate picking peafowl eggs for sale, as it is a way to sustain their livelihood," Samoul said. "I don't think they understand that they are slowly threatening this natural resource. For us, all they do is make a living."
Nob Vannarith, an area coordinator at Non-Timber Forest Products-Exchange Programme (NTFP-EP) Cambodia, said that between 2020 and 2022, the collection of green peafowl eggs for hatching and sale has increased while the species has been added to the red list of endangered species in 2009.
The threat to the eggs can reduce the whole presence of green peafowls, he added.
Vannarith does not encourage people to adopt green peafowl in their homes, adding that the animal should be protected and live its life in the wild.
"Picking green peafowl eggs to hatch and sell in this area (Koh Sam Seb) is alarming," he said. "As a bird lover, I do not encourage raising birds in the house. All animals should live in nature."
So Sakan, deputy director of Sambo Wildlife Sanctuary, said that in the past, no one used to enter the forest to pick green peafowl eggs for business. He started to receive information about such a trade only a year ago, he said.
Sakan sent rangers to monitor and search for such activities, but they never found any signs of this trade.
"I have heard about people going into the forest to pick green peafowl eggs, but I couldn't figure out the location or who is responsible for it," he said.
Being a majestic species, green peafowls are a tourist attraction for people hiking in the Wildlife Sanctuary. As a result, Sakan is committed to protecting them to ensure its presence in the protected area and for the benefit of the Koh Sam Seb (30 Island) tourism community.
Koh Sam Seb tourism community lies 95 kilometers North of Kratie Province's capital, along the Mekong River. With the help of NTFP-EP Cambodia and the WWF, Koh Sam Seb was established in 2018.
In 2021, green peafowls living in protected areas in Cambodia increased from 2,000 to 3,000 individuals. Green peafowls are native to Southeast Asian tropical forests. Their presence is detected in Myanmar, Thailand, Cambodia and some islands in Indonesia. According to expert studies, the number of adult peafowls stands between 15,000 and 20,000 individuals. Cambodia is estimated to have the largest number of green peafowls in the world.
Related Articles