Senior Police Order an End to Stick Beatings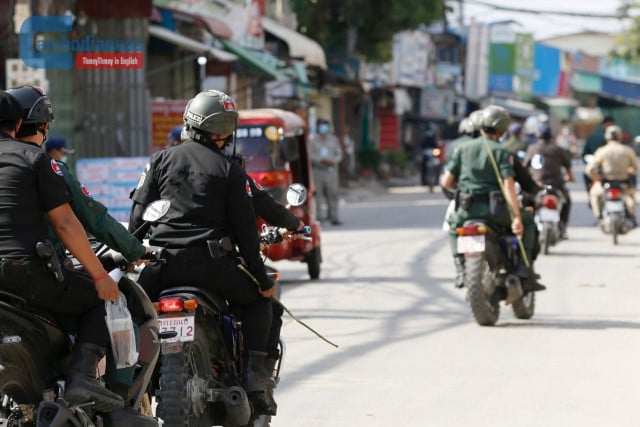 Lay Sopheavotey and Phoung Vantha
April 22, 2021 6:04 AM
Public backlash prompts action from authorities

PHNOM PENH--Police have been ordered to stop beating people breaking restrictions in COVID-19 red zones, after video of officers lashing out with sticks caused a public outcry.
National Police Commissioner Neth Savoeun gave the order after instructions from Interior Minister Sar Kheng.
Sar Kheng told the police force to avoid using violence and urged officers to remain patient when dealing with the public.
Footage has emerged showing residents in red zones of Phnom Penh being beaten after reportedly leaving their homes without permission. Authorities said earlier that beating rule-breakers with sticks is to prevent the spread of the virus.
However, Sen Karuna of human rights organization ADHOC said the use of violence is illegal. It violates the rights of individuals and cultivates a culture of violence that the country has tried to eradicate.
National police spokesman Chhay Kim Khoeun said the police commissioner had issued the order with immediate effect.
Phnom Penh Municipal Police chief Sar Thet said that authorities have not beaten residents. They had only wielded sticks to scare people into following the government's instructions, especially not to leave their homes if they lived in the red zones.
"It's just like parents using sticks to scare their children," he said. "It's just to warn them. The authorities didn't beat people."
Sar Kheng said he understood the challenges law enforcement faced but urged police to be patient.
"Please continue to perform your duties patiently, adhere to discipline, dignified behavior, and adhere strictly to the principles of the professional code of conduct of the armed forces, especially to avoid the use of violence in solving problems when implementing all regulations or measures of the government," he said.
He urged all citizens to take part in implementing the government's measures, as well as to cooperate in following the instructions of the authorities to end the spread of COVID-19.
According to City Hall, newly established red zones include Sangkat Stung Meanchey I, II, III in Khan Meanchey, Sangkat Chom Chao I, Khan Por Senchey, and village 14, 16,17 in Sangkat Boeung Salang, Khan Toul Kork.
Individuals are prohibited from leaving their homes, including for exercise or sporting activities.
Related Articles