Siem Reap school bans single-use plastics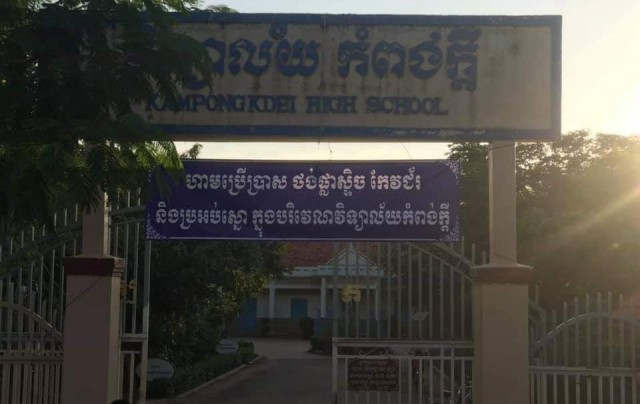 Sao Sokeng
December 2, 2019 2:28 AM
Move comes as government prepares sub-decree to promote glasses and straws made from bamboo and paper

SIEM REAP - Kampong Kdey High school has banned single-use plastics to fight pollution and preserve the school's environment.
Principal Preap Mony said the school has been implementing the measure for a year at the instruction of the provincial Department of Education.
"Most of our students have clearly understood as now they bring their own food packs and personal drinking bottles and they are more responsible," he said.
"They also learn to reuse things, especially to continue to properly manage the waste at school."
The principal said some students nevertheless continue to bring plastic packaging to school.
"But it is still a small percentage and there is a huge change if we compare to when there was no plastic regulation," he said.
"Any students who throw away rubbish carelessly will be fined 500 riel."
According to the Ministry of Environment, Cambodia produces up to 10,000 tonnes of trash each day of which Siem Reap accounts for around 400 tonnes.
The ministry says it is working on a sub-decree to ban all single-use plastics and encourage the use of glasses and straws made from bamboo and paper.
Related Articles