Siem Reap's Royal Residence to be Rebuilt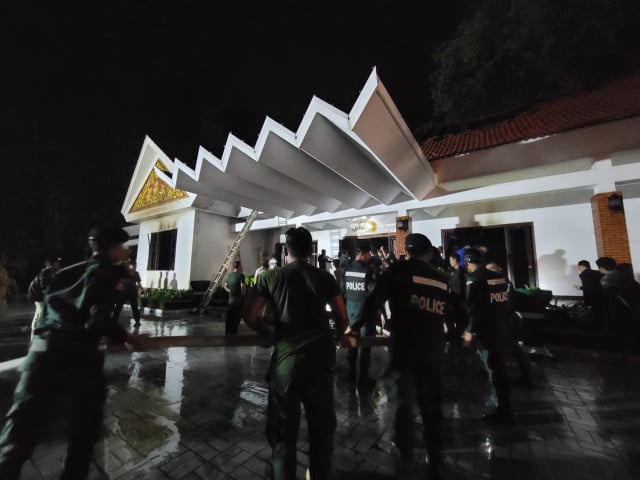 PHNOM PENH – Part of Siem Reap's Royal Residence destroyed by fire will be rebuilt, Queen Mother Norodom Monineath Sihanouk says. She thanked people at home and abroad who expressed condolences over the incident.
"The 70-year-old Siem Reap Royal Palace has great historical and national significance with the royal struggle for independence after campaigning abroad, including in France, Canada, the United States, Japan and Thailand," she wrote in a letter dated March 14.
The fire was traced to an electrical problem. Provincial authorities said it broke out around 10pm on March 12 and was brought under control about two hours later.
The Queen Mother thanked the Ministry of the Royal Palace, as well as local authorities and firefighters for their immediate intervention.
At the request of Minister of the Royal Palace Kong Sam Ol, the damaged part of the building will be rebuilt soon, the Queen Mother said.
The fire started in a small building on the residential compound, the ministry said.
The Royal Residence is where former kings, King Norodom Sihanouk and the Queen Mother would stay during trips to the province.
The residence was the base of the royal crusade for independence from France. The late King Father was there, planning and calling people from all walks of life to show their willingness to demand independence from France.
"I was greatly honored to accompany him in the historical crusade in Siem Reap, Kampong Thom, and Battambang, which was an autonomous region at that time until independence was successfully granted to the kingdom on Nov. 9, 1953," the Queen Mother said.
Provincial authorities have erected barricades around the building to stop people from approaching.
Related Articles