Sihanoukville Authorities Bow to Public Pressure, Reverse Street Vendor Ban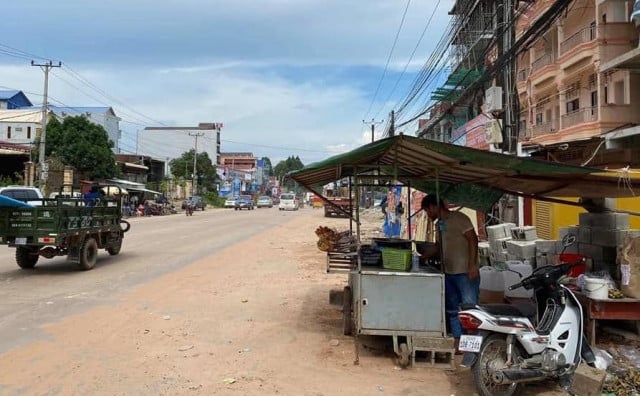 Lay Sopheavatey
June 23, 2020 8:26 AM
After a week of angry criticism from the people of Sihanoukville, Governor Y Sokleng has relented and instead chosen to negotiate with street vendors.
PHNOM PENH--Sihanoukville authorities on Monday (June 22) reversed their decision to ban mobile street vendors selling in public spaces. Governor of Sihanoukville, Y Sokleng said that vendors could sell as normal, but must adhere to measures to ensure the city's cleanliness.
"Those who sell things at construction sites are not allowed to sell on streets or sidewalks which could cause traffic congestion," said Sokleng in a phone interview. "Those who sell things on beaches are also required to maintain public order, prepare proper trash bins and not to install sitting spaces for their clients."
He added that those sellers who have no proper homes need to rent a place to avoid setting up permanent premises on public spaces.
Last week, Sokleng announced that the authorities would prohibit all street vendors from working in public spaces and on the streets in an effort to maintain public order. This, it was hoped, would beautify the coastal city that has long been ravaged by an almost endless slew of Chinese-funded construction projects.
Sokleng referred to those who normally roam around the city, selling random things such as fried noodle, porridge, Khmer noodle, soft drinks as well as clothes on three-wheel carts or motorbikes.
"Sidewalks are not for people to sell things. We don't want to stop people from selling things or take away their right to sell, they can sell anything they want to, but we won't allow them to use streets and other public lands to sell their goods," Sokleng explain in a phone interview earlier on Monday.
However, Sokleng's proposed new policy was met with sharp criticism and around 100 people gathered in front of city hall to protest the new measures, arguing that it would place even harsher burdens on them during a time of great economic uncertainty in the wake of the Coronavirus Disease 2019 (COVID-19) pandemic.
Prime Minister Hun Sen announced on June 14 that official government analysis suggests that the economy will contract by 1.9 percent in 2020 and bounce back to 3.5 percent growth in 2021—but these figures are contradicted by the Asian Development Bank who, in a recent report, announced that Cambodia's economy would slow by 5.5 percent for 2020.
Likewise, critics noted that the proposed policy was targeting those employed in the informal sector, which the Labor Ministry estimated to be around 90 percent of all Cambodians in December 2019.
One of the street vendors who took part in the protest, Chhit Sokly, who sells papaya salads, expressed his excitement to learn that the authorities have agreed to reverse the ban.
"It has been over a month since I was caught by the authorities, since then I have sold things with anxiety and kept having to run away whenever I saw the authorities. On top of that, I also have lost more than half of my income because I have no proper place to do business, but also due to the COVID-19 pandemic," Sokly said.
He concluded that authorities' solutions should reflect the realities of the people they seek to represent—policies should be more practical and should be developed with citizens' needs in mind, instead of pushing them over the edge.
Related Articles