Singapore attempts to avert diplomatic breach with Cambodia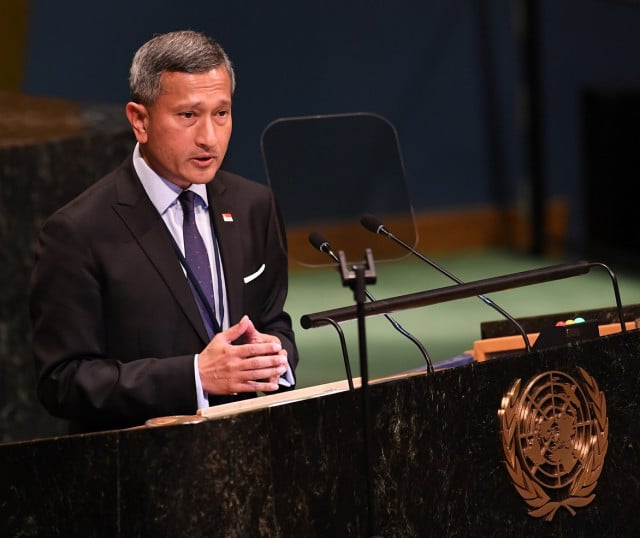 Singapore says highly values ties with Cambodia and had no sympathy for the Khmer Rouge Regime
PHNOM PENH--Singapore's Ministry of Foreign Affairs issued a statement Friday in response to Cambodia and Vietnam's anger following comments made by Singapore Prime Minister Lee Hsien Loong to the effect that Vietnam's overthrow of the Khmer Rouge in January 1979 had amounted to an "invasion."
"Singapore highly values its relations with Cambodia and Vietnam," the statement read. "Notwithstanding our differences in the past, we have always treated each other with respect and friendship. Bilateral relations have grown in many areas, and we worked together with other Southeast Asian countries to build a cohesive and united ASEAN."
On May 31, Lee wrote on Facebook that, in his letter of condolences to Thailand following the death of former Thai Prime Minister Prayut Chan-o-cha, he had mentioned the late premier's role in Asean to oppose "Vietnam's invasion of Cambodia and the Cambodian government that replaced the Khmer Rouge."
Prime Minister Hun Sen Thursday night reacted to Lee's comments in a Facebook post, writing that this was "an insult to the sacrifice of the Vietnamese military volunteers who helped to liberate Cambodia from the genocidal regime [of the Khmer Rouge]."
He had added that Lee's comment "reveals to the Singaporean people and the world that leader of Singapore had indeed contributed to the massacre of Cambodian people."
When the Vietnamese forces along with a Cambodian division sent the Khmer Rouge government fleeing to the Thai border in January 1979, these events were taking place against the background of the Cold War.
The Soviet Bloc supported Vietnam and the new Cambodian government while the Western Bloc and China backed the Khmer Rouge and Cambodians opposing the new regime in Phnom Penh.

The statement posted at the site of the Singapore Ministry of Foreign Affairs Friday said that "Singapore had no sympathy for the Khmer Rouge, and did not want to see the Khmer Rouge return to Cambodia.
"In 1988, ASEAN sponsored UN General Assembly resolutions condemning the Khmer Rouge to ensure it would not be part of any eventual government in Cambodia," the statement said.
"Singapore has worked hard to forge a good relationship with Cambodia following internationally supervised elections [overseen by the United Nations in 1993] that elected a new Cambodian government, and to bring it into the ASEAN fold once it was ready."

Singapore Minister for Foreign Affairs Vivian Balakrishnan called Vietnam's Deputy Prime Minister Pham Binh Minh and Cambodia's Deputy Prime Minister and Minister of Foreign Affairs Prak Sokhonn Friday, the statement said.
"They agreed that notwithstanding the serious differences in the past, we have taken the path of cooperation, dialogue and friendship," the statement said.
Related Articles