Sister of Missing Thai Activist Hoping for Answers in Court Tomorrow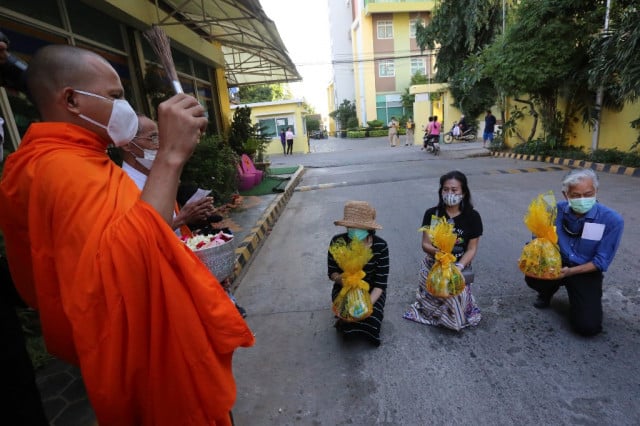 Gerald Flynn and Phoung Vantha
December 7, 2020 8:55 AM
More than six months after the disappearance of Wanchalearm Satsaksit, his sister and her legal team continue to search for answers in Phnom Penh, with a pre-trial hearing scheduled for Dec. 8 at the Phnom Penh Municipal Court.
PHNOM PENH--The investigation into the disappearance of Wanchalearm Satsaksit, a Thai dissident and satirist who was abducted on the streets of Phnom Penh more than six months ago, is set to advance as Wanchalearm's sister Sitanun Satsaksit will present evidence on Dec. 8 at a pre-trial hearing at the Phnom Penh Municipal Court.
Wanchalearm had been living in exile in Cambodia since now-Prime Minister Prayut Chan-o-cha seized power in a military coup in 2014, but despite living abroad, he had remained a vocal critic of the Thai government. Employing a range of satirical forms to critique the Thai government, military and monarchy, the 37-year-old pro-democracy activist went missing just a day after posting a new video online.
Holed up in a hotel in Phnom Penh, Sitanun explained through her translator that her life had fundamentally changed following her brother's abduction on June 4, 2020.
"At the time of his disappearance, I was on the phone to my brother, so the first thing I did after he stopped answering was to call his ex-girlfriend to ask for help in verifying what had happened, I thought he might have had an accident," said Sitanun.
She recalled reaching out to the media and Thai human rights lawyers before officially reporting Wanchalearm's disappearance on June 9. Sitanun then sought assistance from Montana Duangprapa—a documentation officer with Thai Lawyers for Human Rights—and together they wrote to the Thai Ministry of Foreign Affairs to request help in investigating her brother's abduction.
The response from Thai authorities on June 12 didn't offer much in the way of hope for Sitanun.
"When they replied, it was just a simple letter," explained Sitanun. "They wanted to dismiss my brother's disappearance and said they had contacted the Thai Embassy in Phnom Penh on June 11—they said he [Wanchalearm] had a history of going in and out of Cambodia, but that he last entered the country on Oct. 19, 2015 and that his visa expired on Dec. 31, 2017."
Concerned by the lack of information from the authorities in either Thailand or Cambodia, let alone in the media, Sitanun set about contacting a range of different government bodies, including the Thai Ministry of Justice, the National Human Rights Committee, the Human Rights Committee at Thai Parliament, the Office of the Attorney-General and the complaints mechanism under the Prime Minister's Office.
But it amounted to very little, Sitanun explained.
"Now there are operatives from Thai state agencies following me in public, instead of conducting a thorough investigation," she said, noting that she first noticed that she was being followed in the first month since her brother's disappearance when she attended public vigils being held among pro-democracy groups.
"It's the way they do it when dealing with human rights defenders," Sitanun observed. "They want to see if we're afraid, to see if we'll continue to do public appearances and media interviews, but so far we've shown we're not afraid."
Questions Raised over Cambodia's Commitment to Investigate
Following the dissolution of the pro-democracy Future Forward Party in February 2020, Thailand has been embroiled in mass protests as resistance to Prayut Chan-o-cha's military rule grows. Out of the protests, a new movement has been born, with more and more Thai people supporting wide-reaching reforms—including questioning the previously untouchable role of the monarchy in Thai society.
"I'd never paid much attention to politics or social issues," admitted Sitanun. "But when my brother disappeared, I went back to look at the previous cases of Thais disappearing abroad."
Wanchalearm's case marks the ninth disappearance of a Thai dissident since the 2014 coup, with Cambodia, Lao PDR and Vietnam collaborating with Prayut Chan-o-cha to hand over wanted activists who sought refuge within the region. Two of the eight previous activists who were disappeared washed up dead in the Mekong River, but nobody has ever been charged with their murders.
"I suspect that this operation is different," mused Sitanun. "What happened to my brother was an extraordinary operation and, given the circumstances, it couldn't have been done by ordinary people."
Wanchalearm's abduction prompted outrage in Thailand and protests at the Cambodian Embassy in Bangkok as pro-democracy supporters suspected the 37-year-old activist had been snatched by the Thai government, possibly with the support of the Cambodian authorities.
The past six years, Human Rights Watch warned, have seen close cooperation between Cambodia and Thailand to harass, arbitrarily arrest and forcibly return exiled dissidents.
This history of aiding each other's growing authoritarianism, coupled with Cambodia's lack of independent judiciary, has led to concerns over the efficacy of the Cambodian authorities' investigation into Wanchalearm's disappearance.
Despite CCTV footage, eyewitness accounts and social media posts that all suggest Wanchalearm was in Phnom Penh on June 4 when he was taken by masked, armed men and forced into a car, the Cambodian authorities have questioned whether the Thai activist was even in the country at the time of his alleged disappearance.
Spokesperson for the National Police Chhay Kim Khoeun admitted that no evidence had yet been found by the Cambodian authorities.
"We continue to investigate," he said, but added that he questioned whether Wanchalearm was in Cambodia on June 4, as his name has not appeared on the list of foreigners staying in the country since 2017.
Also questioning the current narrative, Justice Ministry Spokesperson Chin Malin confirmed that the investigation into Wanchalearm's case has been ongoing since it was reported, but noted that authorities were no closer to answering basic questions about the activist's whereabouts.
"The authorities are investigating to clarify whether this is a missing persons case or not," said Malin in a telephone interview. "Was the Thai activist living in Cambodia before he went missing or not? People are sharing information online, but we still don't know the true story yet—we're not sure about the investigation's results, so we must wait and see."
The UN Calls for Better Standards of Investigations
Effective investigations into enforced disappearances were raised recently at the 45th session of the UN Human Rights Council that took place from Sept. 14 to Oct. 2, 2020. A report presented by the Working Group on Enforced or Involuntary Disappearances (WGEID) called on nations to adopt and enforce specific legislation that focuses on the issue of forced disappearances.
"In the Working Group's experience, acts amounting to enforced disappearance are sometimes investigated and prosecuted as other crimes, such as kidnapping, torture, murder and illegal deprivation of liberty, owing to the lack of a specifically codified offence of enforced disappearance," the report read. "This creates a situation in which suspected perpetrators of enforced disappearances can be acquitted if the standards of proof for the crimes of which they are accused are not met."
The WGEID also reported that the quality of investigations into disappearances such as Wanchalearm's are closely tied to the rights of the family. Stating that the anguish caused by an unanswered question of a family member's whereabouts was "akin to torture," the WGEID added that information surrounding such investigations needs to be transparently available to those involved.
Similarly, the WGEID called on governments to take the protection of witnesses seriously. This is particularly crucial in Southeast Asia, where many forced disappearances involve or target political dissidents.
"The committee was also informed that the perpetrators of Mr. Wanchalearm's disappearance appeared to have been professionally trained, which would imply that they may be linked to State agents, and that no ransom was requested," wrote the WGEID in a petition submitted to Cambodian authorities on June 10, 2020.
But while Cambodian officials of all stripes continue to deny that Wanchalearm was in the country at the time of his disappearance, international pressure has been mounting.
"The abduction of a prominent Thai activist on the streets of Phnom Penh is a new and dangerous turn that demands an immediate, credible response from the Cambodian authorities," said Human Rights Watch's Asia Division Director Brad Adams in July 2020. "The government should stop denying the undeniable and urgently locate Wanchalearm and ensure his safety."
The WGEID initially gave Cambodian authorities two weeks as of June 10 to launch an effective investigation into Wanchalearm's apparent abduction, but while the National Police have failed to share any evidence they might have uncovered—minus that claim that the vehicle Wanchalearm was taken in had fake license plates—little progress was made until November 2020.
Summoned to Cambodia
Sitanun Satsaksit received a summons from the Phnom Penh Municipal Court and Cambodian authorities helped to arrange her visa, along with necessary quarantine procedures related to the ongoing COVID-19 pandemic.
"Pressure from the international community may have been why the Cambodian court summoned us," ventured Pornpen Khongkachonkiet, director of the Cross Cultural Foundation—an organization which monitors and documents cases of torture and ill-treatment in Thailand—who accompanied Sitanun to Cambodia.
For Sitanun, she sees her dedication to finding the truth about her brother as a key factor in the official summons from the court, but remained guarded over her expectations from the Cambodian investigating judge.
"We can't pre-judge the judge, but we have evidence in hand that proves he [Wanchalearm] was here, so if the court denies it then there's not much we can do," she said, but praised Cambodian lawyer Sam Chamroern for opening up channels within the Cambodian judiciary system that have made the Dec. 8 investigative hearing possible.
Declining to go into details, Chamroern merely confirmed that he would be attending the hearing on Dec. 8 along with Sitanun and her legal team.
"I really don't know what to expect or when we will find out more," said Sitanun. "But it's been no loss to come here, only a gain for us."
Big Questions Remain Unanswered
Somchai Homlaor, another veteran human rights lawyer in Thailand, joined Sitanun in Cambodia and detailed the evidence that they have so far amassed to prove that Wanchalearm was abducted in Phnom Penh. This includes photos from Wanchalearm's social media feed that appear to confirm he was staying at the Mekong Gardens Condominiums in Chroy Changvar District, Phnom Penh—as well as additional evidence that the team was unable to share until after the Dec. 8 hearing.
"This crime, according to the crime scene visible in CCTV footage, is not difficult to solve," said Somchai. "In Cambodia, it's the same as other countries—CCTV is everywhere, so they [authorities] can check exactly where the car comes from and where it went."
For Somchai, the number of witnesses who may be too afraid to speak up may also be a factor in the delays to Wanchalearm's case and he echoed the WGEID's recommendations for the government to provide protection for those who have information on the missing Thai activist.
"We don't know whether the government here has done that, we hope that the investigating judge will exercise that power," he added, noting that Cambodia has a responsibility to protect anybody, whether Cambodian or not.
Much hangs in the balance of tomorrow's hearing. Sitanun and her family are set to leave Cambodia on Dec. 15, as such they hope to hear a response from the investigating judge before then, but with no set timeframe for the judge to work in, there remains a lot of uncertainty.
"I cannot imagine what has happened to him," lamented Sitanun. "Some parts of the truth, we have already obtained, but his whereabouts and whether he's alive or dead remain big unanswered questions."
Related Articles