So Seamsokhim Has One Goal: to Serve in the Government Sector in Spite of his Physical Disability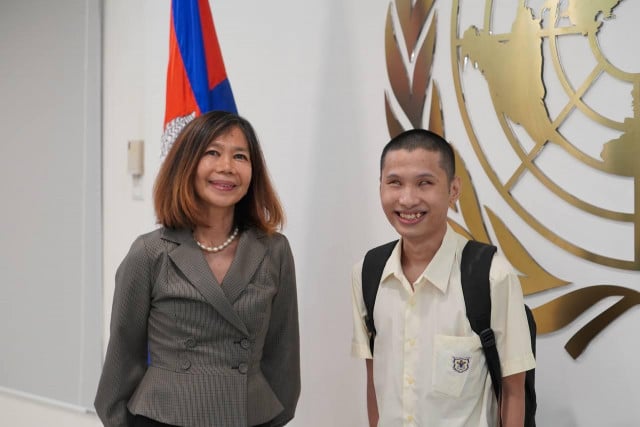 As a university student in international relations, he has no intention of letting the fact that he is visually impaired get in the way
PHNOM PENH--"I can't see the world with my own eyes, but I can still see the world through a vision," said So Seamsokhim, a visually impaired student who hopes to work for the government and become a policymaker.
Born in 1997 in Phnom Penh into a middle-income family, Sokhim became blind at the age of 11 due to two accidents: He slipped and fell into a fan and had a bicycle accident. He became blind in his left eye and can slightly see with his right eye although, according to his doctor, he may also lose sight in his right eye by the age of 50.
"I think I'm lucky that I still can see even though I cannot see much," he said.
Despite his limited sight, Sokhim has been determined and committed to pursuing education as he does not want to leave his future only to fate and is convinced that only education can make a difference in his life.


Sokhim studied in primary and secondary school through the programs of Krousar Thmey—an NGO that set up school programs and classes for students with visual and hearing impairments—and attended the Institute of Special Education for Deaf and Blind Children Phnom Penh Thmey, graduating from high school in 2019.
His turning point was in 2012 when he was in fifth grade, Sokhim said. He was offered the opportunity to travel abroad for the first time, having been selected to take part in the ASEAN Child Rights Forum in Singapore for four days. Since then, he has been an active youth, participating in social welfare initiatives to raise awareness about children, and especially those with disabilities. In seventh grade, he joined the Adolescent and Youth Reference Group, an organization that advocates for children and is supported by UNICEF, to represent Krousar Thmey in advocacy to stop violence against children.
Sokhim is now a second-year student majoring in international relations at the University of Cambodia. He is also involved in the United Nations Youth Advisory Panel, which is the youth advisory body of the United Nations Country Team in Cambodia, focusing on the leadership project and helping develop leadership skills among young people in the community.
For him, taking part in social activities and welfare programs is a tribute to society and its rich sources of knowledge he can acquire and apply to daily life.
"I will always consider social welfare an experiment or practice class, and use the knowledge to fill in the gaps in mine," Sokhim said.
In addition to being involved in social projects, Sokhim has taken part in many workshops and conferences as they offer the opportunity to discuss issues with policymakers, he said. While in high school, he had was able to speak in the presence of Prime Minister Hun Sen, ministers, diplomats and international leaders as well as get involved in meetings with government officials, NGOs and embassy officials when they visited his school.
These engagements have led him to set the goal of working in the government sector and maybe one day to become a policymaker.
Aiming to Be a Policymaker and Improve the Situation of Children and Disabled People
"I don't know how much or how effectively I can contribute if I manage to get into the government sector," Sokhim said. "What I can do is providing input by collecting [information on] problems and evidence for policymakers. But I also want to be a policymaker [so that] I will be able to directly contribute and assist those in need."
His goal is to develop policies that would take the needs of all children into consideration, whether or not they have disabilities, he said, stressing that it is crucial not to exclude children with disabilities when talking about child's protection or children's rights.
When asked how he would describe good policymakers, Sokhim said that effective policymakers are those who consider or take the time to consider every problem raised and solutions whether suggested by young people or people from all walks of life, rather than immediately rejecting them.
Sokhim said he has always known that he must get the required skills and qualifications and then wait for the right time before applying for a public service position, which is why he plans to pursue a master's degree and get involved in research.
"It may take many years and I don't know how positive I am that I can work for the government," he said. "But I really want to work in the government sector. So, I will try my best."
His Suggestion to Young People in the Country
Young people should take part in social activities and view them as ways to develop new skills and insights, and not only for fun, Sokhim said.
"Young people should wisely choose the activities that are in line with their interests and knowledge to avoid becoming a stepping stone for politicians or certain individuals," he said
Reading, listening and observing will provide them with new and fresh insights into daily life, he said. "We participate in certain activities for our own good, and not to destroy our future as we still are students," Sokhim said. "So, students need to read a lot and gather information to make informed decisions."
Sokhim has two major plans: first, to pursue a master's degree, and later on to write a book about his life to share his knowledge with those who may benefit from it.
"Before the end of my life, I want to leave my footprint by writing a book that can be useful to the next generation," he said.
Related Articles