Sok Sarin Turns Study Failures into Success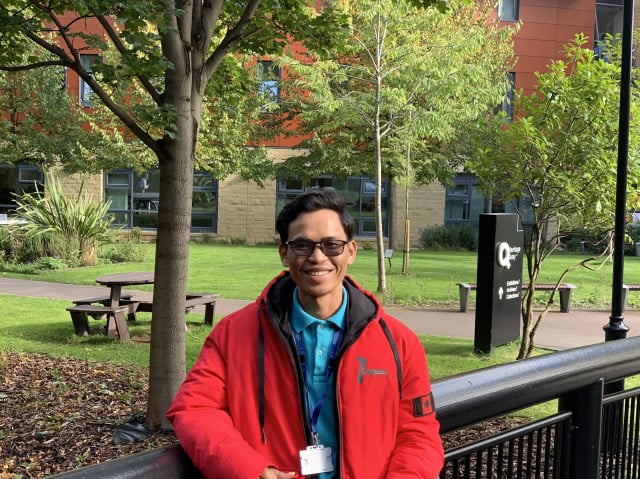 October 12, 2022 11:50 AM
PHNOM PENH – As a Japanese proverb goes, "fall down seven times, get up eight," Sok Sarin has achieved his dream to pursue higher education abroad after seven failed attempts.
He is now undertaking a master's degree in education in technology-enhanced learning in Britain.
Originally from Takeo province, Sok Sarin is studying at the university of Huddersfield through the Chevening Scholarship Program. He graduated with a bachelor's degree in education in 2016 from Cambodian Mekong University, then got a job with an NGO working in the field of education.
Sarin applied for foreign scholarships seven times while he was studying for his bachelor's degree. He failed to pass the first round five times and the interview round twice.
"My hopes and dreams of going to study abroad almost disappeared because of countless failures and a lack of motivation to move forward. Later, I started to think, reflect and ask myself why I failed," he said.
He figured out that his lack of English language ability was the main reason. He was from the province, so he had less opportunity to learn the language compared with those from the city. In his hometown, Sarin only learned English at the pagoda or at his friend's house.
He took a break from applying for three years, during which he continued his pursuit of a bachelor's degree and started working at an NGO, working toward education in Cambodia. At the same time, he was also improving his English and leadership skills.




He figured out that his lack of English language ability was the main reason. Photo provided.

And as US civil rights leader Martin Luther King, Jr. once said "we must accept finite disappointment, but never lose infinite hope", Sarin opted to apply for the Chevening Scholarship program. With hard work and determination, he was awarded a scholarship to study fully funded for a year in Britain.
Bachelor's degree struggle
Due to financial problems in the family, Sarin decided to work as a waiter at a restaurant and as a leaflet distributor at traffic lights to earn some money for daily expenses from the second semester of his first year of his undergraduate degree.
He worked from 4pm to 10pm at that time, earning only $4 to $5 a day. "I did not aspire to be an outstanding student. The important thing was to have time to work to earn money to support education and daily living," Sarin said.
The result of his study, therefore, was not good and he failed some subjects and had to take supplementary exams.
Chevening Scholarship success
In 2021, Sarin decided to apply for the Chevening program and he was confident this time that he could meet all the requirements, including work experience, potential leadership skills, networking, future work plans and English scores.
"Although it took a lot of time to develop my ability to meet all the requirements of this scholarship, my dream would always remain in my heart," he said.
When asked why he chose the Chevening program, he said the universities in Britain offered courses about technology in education which were aligned with this career goal. Sarin aims to improve and push forward effective digital learning in this technology-dominated era.
"I've also seen that in the future, technology for education will play an important role to respond to digital education in the 21st century," he said.
The curriculum about e-learning and pedagogy on e-learning in the British university interested him.
Sharing Experiences
Sarin said the first step in the application process is writing essays on four topics, leadership skills, network building, the reason to study in the UK and the career plan.
The second step is an interview with the British Embassy in Cambodia. Applicants are allowed to choose three universities and have to be accepted by at least one to qualify for the scholarship.
Sarin said that applying for the university was harder than applying for the Chevening program as the applicants have to meet all the requirements of the university.
"At first, I thought it was not a challenge for me because I thought that when I got the final award letter from Chevening, there would be an opportunity. But as a result, I almost lost the opportunity when submitting the admission letter to the three universities," he said, adding that he, fortunately, was accepted by one university.


Sok Sarin (C, Second Row) was awarded the Chevening Scholarship program in 2022. Photo: Nhoek Samoun

He advised applicants to illustrate their perspectives and personal experience as specifically as possible.
Upon his graduation and return to Cambodia, Sarin aims to continue working at the same organization working for the education sector. He also pledges to continue working on educational technology by sharing what he has learned during his year in the UK with education workers and students so that education in Cambodia can move to another level.
Sarin encouraged those who want to apply for the scholarship to be well-prepared and thoroughly follow the requirements and conditions of the program as well as the universities in the UK.
Those who are interested should try to focus on essay writing and have good time management during the application process, while they should do excessive research on the program and the universities they wish to apply for.
Applying for a scholarship abroad is competitive, so applicants must be well-prepared and reach out for help from alumni if they have any concerns.
"I am very happy to be pursuing a master's degree in the UK. It was a dream of mine that I would be able to pursue education abroad. Now I have achieved my dream," Sarin said.
Related Articles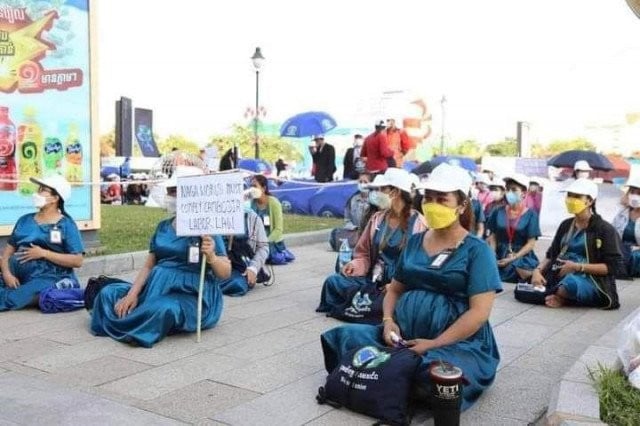 December 21, 2021 7:39 PM