Sok Touch Under Fire Over Vietnamese Fishing
Tonle Sap race link wrong: researcher
PHNOM PENH--Head of Royal Academy of Cambodia Sok Touch has drawn criticism after he blamed Vietnamese fishers for disappearing fish in the Tonle Sap Lake.
Last week, Sok Touch expressed grave concern over the impending extinction of fish in the lake, saying illegal fishing was the main driving force with ethnic Vietnamese among those involved.
"I can say that if we don't have any mechanism to prevent illegal fishing, the fish in the Tonle Sap Lake will be extinct in the next two years," he said. He also raised concern about Vietnam exporting farmed fish to Cambodia while importing naturally raised fish from Cambodia.
Touch's extinction warning came after he took part in crackdown operations on illegal fishing in cooperation with local fishery officials. In a video posted on his Facebook page, he was seen using a handgun to fire a shot to warn fisherman who illegally fished in the lake.
As the biggest freshwater lake in Southeast Asia, the lake has seen a significant decline in fish catches. Experts say it faces many threats not from the use of illegal fishing gear, but also the loss of fish habitat and the intensifying climate crisis.
Siem Reap-based independent researcher Tim Frewer said he agreed with Touch over the loss of fish resources in the lake, except for blaming the Vietnamese for the whole problem.
"He clearly understands the problems facing the Tonle Sap but he has chosen to frame it terms of race," Frewer said. This was a big mistake.
It was correct that Vietnamese were fishing illegally but so were many other locals.
"Khmer and Cham people who are very dependent on fishing and often very desperate economically are forced to fish in conservation areas," he said.
In the case of Vietnamese, Frewer said this was often because they can't own land. They have become increasingly marginalized from legal fishing areas so they turn to illegal methods.
"The reality is that poor people across Cambodia depend on the Tonle Sap to get through the year and will do anything they can to sustain themselves."
Nationalist protagonist
Frewer linked the issue of fish decline in the lake to a long-standing controversial racial issue, especially involving the Vietnamese ethnic minority. He said Touch appeared to be seeking to establish himself as nationalist.
"Everyone knows he was strongly criticized for being seen to be pro-Vietnamese when he was involved in the committee on resolving border conflicts," Touch said.
He warned that such actions can affect the minority Vietnamese who already have been marginalized by socio and economic issues.
"This is an attempt to regain popularity by being seen to be taking direct action against Vietnamese fisher people, but it is reckless and irresponsible and will only lead to further demonization of the already very marginalized Vietnamese-Cambodians."
The researcher questioned the use of a gun by Touch during the crackdowns as it could trigger more violent action against the Vietnamese.
"Will he be responsible if people start using weapons against Vietnamese fisher people because they saw a high-level government official doing it?" Frewer asked.
Strict law enforcement needed
Spokesperson for human rights organization Adhoc Soeng Senkaruna said he agreed with Touch raising the issue of fish loss due to illegal fishing but he suggested that law enforcement should be strengthened.
"It is because the authorities are not capable of implementing the law and regulations strictly so that violations can take place," Senkaruna said.
"In this case, we cannot blame only illegal fishers. It is because we have failed to do our job and have many issues including power abuses, conflict of interest and corruption."
Monitoring manager at Licadho Am Sam Ath said if there is illegal fishing in the Tonle Sap, it means it has been happening for a long time with authorities taking no action to end it.
"The authorities should take action against any illegal fishing regardless of who they are. Those violating the laws should have been punished long ago," Sam Ath said.
He also drew attention to the illegal encroachment of tens of thousands of hectares of flooded forest around the lake by powerful or high-ranking officials, adding that action must be taken against them.
Additional reporting by Sao Phal Niseiy
Related Articles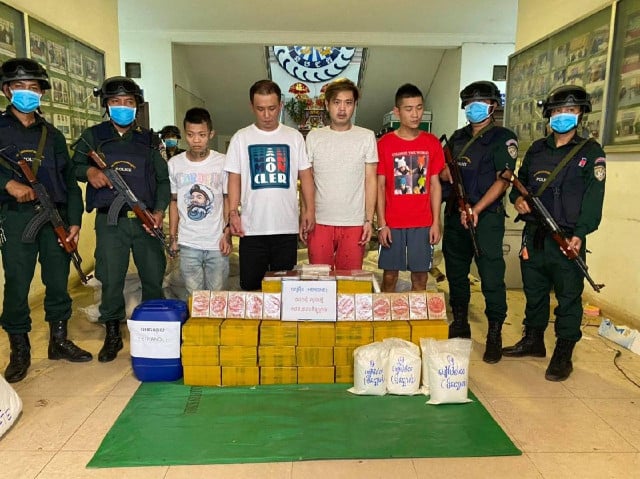 October 16, 2020 12:05 PM