Sokhonn: No Country Can Solve Global Problems Alone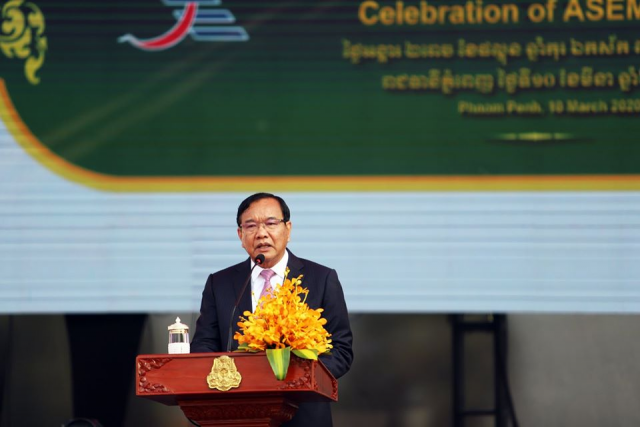 Torn Chanritheara
March 10, 2020 9:25 AM
The deputy prime minister on Tuesday called for a return to cooperation among nations to combat transnational crises such as the COVID-19 outbreak and climate change.
PHNOM PENH--Deputy Prime Minister and Minister of Foreign Affairs and International Cooperation Prak Sokhonn on Tuesday said that multilateralism is under pressure from countries that turn away from the principles of international cooperation. He stressed that countries cannot deal with problems like the Coronavirus Disease 2019 (COVID-19) alone.
"Like COVID-19, transnational issues and challenges cannot be solved by one country, no matter how big or resourceful it is," Sokhonn said at a ceremony celebrating Asia-Europe Meeting Day. The ceremony was held at Wat Botum Park in Phnom Penh, where Sokhonn added that climate change, natural disasters, environmental pollution, illegal migration, as well as nontraditional threats such as terrorism and violent extremism are some of the key issues the world is facing today.
Cambodia will be hosting 13th Asia-Europe Meeting (ASEM) Summit on Nov. 16-17, 2020. The theme of the upcoming summit, which is "Strengthening Multilateralism for Shared Growth" focuses on the interaction of four ideas: multilateralism, growth, sustainable development and prosperity, he said.
"We proposed this theme because it is relevant to today's situation. The system of multilateralism is under pressure from the rise of unilateralism, protectionism and populism which present both threats and uncertainty to the global economy," he added. "We also see the diminishing commitment of some countries in promoting multilateralism, some are even turning their back on multilateralism-based solution."

According to top Cambodian diplomat, only with shared purpose and unity can multilateralism be improved and bolster collective efforts to deal with current challenges.
Created in 1996, ASEM is an intergovernmental organization whose goal is to foster dialogue and cooperation between Asia and Europe. It currently includes 30 European and 21 Asian countries plus the European Union and the ASEAN Secretariat. Held every two years, ASEM's previous summit took place in Brussels, Belgium in October 2018.
Sokhonn said he is pleased to see the big gathering to mark ASEM Day at the time the world is tackling the spread of COVID-19. He explained that this shows trust of the participants in the government's efforts to control the outbreak, as well as contributing to maintaining regularity in Cambodia.
"Until now, Cambodia has had very few confirmed cases of COVID-19 but the government has taken preemptive measures to stop the virus while cooperating with international organizations," he said.


Related Articles