Solving Society's Problems with Tech: Cambodian Farmers Set to Benefit from App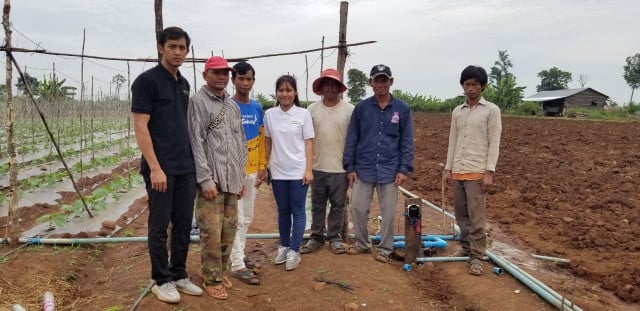 Phoung Vantha
December 14, 2020 9:38 AM
Smart Farm Assistance, developed by 19-year-old Meng Sreylin, is an app that aims to help farmers manage irrigation better and reduce water consumption, but progress for Sreylin has been a challenge.
PHNOM PENH--As a young Cambodian woman who dreamt of solving society's problems, especially those of farmers, 19-year-old Meng Sreylin decided to study tech in order to make that dream a reality.
"I want to be a Cambodian woman entrepreneur in tech," she said, explaining that—to achieve her goal— she moved from Kampong Cham Province to continuing her studies in Phnom Penh back when she was in the 9th grade.
As a fourth-year student in E-Commerce, IT and Business, Sreylin has been involved in both tech and business ever since she enrolled at university. In 2019, her and five teammates launched their own startup; Smart Farm Assistance.
"I always dreamt that I want to solve society's problems by using technology," explained Sreylin. "So I decided to join the business competition where I met my teammates at that time."
"I was so inspired by my teammates that we decided to try to solve agricultural problems by using technology," she said. "So we were determined to fight for our startup."


She said her team faced a lot of challenges since launching, as both the fields of technology and agriculture lack financial resources and theoretical know-how to put into practice, but her team didn't give up. These constraints further inspired Sreylin and her team to make Smart Farm Assistance as simple and as valuable to Cambodia's farmers as possible.
"As a woman, there are barriers due to the cultural norms and when I travel to many provinces, my family is concerned that I am traveling a lot with an all-male team," she said.
"But while I agree it is difficult to leave out comfort zones, if we don't then we can't catch the big fish," she added, saying that this was the only way to showcase her talent and skills.
She said that Smart Farm Assistance is developing its own products, which takes time and sometimes fails, but that's the nature of progress.
"We are trying our best to develop technology for farmers and it's not an easy process, we lack financial resources to support the business," Sreylin conceded.
As farmers are new to her technology, Sreylin noted that her team has to hold a lot of training sessions to ensure that the farmers really get the best out of their digital creations.
"The training is actually quite easy, a lot of the farmers have an education and adapt quickly to new technology—they love to learn new things and they have a strong work ethic, but some of them still feel that the traditional methods are better than technologically-assisted ones," she said, adding that the training session aims to overcome this mindset.
She said that her group has developed a Smart Irrigation System which comprises of two devices: a Smart Pump and a Smart Valve, both of which farmers can remotely control with an application that connects with a water pipe. Farmers can manage both devices by SMS, Sreylin explained, which is beneficial for farmers with limited internet access or coverage.
She said that now her team is developing other applications that can remotely assist farmers using the internet.
"I want to make this AgriTech startup a big company in Cambodia and internationally," she said, adding that she hopes this will help farmers to save time, money and water resources.
Related Articles