Some Grade-12 Students Are Concerned about Receiving Diplomas with No Grade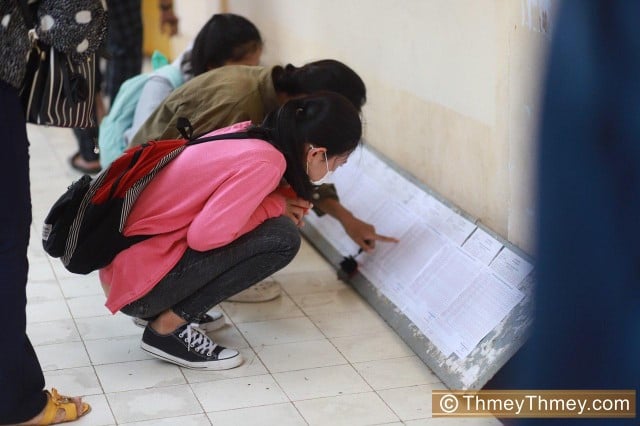 Sao Sokeng and Phoung Vantha
December 17, 2020 11:44 AM
Will this make it difficult to be admitted at university or apply for grants, they ask
PHNOM PENH—Some students on Dec. 17 expressed concern regarding the Cambodian government's decision to give all grade-12 students their diplomas without having them go through their final exams next month.
Since there will be no grade on the diplomas, they are wondering whether this will cause difficulty when they attempt to enroll at university or apply for scholarships.
On Dec. 15, Prime Minister Hun Sen said that, since the school exams could not take place next month due to the COVID-19 community outbreak in the country, all grade-12 students will automatically receive their diplomas.
This was followed on Dec. 16 by an announcement by the Ministry of Education, Youth and Sport that all grade-9 and grade-12 students who had registered for the exams had automatically passed and would get diplomas with no score.
Kim Longnaheang, who is a student at Bak Touk High School in Phnom Penh, said that he had studied hard all year as he wanted to obtain at least a B grade in the exams. The news that all students would automatically pass disappointed him. "I regret that, after all my hard work since the beginning of the year, I cannot show my capacity," he said.
Chao Soksreypich, who attends The Westline School, Chbar Ampov Branch, in Phnom Penh, also was disappointed no to go through the exams.
"I have been working hard since the beginning of the year…in order to get good grades," she said. "But now, I have passed the exams without grades."
Soksreypich, who plans to study international business management at university, wonders how a diploma without grade will work when she tries to enroll at university. "I hope that the authorities will be able to facilitate our admission to both local and foreign universities without any restriction," she said.
Both Longnaheang and Soksreypich felt that it would be unfair to have students who did not work as hard as they did get the same diploma they will receive. In their opinion, it would be better if the Ministry of Education, Youth and Sport put on the diplomas the students' grades obtained during the first and second semesters.
If not, they said they hope that the Ministry of Education will ask higher-education institutions and universities not to require grades on diplomas for student enrolment, giving students the opportunity to study at the university or institution of their choice.
However, Hour Menghout who is a student at Russey Keo High School in Phnom Penh said that she agreed with the decision of the Ministry of Education and that the grades of the first semesters should not appear on the diplomas as some students may not have done well in those exams.
"The ministry's decision is a good solution for students," Menghout said. "The decision to automatically pass all grade-12 students this year can affect the feelings of some students. It can also affect the younger generation."
Related Articles