Some Public-School Students Ask the Government to Lower this Year's Exams Standard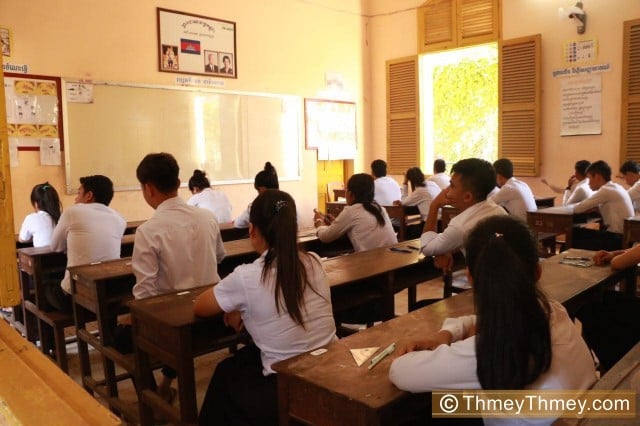 Sao Sokeng
June 15, 2020 3:53 AM
Online classes and uneven internet connections is affecting their studies, they say

PHNOM PENH— The Ministry of Education, Youth and Sport recently announced that the national exams for public school students would be postponed until further notice.

All public and private schools in the country have been closed indefinitely by the ministry since mid-March as a measure to prevent the spread of the Novel Coronavirus (COVID-19). Courses have been set up online by the Ministry of Education so that public-school students can keep on studying to complete their school year.

But in view of the situation, the Ministry of Education recently announced that national exams for public-school students would be postponed until further notice, asking students to continue their own virtual studies at home.

Still, the situation has raised concern among students that they are not properly prepared to take the exams anytime soon, leading some students to call on the Ministry of Education to consider lowering the examinations' level of difficulty this school year.

Vireak Narong, a student who will have to take grade-12 exams this year, has been taking the online classes set up under the Education Ministry's supervision.

Interviewed by Cambodianess, he said that online classes have been quite difficult especially since he cannot ask his teachers questions as he did in class when he did not understand something. At this point, Narong feels that he has not been able to acquire enough knowledge in online classes to face the tough national exams, which has led him to call on the ministry to lower the level of difficulties in this year's exams in view of the situation.

"When the pandemic irrupted here, I used to think of appealing to the ministry to consider lowering the passing score," Narong said. "I also would like the ministry to set a proper timeframe for students to prepare for the exams. [The] level of difficulties of the exams' questions should also be proportional to students' knowledge."

Uth Soksey, who also is a grade-12 student, also expressed apprehension. Online classes have been problematic as she lives in a rural area where the internet connection is unstable, which has prevented her from attending the online classes on a regular basis as recommended by the ministry.

"During online learning, sometimes the internet connection just cuts off, leaving me no alternative way to continue my studies," Soksey said. "For me, I think the ministry, if possible, should lower the difficulty level of the exams as it used to be in previous years."

The importance of maintaining exams' standard

However, according to an educator, lessening the exams' difficulty level could lead some students to neglect and not understand the importance of self-studies.

"If the ministry happened to agree to such a request, it may give the impression that we only care about the number of students who will succeed in passing the exams," said Keang Davy, a Khmer literature teacher at Kean Chrey High School in Kampong Cham province. This would lower the level of the diplomas, he said.

The Ministry of Education should maintain the examinations at their current level, Davy said. The fact is that all hardworking students always pay greater attention to their studies in any kind of circumstances, Davy said, adding that some students have shown laziness rather than an eagerness to keep on studying since schools have closed.

"This could serve as a model for the next generation of students to show that, regardless of the situation, we can learn through self-studies as well as by working with our textbooks," he said.

Davy encouraged students to continue their self-studies as well as follow online classes during these difficult times. Their determination and hard work will pay off and also transform them into valuable human capital for society, he said.

"If they pass grade-12 exams this year, it will be no doubt because of their abilities and their efforts despite the fact that they could not go to school," Davy said.

Ros Soveacha, spokesman for the Ministry of Education, told Cambodianess that the ministry could not grant that request made by some students to modify the national exams' policy and standard this year.

Mentioning that the ministry will later announce the dates and provide information concerning secondary and high school exams, Soveacha called upon all students to continue their virtual studies. He added that they should pay close attention to all measures taken by both the Ministry of Education and the Ministry of Health to contain the spread of COVID-19

On April 13 Education Minister Hang Choun Naron said that private schools were allowed to conduct online exams for both secondary school and high school students according to their own schedules. He added that the ministry and private institutions would work together to ensure transparency and the quality level of the exams.


Related Articles