Son Chhay Requests to Have the Ban Keeping Him Out of Politics Lifted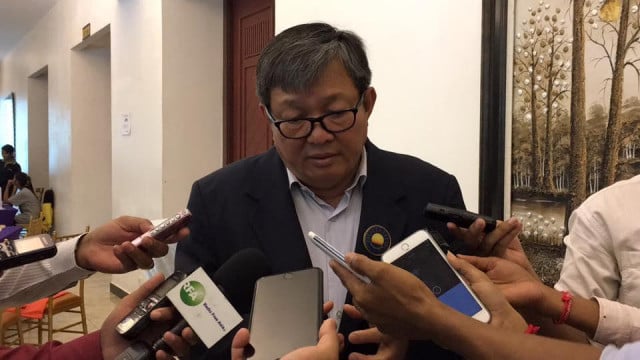 The procedure involves the Minister of Interior submitting his request to Prime Minister Hun Sen
PHNOM PENH--Former opposition lawmaker Son Chhay, who was a member of the dissolved Cambodian National Rescue Party (CNRP), has submitted a request to the Interior Ministry to lift the 5-year ban imposed on him as a CNRP politician in 2017 so that he could regain his rights to be active in politics.
As he mentioned in his letter to Interior Minister Sar Kheng dated Aug. 17, the 5-year ban was imposed following a Supreme Court decision on Nov. 16, 2017.
But, according to Article 45 of the Law on Political Parties, which was amended in December 2018, "[a]n individual whose political activities have been suspended. . .will be able to officially have his full political rights returned after the ruling of the Supreme Court has expired or in the case that the individual's rights are reinstated by the King after a request from the prime minister as proposed by the interior minister."
"I would like to ask the Interior Minister to review my request procedurally in order to give me political rehabilitation as a favor," Chhay wrote in his letter.
General Khieu Sopheak, spokesman for the Ministry of Interior, said on Aug. 27 that the Interior Ministry had received Chhay's letter and will proceed according to the terms of the law. He added that 12 people had requested political rehabilitation out of the 118 former CNRP senior officials.
Chhay could not be reached for comment on Aug. 27.

The CNRP was dissolved by the Supreme Court in November 2017.
Related Articles