Southeast Asian nations say "no" to waste shipped from developed countries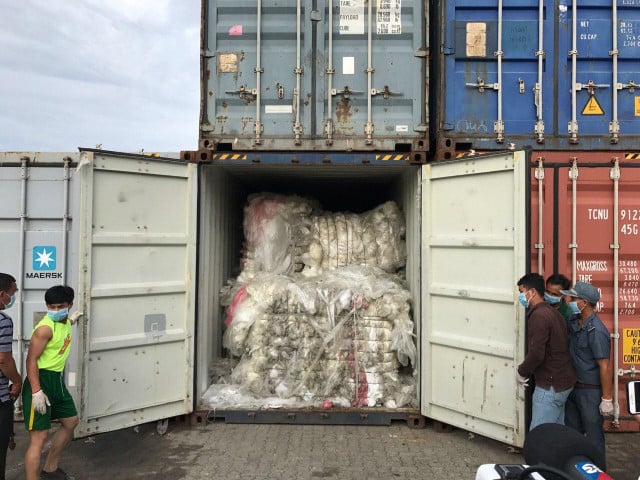 Xinhua
July 26, 2019 7:57 AM
HONG KONG-- A number of Southeast Asians nations have in recently months intercepted and sent back containers of solid waste that were shipped from developped countries including the United States and Canada.

Last Thursday, the Cambodian government said it would send 83 containers of plastic waste back to the United States and Canada. The rubbish-filled containers were discovered two days earlier at the Sihanoukville Autonomous Port.
"The origins of the garbage were from the United States and Canada," government spokesman Phay Siphan said. "We will send those rubbish-filled containers back to their original sources."
Environment Ministry Secretary of State and spokesman Neth Pheaktra told Xinhua last Thursday that, "Cambodia does not allow any import of plastic waste to the country for recycling. Cambodia is not the rubbish bin for other countries to dispose of any kind of waste."
Malaysia's Minister of Energy, Technology, Science, Climate Change and Environment Yeo Bee Yin has said recently that developped countries should not ship their waste to developing nations.
"We urge the developed countries to review their management of plastic waste and stop shipping the garbage out to the developing countries. To be opaque with your own taxpayers about recycling waste and then dump the garbage in our country, is both unfair and uncivilized," she said.
The minister noted that "It is hypocritical of the developed countries to claim a high percentage of recycling statistics when the statistics would include shipping out plastic garbage to the developing nations without a keeping track whether or not the garbage was recycled in an environmentally sound manner."
In the Philippines, the struggle to ship 69 containers back to Canada even triggered a diplomatic spat.
The shipments came to the Philippines in 2013 and 2014. Even though marked as recyclable scrap, the Philippine Bureau of Customs found the containers were consisting of household trash, plastic bottles and bags, newspapers, and used adult diapers.
The Philippine government had demanded Canada ship back the trash and set May 15 the deadline for that. A few hours after the deadline lapsed, Philippine Foreign Secretary Teodoro Locsin summoned the Philippine ambassador and consuls general, notifying them that Manila would maintain a diminished diplomatic presence in Canada.
The cargo ship commissioned by the Canadian government to repatriate the garbage finally pulled away from the Philippines on May 31. As a result of the row, Philippine President Rodrigo Duterte ordered a total ban of waste materials from any foreign countries.
Other Southeast Asian countries like Indonesia has also decided to send back waste shipped from developped countries.
Head of the Indonesian Environmental Protection Coalition Puput TD Putra said he appreciated the government's attitude to return five garbage containers to United States and he hoped that "the policy is not only limited to symbolization."
"Indeed, Indonesia's Ministry of Environment and Forestry should be firm, because we have imported a lot of waste. While we have reduced domestic plastic waste, but now we are actually importing plastic," Puput told reporters.
While urging the government to stand firm on turning back foreign waste, some Indonesian experts also insisted that sanctions should be given to those trade companies that played roles in importing the waste.
Some experts also suggested cooperation among countries in dealing with the issue.
Malaysia Nature Society President Ahmad Ismail suggested that ASEAN countries could come together and work on some way to prevent the region from being used as a dumping ground by developed countries.
Related Articles