Spawning Ground Destruction Slashes Fishery Exports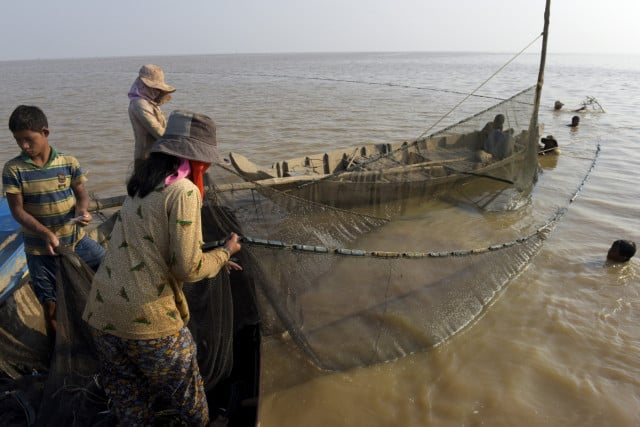 Flooded forest land grabs add to loss of habitat
PHNOM PENH – Fishery exports have fallen by almost half compared with last year due to lower water levels and destruction of spawning grounds.
In the first five months of 2022, Cambodia exported 1,125 tonnes of fishery products to the region. Agriculture Ministry data shows that fresh fish exports amounted to 2,916 tonnes in the same period in 2021.
Ing Try, deputy director of the Fisheries Administration, blamed low water level of the Tonle Sap Lake. Human factors such as deforestation, seizures of flooded forests and illegal fishing also threatened spawning habitats.
"Fish depend on water, so when the water level is high, there will be plenty of fish. If the water recedes quickly during the spawning season, it will affect some fish," Try said.
Deforestation and flooding were other reasons for fish losing their habitat. Another contributing factor was encroachment on land, which had been subject to a government crackdown.
"Now the government and the Ministry of Agriculture have reclaimed the land and replanted the flooded forest, so we will see," said Try.
He expected fish stocks will increase next year after Prime Minister Hun Sen ordered provincial governors and officials to plant saplings on more than 60,000 hectares seized from illegal loggers and traders around the lake in the past.
The Prime Minister said the national interest would be damaged if the crime of encroaching on the flooded forest land is not suppressed, the national interest will be lost.
"The issue is the loss of flooded forests and fish resources," he said. "If I did not order the action, we won't be able to reclaim more than 60,000 hectares. More would be lost."
Cambodia's fish exports will increase further if a catfish export permit for the Chinese market is obtained soon.
According to the Cambodian Fisheries Administration, freshwater fisheries products totaled 93,650 tonnes while marine fisheries products totaled 46,600 tonnes and aquaculture totaled 20,700 tonnes in the first five months of 2022.
Related Articles