Speaking of Cambodia's success, Hun Sen urges WTO members to help poor countries transition into the digital economy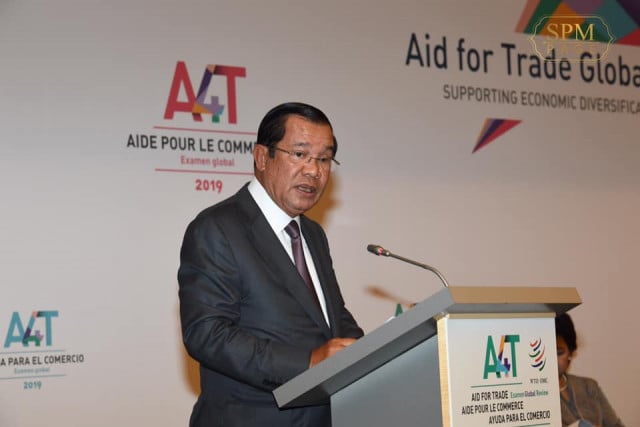 Hun Sen tells WTO member to carefully think before taking measures to remove trade preferences for least developed nations
PHNOM PENH--Prime Minister Hun Sen Wednesday appealed to the World Trade Organization (WTO) members to continue providing the least-developed countries with support and to carefully consider the negative effects that suspending or withdrawing trade preferences may have on them.

Speaking at the WTO Global Review of Aid for Trade conference in Geneva, Hun Sen highlighted Cambodia's continued efforts to reform and diversify its economy in accordance with international standards, and stressed that his government has ensured peace and stability as well upheld multiparty democracy since the country became a WTO member in October 2004—the second low-income country to join the WTO a few months after Nepal.
"As a small country, we believe in advantages gained from globalization and international cooperation based on international laws: That is why we applied to become a member of WTO," Hun Sen said. "[Since then,] Cambodia has achieved more than 7 percent of economic growth annually over the past two decades and already graduated from lower-income country in 2015."
The prime minister added that the country is set on becoming a middle-income country by 2030 and a high-income country by 2050.
Held on the theme of "Supporting Economic Diversification and Empowerment Through Aid for Trade," the Global Review of Aid for Trade conference focuses on how WTO can support economic diversification while eliminating extreme poverty and supporting micro, small and medium enterprises in developing countries. The conference also looks into, according to WTO information, "the continuing role that trade can play in stimulating sustainable development."
Addressing these issues, Hun Sen Wednesday told the audience, "In order to achieve this vision and also help other least-developed countries to get out of poverty in accordance with the United Nations Sustainable Development Goals (SDGs), I would like to appeal to other members of WTO and development partners to continue their support for least developed nations."
The prime minister also asked that developed nations support the least-developed countries in their efforts to strengthen their economic competitiveness and prepare themselves to take advantages of the fourth industrial revolution and digital economy by helping them diversify their economy to increase exports and offering them assistance so that they can stimulate innovation.
In addition, Hun Sen urged developed countries to continue and expand their multilateral or unilateral trade preferences for least developed nations and carefully think before taking measures to remove them.
The prime minister's comments were made as the European Union launched last February a process that could lead next year to the temporary suspension of its Everything But Arms (EBA) trade scheme from which Cambodia currently benefits due to the country's recent policy regarding democracy and human rights.
"Please carefully consider before withdrawing or suspending the trade preferences for least developed countries," Hun Sen said in his speech Wednesday. "[T]hese actions will only prevent them from helping the world achieve SDGs by 2030 and can't help them to move out of the least-developed status.
"This move completely contradict to the United Nations and WTO principles," he added.
Related Articles