Speaking Up for Indigenous Girls and Women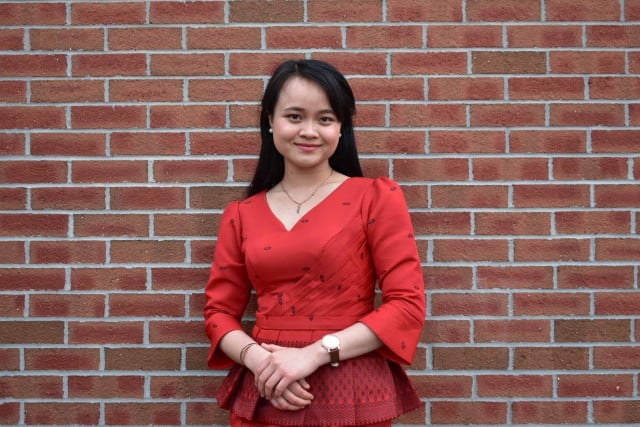 Sao Phal Niseiy
April 11, 2021 9:21 AM
Soy Pisey is determined to change attitudes towards education in the Brao community and stand up for the rights of all indigenous peoples in Cambodia.
PHNOM PENH--Getting a chance to pursue higher education remains a challenge for young girls in indigenous communities in Cambodia. Many are still constrained by poverty and a long-standing expectation to drop out of school and marry at a young age.
However, a 25-year-old indigenous Brao woman in Ratanakiri Province has already broken the glass ceiling when she overcame financial hardships and cultural barriers and received an opportunity to study in Norway and the United States.
Born to a Brao mother and a Cambodian father in Phnom Svay Village, which is located in Banlung City's Boeng Kanseng Commune, Soy Pisey is the eldest of three children.
After six years studying abroad, she has become the first Brao woman to receive an undergraduate degree overseas.
With the knowledge she acquired in foreign countries, Pisey hopes to use it to promote education for girls and young women, she said. She would like to share her personal experience and stories with other girls and women in remote communities to encourage them to have a dream and prioritize studies. And she also seeks to alter the conservative perception among elder people in her communities, encouraging them to be more supportive of girls and young women who dare to make their own life decisions.
Having returned to Cambodia after her graduation in May 2020, Pisey currently works as a communication officer at the non-profit organization United World School in Ratanakiri Province.
Childhood adversity: her parents' divorce left the family destitute
Speaking of her childhood, Pisey recalled the hardship her family endured following the divorce of her parents as her father no longer provided the family with any financial support, which left her mother desperate with a family to care for.
"When my parents divorced, my whole family struggled a lot as my mom didn't have the capability to work," Pisey said. "She didn't have knowledge as she had been forced to marry at a young age as an indigenous woman. She was illiterate and had not gotten used to working [at a job] before. It was extremely difficult in our lives back then."
As she was just 12 years old, Pisey said she didn't understand what divorce meant and especially its implication for her life as a child and the entire family.

"I was just able to understand when I reached grade 7," she said. "I didn't have money to study and there was no one supporting me and the family financially. I really grasped the reality of having parents who had separated."
Speaking of her mother, Pisey recalled that her mental well-being had truly been affected as she was so concerned about the future of the family. This had led her to start consuming alcohol to suppress her emotional distress.
"It took her a few months to recover from this situation," Pisey said. "She later discovered herself and told me [she had realized that] if she continued to be like this, how would her children's future end up. Then, she made the commitment to find a job and earn money to support the children."
"Without my mom's sacrifices, I could not be who I am today," Pisey says
"My mom had been fed up [with life and people's despising attitude]," she said. "She has tried so hard to overcome any hardship she faced. She dared take responsibility as head of the family, and she traded her life for an income to raise her children."
Despite the fact that Pisey's mother is illiterate, she was determined to ensure that her three children would finish at least grade 12.
As life turned really tough for the family, her mother could not by herself earn enough to support the family. Therefore, as the eldest child, the then 12-year-old Pisey decided to go out and find a job to help reduce the burden.



Pisey's first job was doing laundry. Working while studying was not really easy for her, but she acknowledged that she felt really excited as she could help her mom support the family as well as continue her own studies.
"What really embarrassed me was having divorced parents," she recalled. "People asked about my father wherever I went. We used to have money to spend on our needs, but now we had to earn money to support ourselves. It was harsh but I was so eager to help my mom."
In 2009, Pisey said, her mother worked as a construction worker. But due to her poor health condition, she decided to quit and went to work at a drinking-water factory. In terms of working conditions, there was just a mere difference between her first and second job but, because she had to support her family, Pisey's mom kept working there half a year before getting work as a cleaner at a hotel in Ratanakiri Province.
"The hotel work was less labor intensive and more relaxed," Pisey said. "So, my mom tried to take on additional laundry jobs to earn more. I also helped her once I was free from school. My mom also spent her free time farming."
Speaking of her mother's role as the family's bread and butter, Pisey described it as much more than the tasks of an average mother, adding that she wanted everyone to know that her mother had done everything she could to pave the way for her to fulfil her education dream, be a good student and a good human capital for the community and society.
"My mom has sacrificed a lot," she said. "Honestly, she had a choice to go back to her community and do farming as other uneducated people [do]. But she chose to think differently because she feared that her children would have to live in this life cycle. She was very brave, transforming herself despite the difficulties. I am really thankful for this as if there had not been her presence, I would not have [what I have] today."
Asked about her daughter, Tam Nga expressed her excitement, saying that she has been a proud mother as she witnessed her daughter's success at school and university.
"I really feel wonderful and astonished to see she succeeds," Nga said in Khmer with an indigenous people accent.
Having children who are committed to education and are a good resource for society is really a blessing for a single mother like herself, she said. "Some neighbors praise my daughter but some don't support her [commitment to education]. But for me, whatever she wants to do is fine as long as it is walking on the right path," Nga said, chuckling a little.
She went on to say that being illiterate was what motivated her to do whatever was needed to overcome the hardship as well as destiny in order to raise the family and support the children.
"I am illiterate, but I want my children to be educated," Nga emphasized. "I don't want them to be like me as life has been really tough. I couldn't work and people disdained me. So, as long as my children can receive education, I can get over anything despite the rough times."
A little girl with a big dream
In rural ethnic communities, it is customary for young women and girls to have less chance to study away from home due to cultural restrictions and poverty.
However, Pisey went against the pattern and shaped her own dream of education, managing to accomplish this in spite of hardship.
She recalled that she could only give shape to her dream of studying in foreign countries after she was granted a 2-year scholarship from the US Embassy in Phnom Penh to study English when she was in eighth grade.
"When I got the chance to read books about the US society and also to take part in camping events, I was awakened to the fact that the outside world is really big," Pisey said. "It came at a time when I learned that I had a good chance of studying abroad, speaking English and learning from other cultures. More importantly, I could help change my family's fate when I came back.
When she reached grade 11, she decided to apply for a scholarship for high school students to study in Norway in a program that prioritized disadvantaged girls from the indigenous communities.
Embarking on a quest to study in Norway
Through her efforts and with support from the United World School organization, Pisey ultimately was awarded a fully-funded scholarship to study at the United World College in Norway.
However, she remembered that it was extremely difficult to find people to whom she could ask advice regarding her education journey as a person living in a rural community.
Her mother, she explained, could not provide her with any advice and, while some of her relatives and neighbors who still maintain a conservative mindset did not show support for a young girl like her to go far away from home to fulfil her education aspiration.
"At that time, I really had no one to talk to or discuss with at home," Pisey recalled. "I only knew it was a scholarship. I told my mom that I had got it awarded, and I asked her for permission to go. Then, she just gave me a positive response and didn't even ask about anything else," Pisey recalled. "If this had happened in a well-educated family, I expect there would have been a lot of discussion regarding pocket money, study material as well as traveling."
This said, Pisey considers that her trip to Norway alone truly was an adventure: She only had around $20 in her pocket and could not bring along proper clothes or study material.
"During that time, a sister who worked at United World School organization asked me, surprised, 'Pisey why do you only bring along these small bags," she recalled. "I actually had brought a small back with just two jackets and a few additional clothes. I didn't really know how people in Norway dressed. I didn't even have study material or even a personal computer. It was that I didn't know and there was no one we could consult at home."
Having seen Pisey's financial hardship, Nan Sitha, the United World School's country director decided to donate out of his own pocket to help her with travel expenses. The organization also requested additional support for her during her stay in Norway. Arriving at the destination, Pisey's worries were alleviated as she could get some clothes and study materials, thanks to the school's donation box.
In Norway, Pisey completed grade 11 and 12. The most challenging thing for her was that the courses were conducted in English and her English proficiency was still limited. But in spite of the difficulties she encountered, Pisey studied hard and self-studied a great deal in order to catch up with the lessons.
After completing high school, all students had the opportunity to apply for scholarship to pursue undergraduate degrees in the US.
"At that time, I knew that my dream was imminent," Pisey said. "So, I decided to apply for a degree in business administration at the Methodist University in North Carolina​." As she explained, this course would provide her with the flexibility of working both in non-profit and profit sectors in Cambodia as well as to run her own business.
Giving back to the community
Following her graduation and return to Cambodia, Pisey has been employed as a communication officer for the United World School (UWS).
Founded in 2008, the organization has the main mission and goal of supporting young indigenous women and girls so they can go to school at kindergarten and primary levels.
​Nan Sitha, UWS country director, said that the organization currently oversees 115 schools in five provinces namely Koh Kong, Kratie, Mondulkiri, Ratanakiri and Stung Treng provinces.
As head of the organization, Sitha said he had supported and closely followed Sitha while she was studying abroad to ensure that she could successfully complete her education.
"For me, Pisey has been highly committed to education, and she has also been very courageous as she managed to travel alone as a young indigenous girl given that she had no experience [of doing so] at all," Sitha said. "She also has become a student role model, being a compatriot and having big ambitions of giving back to her own community." He also pointed out that Pisey will be able to inspire other young girls and promote the value of education, eventually altering the conservative perception and tradition that have long restricted the freedom of girls to get an education.
Pisey recognized that she decided to work for the organization as she wants to give back to the community as well as also help the organization that had a role in making her education dream a reality.
"When I studied abroad, I always kept telling myself that I must not get overjoyed at living overseas," Pisey said. "What I have to do is to bring all the knowledge and experience to help my beloved people as I could see a large gap between children in provinces and the city.
"Despite the difference, I observe that many girls in rural areas were having amazing life stories," she said. "I want the world to know their lives as they are capable and have dreams although they are living in far-flung areas."
She went on to say that, whenever she is on field mission in communities, she shares her own story with girls through which she hopes to embolden them to have more passion about education as well as try harder to overcome life obstacles.

Future career as an educator to change girls' life

With significant knowledge and astonishing life experience, Pisey said she will continue to work for this organization for a couple of years before pursuing a post-graduate degree. By obtaining a post-graduate degree, this 25-year-old woman explained that she would be able to inspire other women in her communities to follow suit.
Pisey's ultimate goal is to become an educator so that she would have a bigger role in changing the life of girls in her community, she said.
"My long-term plan is to work in the education sector. I want to be an education official because I wish to contribute, even slightly, to the advancement of our education services in terms of quality for indigenous girls," Pisey said. "However, I am still unsure whether I will be an official or a teacher," she said, adding, "I believe that my career will have an impact. Even though it is not big, it will benefit my community."


What Pisey wants to see in the future is elder people trusting young people more, encouraging and respecting those capable of creating their own dream and executing their own plans. Meanwhile, she said, young people should also no longer withstand family pressure and be able to express their own opinion and make their own choices.
"In my community [Brao], women are not independent," Pisey said. "Most people worry that young women and girls can walk on the wrong path. Children get pressured by their families [who] have retained a mindset that allowing girls to study far away from home can be bad and risky."
"They, instead, should learn or be open to supporting young people who have a dream," Pisey added.
Related Articles