Spotlight turns on legal loophole following building collapse in Cambodian beach city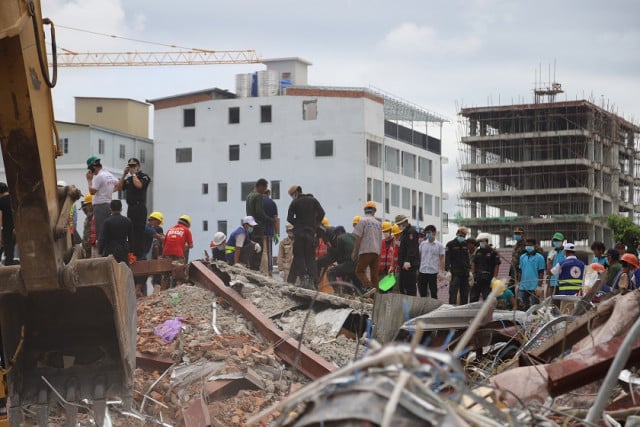 Thmey Thmey
June 25, 2019 10:51 AM
Observer suspects that corruption might have been involved
PHNOM PENH--Construction worker Ouk Neang was awakened by a loud sound of structure crushing down violently and he initially thought an earthquake had just struck.
"I thought I'd die," said 35-year-old Ouk Neang, a survivor of the building collapse in Cambodia's beach city of Sihanoukville on Saturday.
The incident, the first time in Cambodian, killed 28 people and injured 26 others. All of them are construction workers who, at the time of the incident, were sleeping in the Chinese-owned 7-story building, which was being converted into a condominium.
The last two survivors and two bodies were pulled from under the pile of twisted steel and debris on Monday. Now that the rescue operation is winding down, the spotlight is shifted toward law enforcement, where, any observers say, loopholes have allowed the Chinese-funded construction projects in Sihanoukville to go ahead at an unprecedented break-neck speed in recent years – with little oversight over them.
While government officials declined to comment over the possible reason behind the collapse amid ongoing investigation, survivors and other construction workers have pointed to the safety practice and construction quality as the probable causes.
"We were sleeping when the building collapsed. The day before, I had worked over time until 12 midnight. At around 4 a.m., I just heard an unusual sound, and I knew it could be either earthquake or building collapse," Ouk Neang recalled the incident. "I thought I'd die."
A native of Pursat province, Ouk Neang had been working at the site for just two days before the building came crushing down. He said he notices something unusual about the building.
"I have noticed that the building had a problem with its quality standard. I used to work in Thailand before and I have never seen any multi-story building being constructed using metal frameworks instead of concrete," he said.
"I think the quality of construction is a problem because I heard that the works were ordered to cease twice, but the owner still continued. But as a construction worker, I didn't know much about what happened and we only did what they asked us to do," said 26-year-old Leang Kheang, another survivor.
"Built first, license later"
According to Cambodia's sub-degree on construction permit in 1997, no developer can begin construction activity before obtaining the necessary permit from all relevant competent authorities. It says violators "shall be subject to penalties and the construction works shall be stopped immediately."
But this regulation appeared to be grossly ignored in the case of the collapsed building in Sihanoukville, which is located southwestern Cambodia.
The beach city has seen its landscape dramatically changed during the past few years. Chinese investment, part of the so-called 'Belt and Road Initiative,' has transformed it into a hub of multi-million dollars condominiums, hotels, and casinos catering to Chinese nationals.
The Chinese investment has driven up local property prices and spurred a construction boom at an unprecedented break-neck speed. The construction projects have grown so fast – so much so that the developers often started construction activities even before securing proper licenses from the government.
"With no land use plan to guide development [in Sihanoukville], the cityscape has changed dramatically, with new high-rise developments out of place in a traditionally low- to medium-rise urban environment. As such the construction permits are granted on a case-by-case basis, often known as "built first, license later," the World Bank said in a report in August last year.
The practice of "built first, license later" – which was apparently allowed by Sihanouk provincial leadership – was so out of control, prompting the Ministry of Land Management, Urban Planning, and Construction to move to try to stop it.
In October 2018, Secretary of State of Land Management, Urban Planning and Construction, Chhan Saphan sent the now-resigned provincial governor Yun Min a letter telling him to stop any constructions where owners did not obtain an appropriate license yet.
The letter also asked the provincial administration to stop issuing the so-called 'in principle' construction permits "which create illegal constructions, affects public orders, beauty as well as construction quality."
The ministry's worse fear became true when the Chinese-owned building, reportedly 70 percent complete, tumbled down before dawn on Sunday.
"At that time, I was already up and using phone when I heard a sound. I knew that the building was falling down. I covered my head with my hands and bent in my knees," said 26-year-old Leang Kheang, another survivor who is a native of Kampot province.
Two bodies and two survivors were retrieved from under the rubble on Monday, bringing the death toll to 28 and number of survivors to 26 respectively.
Four people – three Chinese nationals involved in the construction of the collapsed building and a Cambodian owner of the land on which the building was being built – have been arrested and charged with involuntary manslaughter and conspiracy by Sihanouk provincial court.
Yun Min, the provincial governor, said his provincial officials have told the building developer twice to stop the construction but to no avail. He has resigned from his job in an apparent admission of his failure to prevent the disaster.
San Chey, executive director of Affiliated Network for Social Accountability, a non-governmental group, said investigation must also look into why the local authority failed to enforce the law by stopping the construction after the developer kept ignoring their warnings.
"We suspect that corruption might have been involved. Therefore, it should be an investigation to find out if the local authority really went there to stop the construction works or they got paid by the Chinese owner" to turn a blind eye, he said.
Prime Minister Hun Sen, who was directing the rescue operation on site, first put the blame on the construction company for being careless. But he later also said the local authority is also to blame for failing to manage the construction projects properly.
"What happened is a lesson for us, and all illegal constructions from now on have to be stopped. We must not allow this to happen again," Hun Sen said in a press conference on Monday evening.
Related Articles