Srey Bandaul, Co-Founder of the NGO Phare Ponleu Selpak, Passes Away in Battambang City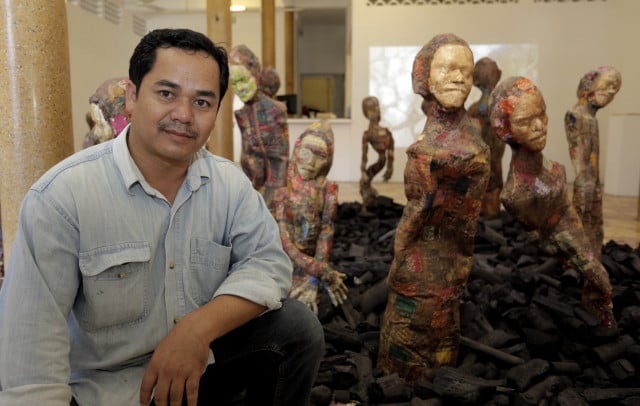 One of Cambodia's leading artists, he had been hospitalized due to COVID-19

PHNOM PENH--Cambodian artist Srey Bandaul, one of the founders of the NGO Phare Ponleu Selpak in Battambang City and a teacher who has influenced several generations of artists in the country, passed away on Aug. 4.
Bandaul had been hospitalized one week ago due to COVID-19 but was believed to be recovering, said Osman Khawaja, Phare's executive director. He had received his first dose of the coronavirus vaccine about a week ago, he said, adding that Bandaul's wife remains hospitalized with COVID-19.
Upon hearing the news of his death, Ministry of Culture and Fine Arts spokesman Long Bonna Sirivath said that the ministry was truly sorry to learn this. "We regret the loss of rare human resources and talent, especially in the field of culture," he said. "We would like to send our deepest condolences to his family."
An artist of international standing, Bandaul's work has been exhibited in countries ranging from Australia, Myanmar, Norway, the Philippines, Singapore, Thailand and Turkey to the United Kingdom and the United States.
But what people in the arts and culture field especially stressed when asked about him on Aug. 5 was his kindness.
"Bandaul was one of the most kind-hearted persons I have ever known," Khawaja said. "He was always there to help…with compassion and love. You could see that. I always considered him as the real brightness of our campus, the real light.
"Whenever someone had an issue, in the community or students, people would go to him because they knew that Bandol, with compassion, would listen and understand. This was very evident when you were with him or around him," he said.
In recent years, Bandol had headed Phare's program to bring art to marginalized populations, including helping the elderly express with the arts what they are going through, Khawaja said. Moreover, he said, "[h]e would spend his free time on weekend teaching art to children who live around the garbage dump sites in Battambang…He wanted to use art to provide some hope to these children and engage with them."
"Bandaul was someone very soft spoken, always smiling, ready to help," said Phloeun Prim, executive director of Cambodian Living Arts (CLA). "Two years ago at CLA, we ran a program to draw up a list, identify 'unsung heroes' per province. And the team working on Battambang had selected Bandol, an unsung hero who is always quiet."
Born in December 1973 in Battambang Province as the civil war was raging in the country, Bandaul spent most of the 1980s in a refugee camp in Thailand.
As he had explained in an interview in 2014, international relief agencies overseen by the Thai military and police only distributed food to girls and women at the Site II refugee camp in Thailand, the idea being not to feed potential soldiers—the Cambodian government was then fighting the Khmer Rouge and other factions based in Thailand.
So until maybe 1986 when this policy changed, since Bandaul was not yet in his teens, his mother would dress him as a girl, keeping his hair long and telling him to speak with a soft voice in order to get food coupons, he said in interview at the opening of his exhibition "Under the Sarong and Site 2" held in Phnom Penh in 2014.
When the Paris Peace Agreement was signed in 1991 and refugees could go home, Bandol was part of a group of Cambodians who had studied arts with a French teacher in the camp and decided to launch the NGO Phare Ponleu Selpak in 1994 to train poor Cambodians so they could acquire skills to earn a living through the arts.
While teaching, Bandaul remained a working artist, experimenting with techniques that over the years went from intricate black-and-white book illustrations to elaborate installations.
"Bandaul created works in many different styles," said Kor Borin who is in charge of cultural activities at the Institut Francais, which exhibited many works by Bandaul over the years. Among others, he worked on an exhibition with his students on the theme of sarong, these wrap-around pieces of fabric that Cambodians wear, Borin said.
And then, Bandaul spread sand he had collected on a riverbank to write his story in an artwork, Borin said, the final work resembling the ancient Khmer manuscripts that were written on palm leaves.
"At the chore of it, he was an excellent draftsman, fantastic at drawing," said Dana Langlois of Java Creative Café who has held several exhibitions of Bandaul's work. "His work was really rooted in his capacity to draw extremely well," she said. Then he experimented, such as using candle smoke to paint a series and incorporating texts written in Khmer, she said.
Bandaul also worked with other artists, Dana said. For instance, he collaborated with Cambodian artist Meas Sokhorn and Australian artists Keith Deverell and Sue McCauley on a video that was commissioned and presented at the Visual Arts Program of the Melbourne International Arts Festival in 2010 in Australia.
Always the teacher, Bandaul would encourage his students to take risks. For example in 2009, he had conceived a tale in which a Cambodian boy named Bohak was travelling to an imaginary land with a deep jungle and inhabited by puppets. The assignment was for his students to create watercolor illustrations depicting Bohak's journey. But as artist Pen Robit would explain later on, he had never seen such a jungle and so, he had to imagine one. This challenge was part of Phare's program to prepare students for the book illustration market.
Srey Bandaul leaves behind two daughters, Osman Khawaja of Phare Ponleu Selpak said. Due to the pandemic, no funeral ceremony could be held on Aug. 5, but a memorial will take place in the future, he added.
People wishing to leave messages can do so on Phare Facebook page: https://www.facebook.com/phareponleuselpak
Phoung Vantha contributed to the story.




Related Articles
September 30, 2021 11:58 AM