Sroeun Menglong Wins Logo Competition for Cambodia-Japan Diplomatic Anniversary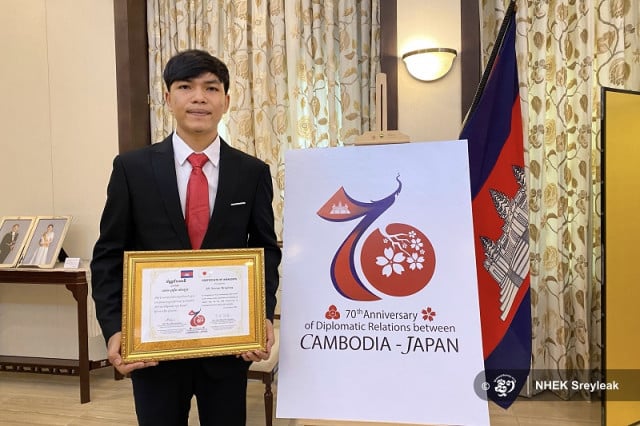 PHNOM PENH – Sroeun Menglong, a 4th-year student at the Royal University of Fine Arts, won the logo competition organized to mark the 70th anniversary of the Cambodia-Japan diplomatic relationship.
In a stylistic and designed way, his creation shows the cooperation and meaningful friendship between the two countries in the long run.
Majoring in graphic design at the Royal University of Fine Arts, it took Menglong around two weeks to finalize the design of the logo – which was eventually chosen as the official logo for the anniversary.
"The 70th anniversary of diplomatic relations between Cambodia and Japan is important to me. For this competition, I designed the logo as the number 70, with the number 7 representing Cambodia and the 0 representing Japan," the logo designer said on Jan. 9 after the opening ceremony.
The shape of the number 7 was inspired by the traditional Khmer Jovear architecture, on the top of the Cambodian flag. The term Jovear refers to the curvy shape of the small branches located on top of pagoda roofs, which comes directly from the Angkor era.
"Cambodia is a country full of historical culture that connects to the architectural identities," said Menglong.
As for the number 0, Menglong designed it by inserting seven cherry blossoms, the Japanese national flower also known as sakura, in the core of the 0. Each sakura represents 10 years of friendship.
He said that the meaning behind the logo is to show the permanent cooperation and meaningful friendship between Cambodia and Japan.
Because it was in line with his major, Menglong has participated in many design competitions over the years.
These numerous experiences led him to win the contest for the Jan. 9 opening ceremony of the 70th anniversary of Cambodia-Japan diplomatic relations.
Speaking at the ceremony, he said he was delighted to have joined the competition and won. He encouraged young people who love posters or logo designs to join competitions, which, he believes, will allow them to express their own style and potential.
Even though he hasn't always won design contests, Menglong managed to be on the podium on several occasions. He finished 2nd in the National Culture Day challenge, was awarded a certificate at the ASEAN Festival, and even won the logo competition for the commemoration of the inscription of the Preah Vihear temple in the world heritage sites' list.
To improve and use his potential to the fullest, Menglong is determined to join other competitions in the future.


Originally written in Khmer for ThmeyThmey, this story was translated by Meng Seavmey for Cambodianess.
Related Articles