STEP IT Academy Cambodia: IT is a Key for Future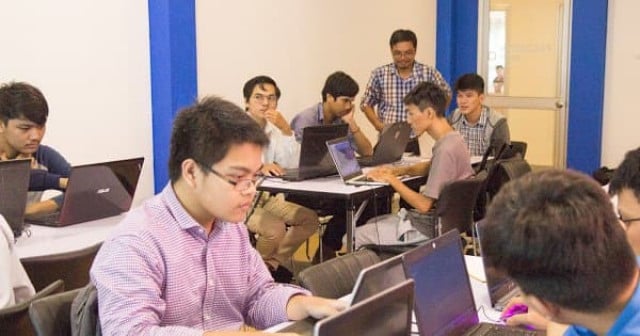 Torn Chanritheara
December 22, 2020 7:28 AM
PHNOM PENH--Information Technology (IT) skills in Cambodia are not enough developed and more trainings should be provided, said Nataly Rodionova, Managing Director of STEP IT Academy in Cambodia, while warning Cambodian students are missing out opportunities due to the lack of IT skills.
According to Rodionova, IT is the most rapidly growing industry around the world and offers an increasingly wide range of opportunities, often with higher incomes.
"IT is key in anything you study. If you understand how it works, and have strong skills, you become a creator for technological solutions in any industry you would want to focus on," Rodionova said, suggesting Cambodian students to consider adopting more technologies for a better future.
While noting that young Cambodians familiarize themselves with digital technology fast, she pointed out that, most people are only familiar with already developed technologies and are most of them are unable to create new IT solutions and tools.
"This is what STEP IT Academy wants to help, to grow the new generation of Cambodian IT creators, helping them learn international quality IT education," she stressed.
STEP IT Academy Cambodia is a branch of an international training center, providing quality education in digital skills. It has been in operation in Cambodia since 2015 and since 1999 in the world, according to Rodionova.
The academy offers diverse programs ranging from Computer Graphics and Design, Software Development, Digital Marketing to Cyber Security, Rodionova said, adding that program is available for adults from 18 years old and a special Junior Academy for children from 8-15 years old.
The professional program is designed for 2.5 years, or five terms as this is the right duration to gain the skills and necessary experience to become an in-demand, high-quality professional, she added.
Those who enroll in the academy will be required to understand English and know how to use computers. Rodionova said they also undergo the academy's own free placement test to identify their potential, skill and talent.
Rodionova said that 100 percent of graduates have been able to find relevant employment upon completion of the course, with their salaries ranging from $300 to $1,000 per month, depending on their skill and efforts. She continued that some students also have part-time jobs and undertake internships at various companies while studying.
"What [makes] our courses different from other places is that we focus on practical skills. So, students work on their projects, on creative assignments and on teamwork so it's very practical. So, we want students to have the skills needed and then we can help them to find jobs. We are very happy to see that everyone graduating getting jobs they want," she said.
In the era of Industry 4.0, she said that STEP has been contributing to the development of Cambodia and is improving national readiness to reap benefits from Industry 4.0 from the very first day of establishing its branch in Cambodia five years ago. "Our students in Cambodia get a world class international education, that helps them easily find jobs," she added.
Moreover, STEP has established Sisters of Code, Cambodia's first female coding club, to help female students to learn IT skills and become active members of the digital economy. "We want to empower more Cambodian girls to study technology," Rodionova added.
Besides, STEP was the first to Computer Academy for Children in Cambodia, which has been providing coding, robotics, design courses to young children from 8 to 15 years old since 2015.
She said, "We brought an international program to teach young students the same program that our students in the US or across Europe learn and we hope to see more Cambodian youth benefiting from the quality education."
For more information, please contact:
Telephone: +855 (0) 86 781 737 or 085 777 120
Website: www.cambodia.itstep.org
Email: [email protected]
Related Articles