Still No Cause for Celebrations in Cambodia on Human Rights Day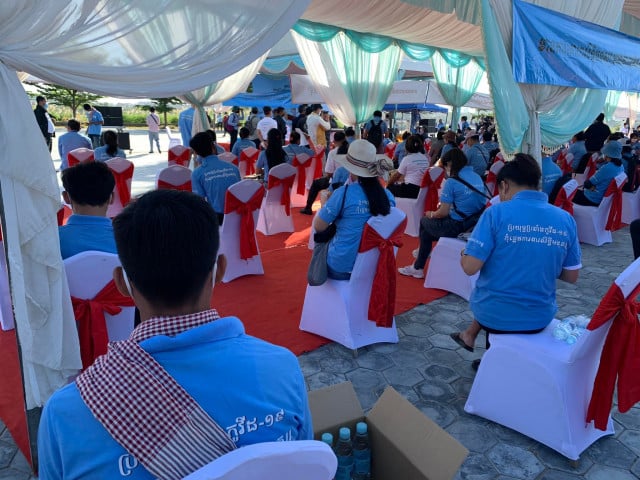 Whether Prime Minister Hun Sen's grip on power serves as a means to accomplish a broader vision remains to be seen, but analysts and advocates agree that it has done little for the freedoms of Cambodians
PHNOM PENH--Once again, Cambodia has seen no positive developments as another International Human Rights Day rolled around on Dec. 10, with analysts and advocates warning that the COVID-19 pandemic has largely given cover to authoritarianism and repression in Cambodia and beyond.
This is the second year since International Human Rights Day was officially delisted as a public holiday—a symbolic move that reflected Prime Minister Hun Sen's open disdain for the rights of his citizens—but in the time between Dec. 10, 2020 and Dec. 10, 2021, little has changed and nothing has improved, according to CIVICUS, a non-profit focused on civil rights and civil society worldwide.
Cambodia remains, for yet another year, "Repressed" on the CIVICUS Monitor scoreboard with Hun Sen more firmly entrenching his one-party rule—a regime that looks all but set to be handed down to his eldest son Hun Manet, who currently serves as commander of the Royal Cambodian Army.
However, while political and civil freedoms in Cambodia have been headed decidedly in one direction for the last four years at least, Cambodians are not alone in living under repressive rulers. CIVICUS' 2021 report, published earlier this week, found that 88.5 percent of the world live in countries where civic space is either closed, repressed or obstructed—just 3.1 percent of the world's population enjoy what CIVICUS define as an open society.
Across Asia and the Pacific, the same deterioration of personal freedoms was recorded by CIVICUS for the most part. Singapore saw its rating downgraded from Obstructed to Repressed, while the Solomon Islands dropped from Open to Narrowed civic space.
"At least 13 countries in Asia have used criminal defamation laws to try to silence activists and critics in the past year," the CIVICUS report reads. "Despite the global pandemic and restrictions, protests took place in at least 18 countries in the Asia region. Protesters were detained in at least 14 countries and the authorities used excessive force against protesters in at least 12 countries."
In Cambodia though, Josef Benedict, Asia-Pacific civic space researcher at CIVICUS said that little had changed according to their research.
"The arbitrary arrest of activists, the targeting of the opposition and the silencing of journalists are all patterns we've seen repeated in recent years," said Benedict, adding that the only real shift seen was in the methods employed by the Cambodian authorities, who have gone digital in their bid to silence dissent.
Cambodians Neither Free Online or Off
Increasingly, Benedict noted, Cambodia has relied on technology to stifle critics.
He pointed to the government hacking into environmental activist group Mother Nature's Zoom call and using the video as evidence with which members of the group accused of plotting to overthrow the government. Similarly, private messages sent by a young opposition party activist over Telegram were used to convict and imprison the 16-year-old, who has since been released.
As with 2020, Benedict said CIVICUS remains concerned about the creation of the National Internet Gateway, which is set to hand sweeping powers to a government that has demonstrated a propensity for monitoring communications, blocking access to critical news sources and spying on political opponents.
The National Internet Gateway, opposed by activists, the private sector and tech companies, was pushed through via sub-decree and is expected to be operational early 2022.
"Around the globe, cyberspace has become the new battleground in the fight for the heart and soul of democracy and Southeast Asia even before the pandemic was fast becoming one of the global hotspots where the screws were being tightened on freedom of expression online," said Benedict, adding that Southeast Asian governments are hiding behind the façade of national security or public morality to ensure rights are not exercised on or offline.
Benedict was quick to point out that this acceleration of repression in Cambodia and the region was not solely down to the COVID-19 pandemic, although it has certainly helped leaders like Hun Sen to evade scrutiny domestically and internationally.
Authoritarians and populists were already making moves in the region well before China announced its first case of COVID-19.
"More and more countries—Cambodia and Thailand among them—are under the significant influence of China and are increasingly adopting its authoritarian tactics to hold on to power or control the narrative," said Benedict. China, for reference, was rated as Closed by CIVICUS.
The rise and fall of Donald Trump—the reality TV star turned US president—served as a signal that human rights were no longer contingent to US support, which Benedict said contributed to a erosion of democratic norms in India, Brazil and the Philippines, all of which "play a leading role in their regions, and which in the past were vocal about human rights in the region, where populist leaders have now taken charge."
Waning US Influence in Southeast Asia's Human Rights Fights
Ahead of International Human Rights Day 2022, the US imposed an arms embargo on Cambodia, citing growing Chinese influence as the chief disqualifying criteria, but systematic corruption and persistent human rights abuses also led the US Department of Commerce to ban on the sale of hardware for military purposes to Cambodia on Dec. 8.
If the arms embargo is the stick of US diplomacy—which appears to directly target the military intelligence agency run by Hun Manith, another of Hun Sen's sons—then the visit from the US State Department's Counselor Derek Chollet is perhaps the carrot.
Travelling to Indonesia and Cambodia between Dec. 8 and Dec. 13 and conspicuously arriving in Cambodia on International Human Rights Day, Chollet is aiming to ratchet up US-ASEAN collaboration on dealing with issues ranging from Myanmar to the South China Sea, but Cambodia's civil society got an honorable mention in Chollet's pre-trip statement.
"Chollet should use his visit to press Hun Sen to stop persecuting opposition activists and critics for simply speaking their minds. Independent journalists should also be protected, and media freedom guaranteed," said Phil Robertson, deputy director of Human Rights Watch in Asia, in response to Chollet's trip. "The worsening onslaught on democratic norms, media freedom, and human rights in Cambodia cannot simply be ignored because Hun Sen enjoys the spotlight as ASEAN chair."
Robertson predicted that Hun Sen's erratic position on Myanmar would likely be the hot topic of discussion for Chollet's meeting, but also warned of the possibility of violence ahead of Cambodia's forthcoming elections.
"If Hun Sen truly wanted to assume an ASEAN peacemaker role, he would also meet and confer with the National Unity Government, which has the support of most MPs elected in the November 2020 election," Robertson said, noting that Myanmar's netizens have already vocally opposed Hun Sen's idea of diplomacy.
"The people of Myanmar want their democracy restored and their rights respected, and they will not accept any short cuts coming from Hun Sen," he added.
It remains to be seen how Chollet will be received in Cambodia, but Hun Sen, in apparent response the US arms embargo, lashed out and called on the US to impose Magnitsky sanctions on Cambodians saying that they would have little to no effect. He also then promoted infamous timber baron Try Pheap, whose special economic zone in Pursat Province was recently found to house a Chinese gang ensnaring and enslaving unsuspecting foreign workers, from Oknha to Neak Oknha earlier this week.
Pheap was sanctioned by the US Treasury Department one day before International Human Rights Day in 2019 for alleged human rights abuses.
"No Country is Perfect"
"In general, we assess the human rights situation based on the general human rights principles, compared with some countries in the region and Cambodia in the past—based on the Cambodian context, we see a lot of growth and progress remarkably, although there are still some challenges," claimed Chin Malin, who serves as spokesperson for both the Ministry of Justice and the government's Human Rights Committee.
Malin has long been at the forefront when it comes to defending the government against criticism over human rights abuses, often arguing that said abuses were within the scope of Cambodian law.
"There's no country that is perfect on the human rights issue," Malin added. "Some countries who claimed to be the father of democracy also have faced many criticisms and also received recommendations from the Human Rights Council of the United Nations related to the human rights situation."
When asked specifically which areas he felt Cambodia had improved in regards to respect for human rights, Malin simply said that Cambodia was outperforming many countries in the region that suffer from one-party politics, a lack of elections, are led by military rulers or are engaged in civil war.
While this is perhaps setting the bar too low, it is also unclear if Malin sees a genuine opposition party in Cambodia after the Supreme Court dissolved the Cambodia National Rescue Party (CNRP) in 2017 out of Hun Sen's apparent fears that the opposition party could have ousted him in the 2018 national elections.
The coming commune elections in 2022 have prompted fears that there will be no competition for Hun Sen's long-ruling Cambodian People's Party, but if Hun Manet takes the mantle as Hun Sen has public expressed hope for, then it is unclear if Cambodia will join the region's military-led countries that Malin seems to hold in contempt.
Malin went on to thank peace and praise development, saying that human rights aren't just about rights, but rather the economy, a country's culture, society and politics. He added that "If we evaluate all rights, not just one kind of rights and evaluate with no political agenda, I think we see human rights have made progress in Cambodia."
He then repeated that there was no perfect country and UN mechanisms are in place to improve Cambodia and the world in terms of human rights.
"We will continue to address the challenges according to the UN's encouragement," he said.
UN Recommendations Largely Ignored
But UN Special Rapporteur Vitit Muntarbhorn has been making recommendations on how Cambodia's relatively dismal human rights record could be improved, with suggestions in his report presented at the Human Rights Council in October 2021.
Mutarbhorn, like many, was impressed with Cambodia's vaccination rollout, which has seen more 13.5 million people double-jabbed against COVID-19 as of Dec. 9, but while acknowledging these efforts the special rapporteur on human rights said there is more to work on than inoculations.
"I remain concerned about the introduction of legal and policy measures in the name of combating the pandemic, resulting in substantial restrictions of the enjoyment of people's fundamental human rights guaranteed by the Cambodian​ Constitution and international human rights norms and standards. These include freedom of expression, freedom of assembly and labor rights," he said.
Muntarbhorn reiterated the importance of the many international accords and obligations Cambodia has adopted pertaining to human rights, but added that there is a limit to the role of the international community—the preservation of civil society and the respect for citizens' most fundamental rights remains the duty of the state.
"It is of utmost importance to ensure that dissenting views are not punished [and] I have called on the authorities to refrain from applying ambiguous legal provisions for their own political or personal motives, especially in relation to treason and incitement cases," Muntarbhorn said. "I would like to emphasize that the authorities should ensure their actions are based on well-founded legal grounds, grounds established by international human rights norms and standards—not grounds as defined by the officials concerned."
He welcomed the chance to provide more technical assistance to the government and the adoption of a resolution on Cambodia at the Human Rights Council's 48th session in October this year.
But for Benedict of CIVICUS, the resolution didn't go far enough and the UN's lack of enforcement mechanisms when it comes to human rights abuses is a gap he suggested could be filled by unilateral sanctions, citing the Cambodia Democracy Act currently working its way through the US legislative bodies.
"As well as holding countries accountable for their rights violations, such scrutiny can add a layer of protection to those who would otherwise be targeted even more severely," said Benedict. "However, we were disappointed that the resolution as adopted did not reflect nor adequately address the political and human rights crisis in the country. Its negotiations reflected an intensely politicized and underfunded UN human rights system."
No End in Sight to Abuses of Power
The politicization and subsequent paralysis of the UN has resulted in far less pressure than Benedict said he'd like to see applied to Cambodia for its continued, systematic violation of the rights of the Cambodian people—particularly in relation to political freedoms and freedom of expression.
The release of 27 activists on Nov. 12 may have been a surprise—and one that Justice Ministry spokesperson Malin said was simply a coincidental court procedure—but Benedict said the Asia-Europe Summit Meeting in November 2021 and Cambodia's ASEAN chairmanship could better explain the release of what many referred to as political prisoners.
Cambodia denies having political prisoners, even as critics living in Thailand as refugees are rounded up by Thai authorities and deported back to Cambodia where they were imprisoned, much the chagrin of the UN Refugee Agency.
"We also believe the human rights situation in Cambodia is getting worse," said Naly Pilorge, director of local rights group LICADHO, which has exposed a range of abuses tied to the government.
From the harassment of activists—both online and off—to the targeting of trade unions, LICADHO has remained a steadfast critic of the government for the unabated assault of civil rights in Cambodia. Last year, LICADHO's report on the situation of human rights defenders saw a sharp uptick in attacks—both physical and judicial—against those who stood up for the fundamental freedoms the government has chipped away at or attempted to remove completely.
"Civic space is not only closing down for activists to express themselves on labor rights, land rights, environment and other key issues, but we are entering a period of time in which we will face non-competitive communal and national elections after the dissolution of the only viable opposition party in 2017," warned Pilorge.
So, with another International Human Rights Day passing Cambodians by with relative silence, it appears that little can be done to stop the downward spiral of Cambodia from fledgling democracy to an extractive dictatorship, where Hun Sen's grip on power seems only to serve as an end in itself, rather than a means of crafting any form of political ideology or vision.
Related Articles