Street Art Fest – Phnom Penh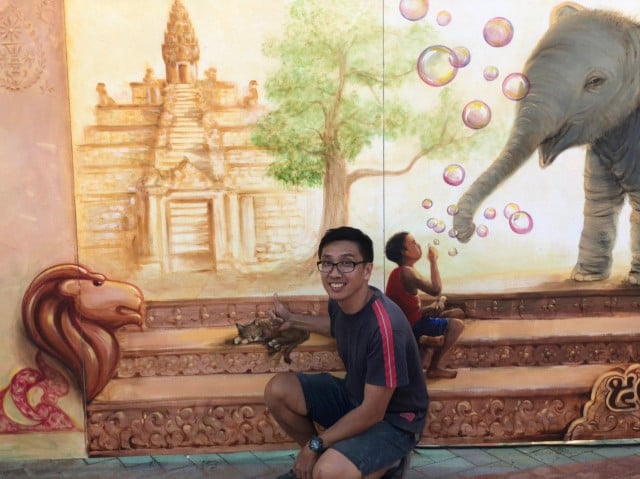 Jazmyn Himel
February 23, 2020 6:23 AM
Marking a diplomatic event with an outdoor celebration for all
PHNOM PENH-- WB Arena was covered in a coat of warm, orange sunlight, as two street artists, Fonki and Yip Yew Chong, tended to their respective murals in the sweltering Cambodian heat last week in Phnom Penh.
The Street Art Fest, which is held this month to celebrate 55 years of diplomatic relations between Singapore and Cambodia, turned into an unexpected surprise, said Fonki, an artist with Cambodian roots from the city of Montreal in Canada.
What was originally planned to be a mural conceived as a collaboration between two street artists to mark that anniversary ended up growing into a street-art festival in the course of three months of meetings, he said.
"I like the fact that you have [Yip's] Singaporean team and my team, and everyone is working together, and you don't see the division," Fonki said. "In the end, I think street art is the excuse, it is secondary…[W]hen it comes to art, music or film, we just need more playgrounds here, in Cambodia, to have an equal discussion between all the social classes and such: I think art can facilitate that."
The festival, Fonki hopes, will be a spark for other initiatives, "just like in Montreal, I started doing [street art] because I saw other people doing it…I know the impact of kids seeing and relating to it. It is part of the identity we can take back and have fun with our heritage."
Artist Fonki paints at the Street Art Fest in Phnom Penh on Feb. 20. Photo: Jazmyn Himel.
So far, the community's involvement in the festival has been a testament to this, Fonki said: the gathering and participation of people from all parts of the city coming for the music, shows, art and food. They have been the highlight of the festival, he said.
"What is cool is that [the festival] is open to everyone. It's not just open to the VIPs," Fonki explained, "There is a communication and a bridge that has been built with this event."
While the two countries are notably different, both art scenes are developing, Yip said.
"In Cambodia, it's not as structured as Singapore, which I hope Singapore can learn from," the Singaporean artist said. "[W]hen it is less structured, there is more room for spontaneity."
Organized by the organising committee and supported by the Singapore Embassy in Phnom Penh, the festival held outside the WB Arena features a long list of singers, dancers, DJs, Open Mic events and film screenings. Plus food vendors offering Cambodian, Singaporean and Western dishes.
Fonki and Yip will keep on painting outdoor throughout the festival, which ends March 1.
Related Articles