Street Vendors and the Soul of Cities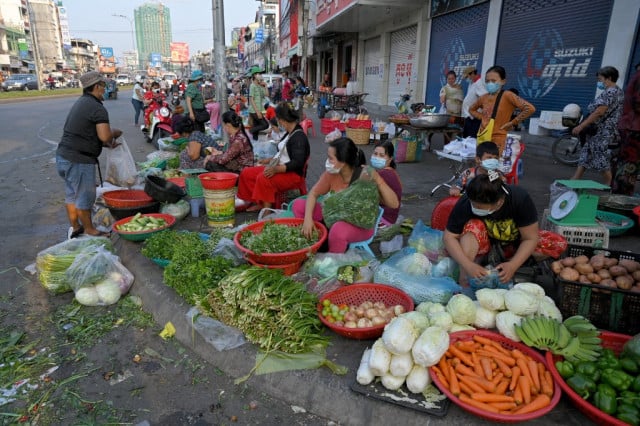 To improve traffic flow as well as to give a nice image to travelers arriving at the Phnom Penh International Airport, the authorities have decided to prohibit access to Russian Boulevard to motorcycles hauling trailers between the Mazda car dealership and the interchange under construction at the Chaom Chao roundabout.
Therefore, out with those motorcycles often falling to pieces and hauling long trailers overloaded with anything and everything, nearly moving at a snail's pace, smoking and spluttering in the flow of traffic on this boulevard of international scale that, when driving along from the airport to the center of the capital, is a showcase of 21st century Cambodia.
In many respects, this decision is as justified as others meant to relieve the congestion in the city by going against cars parked any which way on the streets or vendors squatting on sidewalks. But some of these measures should come with a reflection on their social implications.
There is no doubt that the owners of these motorcycles with trailers are not rolling in money. This prohibition of driving on a section of Russian Boulevard—which may be a sign of others equally justified—will no doubt affect them in economic terms, forcing them to use crosswise paths that will add to the distance they have to cover.
In the same way, the future of street vendors looks increasingly bleak as Phnom Penh and urban centers in general are modernizing. In a joint statement released on Nov. 14, 2021, civil society organizations, anticipating the virtually-inevitable measures being taken to limit the field of activities of these workers of the informal sector, have asked the municipal and provincial authorities to provide them with appropriate locations.
These organizations are asking the government to look into policies pursued by neighboring countries that are facing similar challenges. They are also asking to provide street food vendors with hygiene training to improve food safety. Finally, these organizations are calling for the creation of a social security fund for these workers without any official status.
Everywhere in the world, cities move these disadvantaged categories of people far away in their surrounding areas. Those who barely manage to make a living through small businesses on the streets of large urban centers find themselves in very precarious conditions.
As long as Phnom Penh is a permanent construction site, street vendors are as indispensable to feed construction workers as they are outside the garment factories located within the urban perimeter or outside schools. But they also contribute flavor and ambiance to the city.
Nothing would be sadder than to see the indispensable modernization of Phnom Penh transforming the city—with the exception of its historical neighborhoods—into a grid arrangement of insipid streets and boulevards mainly meant for traffic and parking cars, and lined with international franchise buildings.
Preserving street vendor businesses is also preserving the soul and uniqueness of Phnom Penh and cities in the country. And what today congests Phnom Penh is more the well-off people's craving for large cars than the mobile stands of the modest street vendors.
Related Articles