Strengthen Khmer Athletics Federations: Expert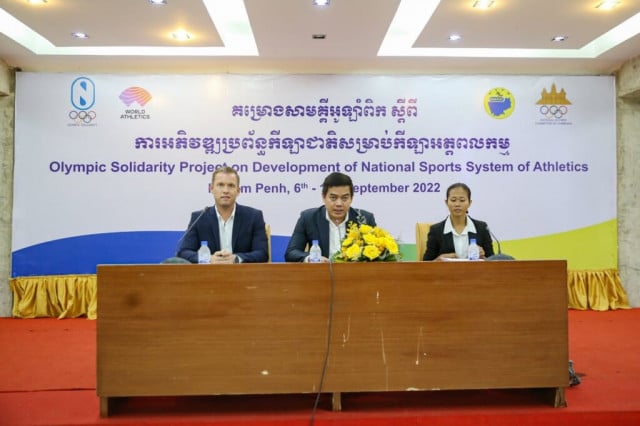 PHNOM PENH – Human resources of the Khmer Amateur Athletics Federation need to be strengthened to achieve future success, an international expert has concluded.
Oliver Scheer from the World Athletics Institute made the remarks after taking part in a project from Sept. 6 to 13 to develop a national sports structure for athletics.
The project was sponsored by the Olympic Solidarity initiative of the IOC through the National Olympic Committee of Cambodia (NOCC) in collaboration with the World Athletics Institution and the Khmer Amateur Athletes Federation.
"What we see is human resources working together and creating a project but because we lack human resources the project is difficult to run. This is a shortcoming that can affect achievement of good results," the Austrian expert said.
Buy Sophorn, NOCC advisor, said the project focused on two points. Firstly, it was about the organisation of the training system of coaches. The second aspect was adjustment, development and management of the structure of the federation.
There were many points for the federation to review and revise and he would develop a strategic plan and training to develop what he saw through collaboration with the NOCC.
This was important because international expertise was needed to conduct assessments in accordance with systems and standards.
"What is the status of the Khmer Athletics Federation? And what points does he need to make? And how to change? he said. "The expert will have a clear approach to organise and strengthen the Khmer Athletics Federation."
Scheer is due to visit Cambodia again from Jan. 24 to 31 to hold a workshop on project structure and strategy and set up a training system for the Khmer Federation of Volunteer Athletes, as well as organising 12 coach training sessions online.
Related Articles