Stricter Traffic Laws to Be Enforced from May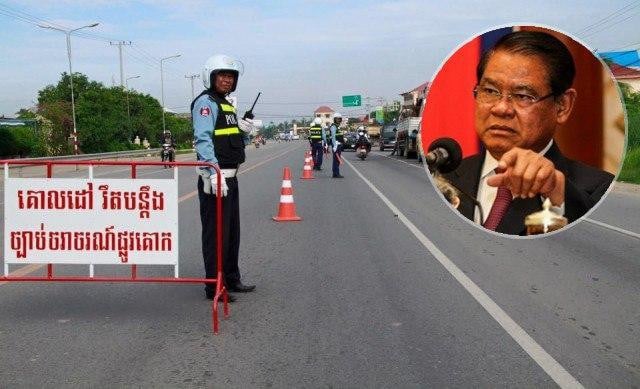 Phoung Vantha
April 28, 2020 12:36 PM
Higher fines and more stringent rules are expected to be implemented as of May this year.

PHNOM PENH--General Commissariat of the National Police Neth Savoeun said on Tuesday that Cambodia's traffic police force will begin to enforce traffic laws across the country with higher fines from May 2020.

According to the general commissariat's notification on April 28, traffic police nationwide have been ordered to implement the Road Traffic Law and the sub-decree in a spirit of responsibility, transparency, and fairness. They are expected to do so unconditionally with ethics, professionalism, and gentle dignity according to the notification.

"The General Commissariat of National Police strongly urge the people who use the roads around the country to cooperate and abide by the Road Traffic Law to protect your own lives and property in a responsible manner," the general commissariat's statement read.

The new traffic law aims to address key risk factors such as drinking and driving, speeding and a widespread lack of helmets being used by drivers. Likewise, the statement added that the national police would be tightening laws relating to licensing, vehicle registration and condition, as well as truck and bus driver regulations.

It went on to say that police powers to enforce the traffic laws will be extended in conjunction with an increases in fines.

Savoeun's statement detailed the new fines for drivers with a blood alcohol concentration of between 0.40 mg and 0.80 mg, the penalty will be $250 for motorcyclists, $500 for light vehicles and $1,000 for heavy vehicles. The notification did not specify what constitutes a light or heavy vehicle.

Motorcyclists, car and heavy truck drivers registering a blood alcohol concentration ranging from 0.25 mg to 0.39 mg will be fined between $100 and $200.

Driving without a helmet, speeding, disobeying traffic signs and using a mobile phone while driving will incur an on the spot fine ranging from $15 to $25.

Motorists operating cars and heavy trucks without a valid license – including those operating with revoked licenses and unregistered number plates – will be fined between $300 and $600.

At least 1,980 people died and 6,140 others were injured in over 4,000 road accidents in 2019, according to National Road Safety Committee's report issued on 21 January 2020.


Related Articles