Stronger Measures Needed Urgently to Tackle Wildlife Poaching in Cambodia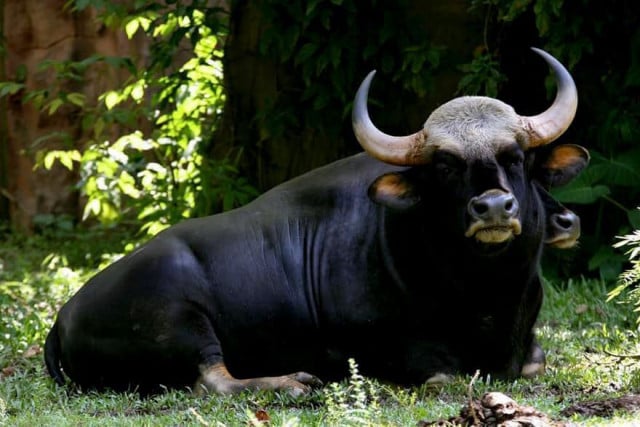 Khorn Champa
June 24, 2020 9:13 AM
As another guar is found dead in a hunter's trap in Pursat province, the Ministry of Environment is eyeing tougher measures against poachers.
PHNOM PENH--Another guar was found dead in hunter's trap in the Samkos Mountains in Pursat province on June 23, according to the Ministry of Environment.

"The poachers escaped when they knew the forest rangers were coming, leaving several kilograms of the gaur meat at the scene. This guar was killed with its feet trapped and its horns were taken away," said Neth Pheaktra, a spokesperson for the ministry.

Pheaktra expressed his sadness over the loss of this greatly endangered species of wild cattle and condemned poachers who continue to use hunting traps as well as guns to kill them.

He called upon people to assist the authorities if they happen to know the identity of the poachers.

This is the second gaur which was killed by poachers within the last two months. The first one was a five-year-old male gaur that was found dead in hunter's trap in Prey Preah Roka Wildlife Sanctuary in Preah Vihear province, according to Pheaktra.

Gaurs are discovered in the Northeastern part of Cambodia as well as some northern provinces such Koh Kong, Pursat and Kampong Speu.

This species was placed on the International Union for the Conservation of Nature (IUCN)'s Red List as an endangered animal since 1986. According data from 2016, the population of gaurs is thought to be around 21,000, with most gaurs found in India and the Southeast Asian region

Pheaktra said that traps and guns continue to be the leading cause of the death of wild animals in Cambodia.

He also added that more than 10,000 hunting traps and over 300 artificial firearms were confiscated from the forest protection areas across the countries over a four-month period in 2020.

However, the consumption of wild animals in Cambodia still suffers from loopholes in legislation, as well as weak law enforcement, both of which have made it harder for authorities to crack down on illegal poaching and hunting activities.

As wild animal meat is known to be linked to disease transmission, experts have called for stronger measures to be implemented in the fight to end wildlife consumption, as a means of both protecting wild animals, as well as ensuring public health.

"In order to ensure that Cambodian people remain safe and healthy and that the next zoonotic outbreak doesn't start here, urgent and appropriate measures are needed to end the trade in wild animals—especially mammals, birds and reptiles which are at high risk of transmitting diseases to humans," said Seng Teak, country director of WWF-Cambodia, said in a statement following the release of a new report COVID 19: urgent call to protect people and nature.
Related Articles