Student Breaks Barriers to Study Dream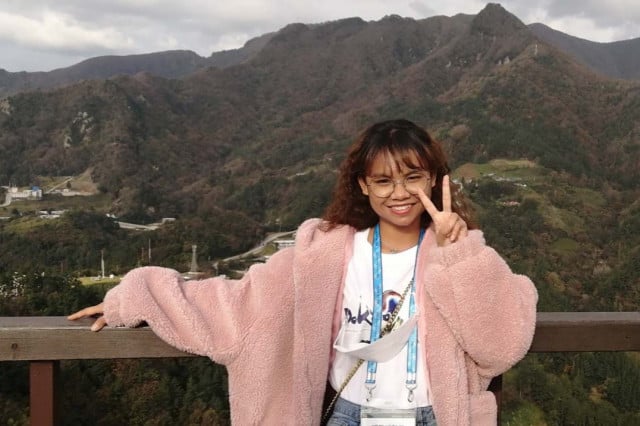 Family worried about South Korea change
PHNOM PENH – Thy ChanReaksa has achieved her dream of studying in a foreign university but had to overcome her family's fears about the move.
Growing up in a farmer's family in Kampong Speu province, she was an outstanding student in physics and a grade-B student in the 2017 BACII exam.
After high school, she left her hometown to study at the Royal University of Phnom Penh, majoring in telecommunications and electronics.
Due​​ to her love of the subjects and desire to take part in new technology innovation, she sought a chance to study abroad and was offered a scholarship to study automation engineering by the South-Korean government in 2020.
But when she told her family, they refused to let her go because they did not want their only daughter to live far from home. However, Reaksa and her brother persuaded them with positive reasons until they agreed.
"At first, my family opposed my idea because I am the only daughter in the family," she said.
"On the other hand, I had reached my second year already in Cambodia, so they were afraid I'd waste my year. But I explained to them that studying abroad would give me more incredible experiences.
"I am over 20 years old. I want to make my own path, whether it is right or wrong," Reaksa said.
She is now pursuing her bachelor's degree at Dongyang Mirae University in Seoul.
She said few female students take her major because the subject requires a lot of effort and research relevant to coding, design and electronics.
Getting to study in Korea, with its advanced technology, was her best chance. She is determined to study hard to raise her country's image on the international stage, despite barriers in language, climate, food and traditions.
Studying automation engineering is not easy because she must learn and communicate in the Korean language. She can rest for only three to four hours a day and her additional time is spent on learning and researching new technologies.
"It is really difficult to learn this subject without a proper schedule. I study from morning until night and from night to morning because there are many projects to work on and courses to study," she said.


"There is not much time to hang out or relax. I was about to give up several times and go back to Cambodia because it is so difficult. But I told myself that I am already halfway through and I have to continue this journey for my future and my nation."
She has been focusing on design and electronic coding. For extracurricular activities, she often practices drawing robots, making electrical circuits and writing code to program a robot.
Occasionally, Reaksa is recruited by her professors to teach electronic skills to Korean children.
Despite a competitive job market, Cambodia is still short of experts in related fields, she said.
"I am interested in the skill because it involves innovation and creation of new automation, for example, robots and coffee machines that work on their own.
"On the other hand, I see that Cambodia does not have anyone to do it yet, so I want to apply my knowledge to create unique things, something that is the work of Khmer people."
Reaksa encourages young Cambodians, especially women, who wish to learn automation engineering and to not give up the dream. It is difficult but a worthwhile struggle.
She wants to pursue a doctorate degree in South Korea and use the knowledge she has gained to contribute to the development of technology and electronics in the Kingdom.
Related Articles