Student Volunteers to Spearhead Purebred Rice Project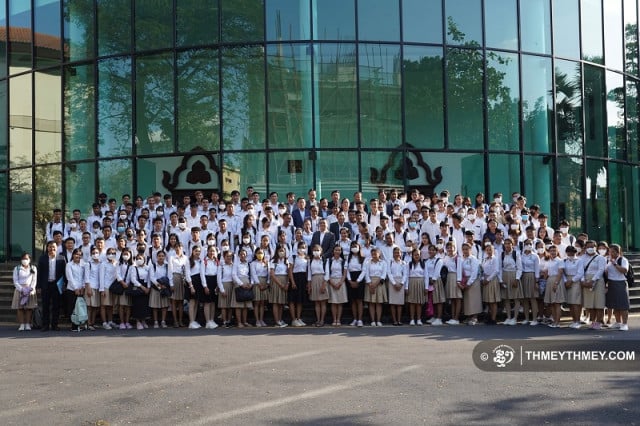 February 22, 2023 5:05 PM
PHNOM PENH – A project has been launched to boost purebred rice variety production with help from 211 volunteer agriculture students. The project aims to contribute to high quality rice variety productivity and rice exports.
Established by the Ministry of Agriculture, Forestry, and Fisheries, the project also aims to help the students study the agriculture sector further, especially rice variety production, by gaining experience through direct practice with farmers.
The students, of whom 112 are female, are from eight faculties of the Royal University of Agriculture and will train farmers to produce purebred rice.
Farmers will also be taught to use agricultural inputs correctly and reduce expenses on their plantations.
University rector Ngo Bunthan said the project will give the students a chance to participate in practical situations and gain experience to become a knowledgeable human resource in the agriculture sector.
Agriculture Ministry Secretary of State Chan Chesda said the idea was to produce purebred rice across the country. At present, there are purebred and non-purebred varieties, leading to criticism about quality.
The students will take part in training with the Cambodian Agricultural Research and Development Institute (CARDI) and General Directorate of Agriculture before they are divided into groups to teach in nine provinces, including Banteay Meanchey, Siem Reap, Pursat, Kampong Thom, Kampong Chhnang, Prey Veng and Takeo.
Agriculture Minister Dith Tina said producing the rice varieties has several phases in the process to being purebred. Farmers can't transplant varieties that have already been planted. The real purebred rice varieties are the foundations that CARDI has created.
Not only would the project help farmers produce purebred rice varieties, but it would give the students a chance to gain experience from working directly with farmers.
Especially, it will be an investment for students to develop themselves to become government officials, workers in private companies and businesspeople in the future.
Van Sotheavy, from the university's Faculty of Agricultural Sciences, said she was joining the project because she was working on her thesis about rice plantations.
"I think the project is good, enabling me to further study about purebred rice variety production more clearly and about rice for export," she said.
The students will become experts in rice production, which will help them work more with farmers, starting with instructions on techniques for rice mill owners who produce rice varieties for agricultural communities and farmers.
The students will make the connection between agricultural input suppliers and farmers, providing information about insects and diseases as well as following up with inspections on fertilizer and agricultural drug use.
Moreover, they will help local authorities assemble and strengthen communities by discussing and advising on plans for purebred rice variety production and plantation, linking to the markets through contract production.
So far, 65 communities have taken part in the project to boost the purebred rice varieties production with the General Directorate of Agriculture.
Originally written in Khmer for Thmey Thmey, this story was translated by Meng Seavmey for Cambodianess.
Related Articles