Students and Parents Hit Out at High Cost, Low Quality Online Classes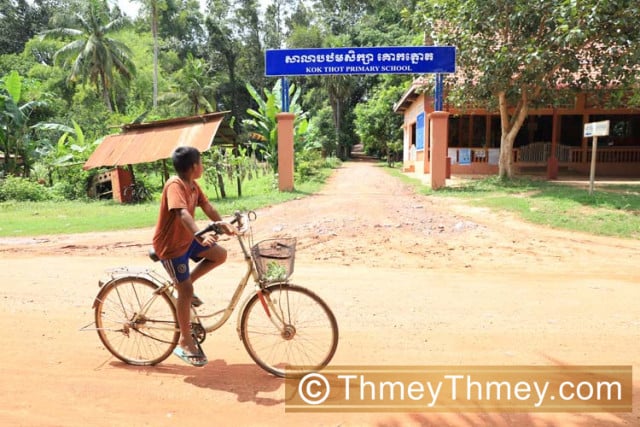 Cambodia's students complain of learning less, while parents struggle to provide phones and internet access to support online education, but schools remain closed in rural areas
SIEM REAP--While COVID-19 remains a significant threat throughout Cambodia, the government's actions have suggested it is not fully confident in reopening schools nationwide, despite the high rates of vaccination.
As such students continue to languish with online lessons which have repeatedly been shown to be less effective in Cambodia, but the Ministry of Education continues to promote distance learning, irrespective of the inevitable financial burdens it places on rural families.
The costs of additional smartphones, internet connection and other associated costs have seen more households—notably rural, underprivileged families—go into debt to support their children's digital education throughout the pandemic.
Preparing to grill frogs for lunch in her kitchen, Mai Sangam said, "I collect this and sell that. I sell all the stuff that can be sold. I sell everything from frogs and chickens to ducks."
Mai Sangam, 57, is a resident of Boeung Village, Krabei Riel Commune, Siem Reap Province. She said she used her limited savings to buy a second-hand smartphone for $50 so that her youngest daughter, who is in eighth grade, could study online. In the past, her daughter had to go to her classmate's house to study due to the lack of internet access at home.
"This purchase is also a burden, but I did not know what to do if fate required everyone to have a phone," she said. "However, it is all right if I do not have one."
With a wrinkled smile, Sangam said she had to save money for two months for a phone that cost 200,000 riels or $50.
Sangam's youngest daughter Diao Socheat, a 16-year-old student at Krabei Riel Secondary School, said the phone her mother just bought her has helped with her school work. However, the phone does not function properly due to its old age and short battery life, Socheat said.
"Before I did not have a phone, so I took online classes at my friend's house," Socheat said. "When I had to send any documents to my teacher, I had to ask my friend to do it for me. It was difficult."
Socheat is concerned about her education as she said she does not learn much due to having to learn through an old phone which frequently crashes.
Meanwhile, Norn You Er, a 14-year-old student at Krabei Riel Secondary School, has also just obtained a new smartphone gifted by her aunt. She said her aunt brought the phone for $129 for her as a gift because You Er's parents could not afford it.
"I did not ask my mother to buy the phone for me because she owes money to ACLEDA Bank," You Er said. "I dared not ask my mother because our income is short. Seeing that I had no phone to take online classes, my aunt bought one for me. I got the phone about a month ago."




Keeping up with the Costs
Norn Nga, 50, You Er's mother, said she has two children who have to take online classes. She has to pay at least 10,000 riels or $2.50 to top up their phones each week.
"It's a burden, I have to pay 5,000 riels [$1.25] to top-up one phone in less than a week, but I have two children, so I pay 10,000 riels [$2.50] each week. In the past, You Er used my phone, but her aunt recently bought one for her. With the phone bought for You Er, I only helped pay 100,000 riels [$25]," said Nga.
A vegetable farmer, Norn Nga said the current situation in her family is tough.
"I did not have money to buy the phone for You Er," she said. "I have to divide the small amount of money I earned for the bank debt and daily expenses. I have to pay $175 to the bank monthly. I owe $8,000 to the bank, but with principal and interest combined, I have to pay $12,665 in six years. I have only paid for two years."
Man Mao, 52, a resident in Kork Chak Commune's Kork Tnaot Village, also struggles to pay for his children's phone bills now that they are both studying online. He is paying $10 each month for mobile data as his daughter is studying for her bachelor's degree and his son is in the 11th grade.
He has spent more than $300 of his savings—which he'd earnt in construction some time ago—on phones for his two children,
"One phone cost more than $130 and the other almost $200. I just bought them for my children," Mao said. "The schools were shut down, and my children did not have phones to use for their study, which forced them to study at other people's houses. I bought the phone three months ago, using the saving from my wages. Being short on money is alright as long as my children can study. I am fine using the Nokia 1280."
Similarly, Song Savann—who lives in Trapeang Ses Village, Kork Chak Commune—faces the same challenges and said she is struggling to cope with daily expenses associated with her daughter's online studies. Like other parents, Savann said the most important daily expenses are on top-up phone cards that cost $1 to $ 1.25 each week.
However, Savann did not have the money upfront for the phone that her daughter is using. As such, she is still paying off the installments each month.
"I pay a little at a time. I do not have the money to pay in full for the phone. I pay from 30,000 riels [$7.5] to 40,000 riels [$10] a month," Savann said.
Despite not getting an education when she was young, Savann hopes to provide higher education to her child so that she can have a better job in the future and will not live in an underprivileged life like she and her husband who works in construction.
However, she said the future depends on the efforts of her child as well as the actual circumstances in the family. She is struggling to make ends meet, in which she earns 600,000 riels or $150 monthly.
Ineffectiveness of Online Learning
Ro Krima, 24, complains about having to spend many hours a day with her young son while he is studying online. She said she has to spend four hours a day in the morning from Monday to Friday helping her son as his classes have shifted online.
"It is hard when I have to always stay with my son. I cannot do any other stuff," she said. "If I dare to leave him alone, he will go to YouTube right away. Plus, some children mess about more in the online classes, which disturbs the lessons. I know the school has properly organized each class, but teachers cannot deal with the children effectively."
Throughout the pandemic, students, parents and educators have warned that the effectiveness of digital learning is less significant than in-class learning.
Sary Vannita, 32, whose son is in 2nd grade, said learning online has made her son less attentive and noted she has to help her child remain focused in lessons. She has noticed that her son seems weak in math because the subject needs precise explanation from the teacher.
Song Savann also said learning in school is more effective. "The effective way to learn is learning in school—there my daughter can study well, but even I can see that my daughter's performance has dropped since she had to move to online classes," she said.
Sun Sunny, Savann's daughter, said she cannot concentrate as much in online classes.
"Learning online is not easy. The internet is often not available, which interrupts my interaction with the teacher," said Sunny.
Diao Socheat echoed Sunny's claims, saying that learning online has proven more difficult than learning in schools.
"I am not able to catch up with the lessons and I have to ask my friends for help all the time. Moreover, it takes a longer time for teachers to view the documents I've sent to them. It mostly takes two to three days because they are busy," Socheat said.
UNICEF noticed that prolonged school closure causes many issues for children, with higher drop-out rates and lower attendance seen across an estimated 3 million Cambodian students.
Reopen Schools for the Future of the Country
In late August, Prime Minister Hun Sen announced the possibility of reopening schools provided COVID-19 precautions could be implemented to protect students and teachers, but to date, just 2,641 secondary schools have reopened mostly in urban areas,
Student Diao Socheat said, "I cannot wait to go back to school, but I am also afraid of COVID-19. I have to prepare alcohol spray, hand sanitizers and protective masks."
Both students and parents alike still harbor concerns about returning to school, but the growing disillusionment with online classes and the loss of nearly two full school years to the pandemic are spurring a cautious optimism.
"I am happy when the schools are allowed to be opened," Student Norn You Er said. "However, I fear COVID-19. Anyway, I can protect myself by wearing protective masks and always washing my hands with soap."
Ro Krima, the 24-year-old mother, said, "For 70 percent, I support the school reopening, but for 30 percent, I am afraid that children can catch the virus. But if the schools are still closed, children won't be able to receive enough education."
For Norn Nga and other parents, the concerns are similar. "I am afraid of my children's safety because the COVID-19 case is increasing," she said. "I am happy when my children can stay at home with me during this time of the outbreak."
Director of the Siem Reap Provincial Department of Education, Youth and Sports, Ly Bunna said he understands the struggles that students and parents are facing in online classes.
"The problem of online learning is inevitable. Some students can learn well while some do not," Bunna said. "Therefore, parents or friends should help provide additional support, such as group learning. And the lack of internet service makes learning more difficult."
Ly Bunna added that the school closure has affected students. The recent COVID-19 outbreaks in Siem Reap Province has made it even more difficult for students to study, he said, but denied that high costs associated with smartphones and mobile data were an issue.
"We cannot say that the lack of internet services causes school dropout because an inspection of such issue has not been conducted through all parts of Cambodia," Bunna said. "Some students do not receive online learning, so they may not receive enough education. And saying [more students are] dropping out of schools is not correct."
Bunna's claims, however, do not match the reality on the ground for many households throughout Siem Reap Province and beyond. The government's reluctance to reopen schools has been criticized by UNICEF, which released a statement on Sept. 13, 2021 calling for schools to reopen as soon as possible.
UNICEF strongly supports the Royal Government of Cambodia's decision to reopen the schools at this time and cited the example of reopening schools in September 2020 without any infections, adding that schools are not the main driver of contagion in communities and presents greater benefits to children than the risk to public health.
Furthermore, the cost of not reopening schools will be high, with fewer students returning to classrooms, lower self-esteem among those who return and a higher rate of students who end up working instead of studying to support their families, UNICEF warned.
"Every day we delay, these obstacles grow," UNICEF said.
Siem Reap Province is yet to reopen schools due to the ongoing threat of COVID-19, but parents interviewed by Cambodianess all said that they would sacrifice everything to give their children a chance for a better future, noting that education remains key to this.
Man Mao, a resident of Kork Tnaot village, said, "In a rural area like here, we are struggling a lot to provide education for our children until they can finish schools. Our country will not remain still and has to move forward. It won't depend on the rice field anymore.
Related Articles