Students Drop Out as COVID Disrupts Schools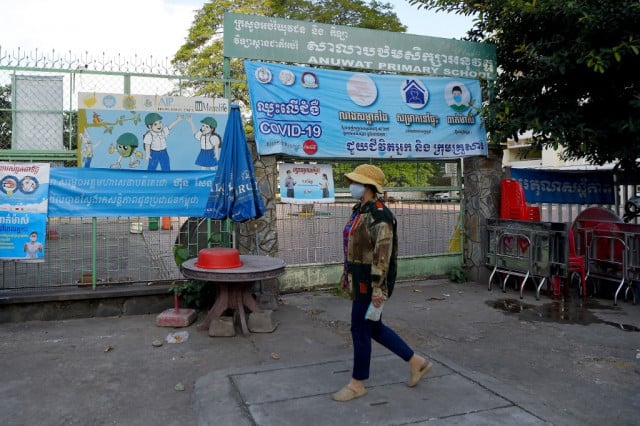 Rural education hit by poor internet connections
PHNOM PENH--Rural students have spoken about how online learning struggles and financial difficulties forced them to drop out of school.
Almost two years since COVID-19 started spreading in Cambodia, the pandemic has hit the economy, agriculture, tourism and education.
To cope with the spread of infections, the government closed many schools, institutes and universities in favor of online classes but the strategy negatively affected some students' education. Online learning was harder for rural students than those in the city.
Some dropped out due to prolonged closures as well as the effects on their mental health.
Chanthan Ton, 18, from Phnom Kok commune in Vern Sai district of Ratanakiri province, dropped out of school in 9th grade this year.
She said she had difficulty learning online due to the poor internet connection, and she did not keep up with the lessons.
"The internet connection was unstable and made it difficult to study," she said.
"When there was no service at home, it was hard to get to others' houses, and it was even more difficult when it was raining.
"I would not have dropped out had it not been COVID-19, which made it impossible to study.
Another reason she dropped out was she had a village kindergarten teaching job she depends on.

Chantha Senghong, 17, decided to drop out at 8th grade due to financial problems caused by the pandemic.
"I dropped out because I saw my parents struggling so much," she said.
"Since COVID-19 started spreading, they have earned only a little money, unlike before.
"Every day we sell cube ice. Sometimes we sell out, and some other times we do not. If my dad sells it delivering by truck, we make at least 70,000 to 80,000 riel a day."
She did a laboring job for a fish sauce factory on National Road No. 2, starting in April but quit in September.
Due to her family's financial problems, she did not seem to want to go back to school.
"I hope that I will be able to find a new job soon to help support my family financially," she said. "All of my three siblings also dropped out to help our parents."

Teachers have also found it challenging to check up on their students' studies.
Keo Yutheary, a 30-year-old biology teacher for 11th and 12th grades, said students learning online gained so little education, unlike when they were studying in traditional classes.
"It is so hard to teach online. We do not know whether they understand the lessons or not. Because distance learning does not guarantee how much they pay attention in class, it is difficult," Yutheary said.
Yutheary said the average number of students attending her class is 20.
Foroogh Foyouzat, the representative of UNICEF Cambodia has yet to monitor the exact rate of dropouts but said the education of about 3.2 million students had been disrupted.
Online education could guarantee some improvement in the learning process but only for some children. It could not be a substitute for in-person attendance.

Online learning remains uneven with disadvantaged children – including those with disabilities, those affected by migration, and minorities, who are suffering the worst of the shortcomings of distance education, he said.
"Schools closures have led to less physical activity, poor eating habits and disrupted sleep patterns. It has also affected the ability of many parents and carers, especially women, to work, which reduces the access to nutritious food for many children.
"More time at home has increased risks of domestic violence, as well as more screen time increasing the risk of online harm," Foroogh Foyouzat said. School closures had led to abuse and had affected students' mental health.

On August. 31, Prime Minister Hun Sen told Education Minister Hangchuon Naron to look into the possibility of reopening institutions that are not facing the risk of COVID-19. The minister reopened schools in provinces where there are few or no confirmed cases, arranging for fewer than 15 students in one class.

"In the government's vaccination campaign, about 80% of teachers have already been vaccinated. Safe school reopening has almost exclusively positive impacts that can begin to reduce the negative impacts caused by prolonged school closure," Foroogh Foyouzat said.



Additional reporting by Meng Seavmey
Related Articles