Students Learn Stone Inscription to Better Appreciate Those Left by their Khmer Ancestors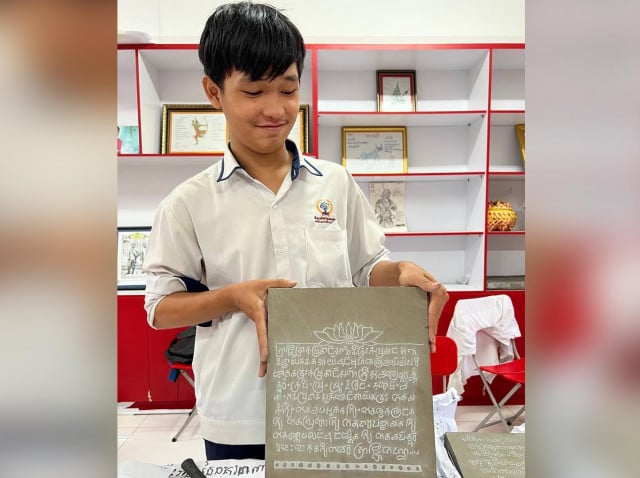 PHNOM PENH — High school students in Phnom Penh have been practicing stone inscriptions and studying the techniques used by their Khmer ancestors centuries ago.
Five students from Prek Leap High School, which is part of the New Generation School network, have been studying pre-Angkorian inscriptions. This has involved learning the alphabet of old Khmer to write the inscriptions in the language of the time, and then translating them into Khmer and English for today's Cambodians and foreigners so they can learn about that era's Khmer culture and history.
Pov Panhavord, one of the five students, said he was really impressed by the culture of the Khmer ancestors, and was eager to write the content of the inscriptions in today's language so that young people can have access to it.
During the pre-Angkorian and part of the Angkorian eras, Hinduism was the country's religion as can be seen in the inscriptions, which speak of offerings for the construction of temples and the protection of the territory, the 12th-grade student said.
Fascinated by the texts and beliefs they reflect, Panhavord said he would be devastated if anyone would try to seize or damage the land where those ancestral records or monuments are.
"I have no words to describe how amazing our Khmer ancestors' inscriptions and accomplishments are," he said, "I know how much effort and hard work it was for them when I am writing [the texts], letter by letter."
The project of learning to write old Khmer on stone tablets came about when students in Panhavord's class were being taught about the inscriptions of the late-10th early-11th century at the Phimeanakas temple in the Angkor Archeological Park. He became curious about how they could write without pen and paper.
So, along with four friends, Panhavord asked their Khmer teacher Chouk Sophea whether they could start an inscription project. "Inscriptions are rare as it is not easy for anyone to know how or do it," he said. "If we can learn to do it, it's amazing," he said.
So, the students started to work on this around June 2022. It was really difficult at first, Panhavord said. He made so many mistakes that it took him two weeks to engrave three lines. But now, it takes him only three days to inscribe a text. And he can inscribe on stone, print, and translate texts.
Chouk Sophea, who is the inscription project teacher, said that there is a parents' event every year to exhibit student's projects. The group's inscriptions, which has taken them five months to complete, were shown at the show.


A student is carefully applying color on the text engraved on sandstone. Photo provided
Inscriptions reflect how the Khmer language has evolved over the centuries, Sophea said. By studying and learning to inscribe Khmer script of that era, the students see how the Khmer language and writing have evolved up to today. Through this project, Sophea said he wants students to also grasp how much the language and writing have evolved up to today and understand the importance of the Khmer inscriptions and language.
As the students found out, their Khmer ancestors could only engrave one letter at the time, and each one was difficult to do. But since they valued written records and information, they left inscriptions as a legacy for future generations, Sophea said, adding that, hopefully, today's students will value education and want to learn as much.
Through the project, the high school students learn to read the Khmer alphabet of the time, translate and write inscriptions, the teacher said.
In addition to studying in class, the students went on a field trip to the Preyveng Pagoda in Dangkor district in Phnom Penh to see pre-Angkorian inscriptions explained by experts so that they could better appreciate the history, importance and content of the inscriptions.
During the project, students have reproduced four pieces, written three larger pieces and many small ones.
The challenges of studying Khmer inscriptions
Sophea said the problem he and the other students have been facing is technical since they are not experts. Because of their passion and curiosity, they have done so but it is taking time and patience to learn and research.
They also have faced a shortage of materials because inscriptions must be done on sandstone with engraving tools, paper from South Korea, and face masks that they must wear for protection while carving the inscriptions.
Sandstone is needed because it's not possible to carve in ordinary stone, he said. The paper on which inscriptions can be written is a type made in South Korea that lasts a long time, unlike ordinary paper, Sophea said.
Panhavord added that time is also an important factor because the students have to take the national exam next month, which requires to carefully plan periods to study.
In the digital age, engraving skills as well as digital skills
Some people have told them that inscriptions were a waste of time, and that they should focus instead on acquiring digital skills to have a career in job markets.
To this, Sophea responded that, while science contributes to the development of society, social science helps create harmony, therefore people should not only focus on science and forget the country's legacy.
"Inscriptions reflect our history, culture, and values, so we cannot forget them," he said,
Although Science, Technology, Engineering, and Mathematics (STEM) is developing, one cannot forget social sciences, especially the cultural work of one's ancestors, Panhavord said.
"I want to show both Cambodians and foreigners the culture, the scale and the greatness of Khmer people's ideas and backgrounds," he added.


Students are working on a technique that is part of engraving. Photo provided
Related Articles