Students Regret Falling into Drug Trap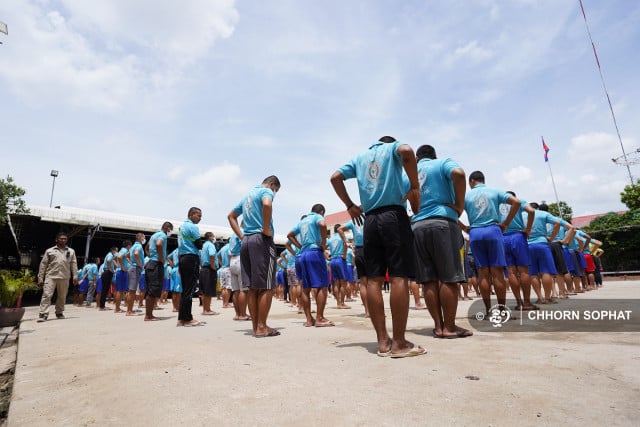 Rehab expert talks of hard recovery path

PHNOM PENH – Students have spoken out about the pressures from friends to take drugs, leading to addiction and lives spiraling out of control.

And the head of an organisation which aims to rehabilitate young drug users described the battle to keep clients drug-free.
Dara and Srey Nith, not their real names, became addicted when they were of school age.
Dara started using drugs for a month in nineth grade while hanging out with friends who were users. His friends told him about the happy feelings from using drugs and persuaded him to try until he got addicted it.
They used drugs secretly in hotels, guesthouses and bedrooms, buying yabay/yama from friends and traffickers.
"I know that doing drugs is wrong, but I already got addicted. I regret it," said Dara who has been receiving treatment at the DTA drug rehab center in Sangkat Kouk Khleang, Phnom Penh, for a month.
"When using them, I cannot eat, sleep, or do anything and always like to stay isolated in my room alone and barely interact with anyone because I am scared and afraid of them."
"Drug rehab is ineffective if the users do not have high commitment and patience"
Getting drug rehab or treatment is unlikely to help young people or drug users if they do not have high self-esteem and patience.
Srey Nith has been addicted to drugs for many years. She was sent by her parents to a drug rehab center for almost six months in 2020 but continued doing drugs after leaving the center.
"I have many friends who use many types of drugs, such as pills, marijuana and powder drugs," the Pursat province student said. She usually bought drugs through friends, gaming venues and 24-hour internet cafes.
Srey Nith is undergoing drug treatment at the DTA for the second time since late 2021.
DTA deputy director Hang Praseur said drug problems are complex and involve chronic diseases that are difficult to treat, so they require commitment and a lot of patience.
"The hard part is that they only get treated for a while and after leaving the center, they use it over again and again making it relapse and worse, especially for those with depression and anxiety," Prasuer said.
"Even though it is difficult to help, I will still help them because I understand and used to be like them.

"The hard part is that they only treat it for a while and then they use it again and again, making it worse, especially for people with depression and anxiety. Most of the patients in his center use methamphetamine, ecstasy and heroin.

Drug users admitted to the DTA are between 17 and 40 years old, with more than 20 new patients per month. Almost 300 people are being treated at this center, of which 30% are students and dropouts.
"The bad effects of drugs leave you regretful!"
Not that Dara and Srey Nith do not know the bad consequences of drug use but being pushed and influenced by bad friends made them try it until they became addicted.

Both used to skip classes to meet drug-addicted friends. Srey Nith left home because of the effects of drugs.
"When drugs enter our bodies, we are no longer afraid of anything. It can make us do something unexpected. Some people even go so far as to kill people. But for me, as I used it, I then left home for months and years and didn't attend school," said Nith.
After the effects of drugs wear off, Dara and Srey Nith feel inferior, scared and weak. They prefer to be alone and avoid people around them.
Neglecting parents' advice and hanging out with the wrong friends brought Dara and Srey Nith to this point. "I regret not listening to my parents' and teachers' advice. If I listened to them, I would not have fallen into this trap. I lost their trust," Srey Nith said.
Dara and Srey Nith are aware of their mistake and regret using drugs. They advise the younger generation to study hard and not to follow their path. Drug use provides no benefit rather than harming health and the future and gaining social disrespect.
"Drug control measures in school"
Praseur said, "To find out if they are drug users or not, it is up to teachers and guardians to monitor and purchase drug testing kits."
Drug users experience physical effects such as anemia, dry lips, jaundice, yellow eyes, loss of appetite, insomnia and other symptoms, Praseur said.
Meas Virith, secretary-general of the National Authority for Combating Drugs (NACD), said his unit cooperated with the Ministry of Education to inspect the urine of students who used drugs or were suspected of having links to drugs but tests were not conducted in all schools.
"The Ministry of Education has already set guidelines, firstly, to prevent the use of drugs in the study curriculum," Meas Virith said.
"They also perform urine tests of drug-use students and suspected students," he said. If a small amount of drugs is found in their body, the students can go for treatment at home or in the community but if it is serious, they should be treated at a drug rehab center."
According to Virith, of 12,000 drug users, less than one percent were students.
Ministry of Education spokesperson Ros Soveacha said the ministry has worked with stakeholders to raise awareness of the impact of illegal drug use through outreach and other measures.
"The ministry aims to prevent drug use in educational institutions by increasing the effectiveness of preventing the use of all types of drugs through reviewing curriculum design," Soveacha said.

However, Yang Kim Eng, executive director of the People Center for Development and Peace (PDP), said that urine tests of suspected students or users cannot prevent the flow of drugs into schools. Strict measures were needed by authorities to identify drug importers who distribute illicit substances in Cambodia.
"Measures to check the urine allow you to know the users but are not useful for prevention," Kim Eng said.
"Stopping the distributors and the sellers will be more effective and give the most severe punishment to the officials who collude with the drug trading process."

The NACD was working to curb the import and distribution of drugs.
Meas Virith said, "Drugs originate in the Golden Triangle, which is from Thailand, Laos and Myanmar. But now the area along the Thai border has been eliminated, except in Myanmar and Laos."

In 2021, there were 16,000 drug users. Of those, 7,480 left the center and 3,049 continued to receive treatment. Another 5,124 received public health services in the city and province and 609 users were sent to prison.
Related Articles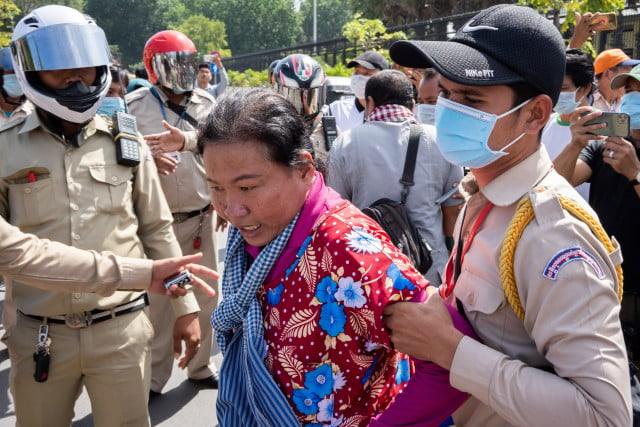 November 20, 2020 3:37 AM