Students Team Up to Back Young Entrepreneurs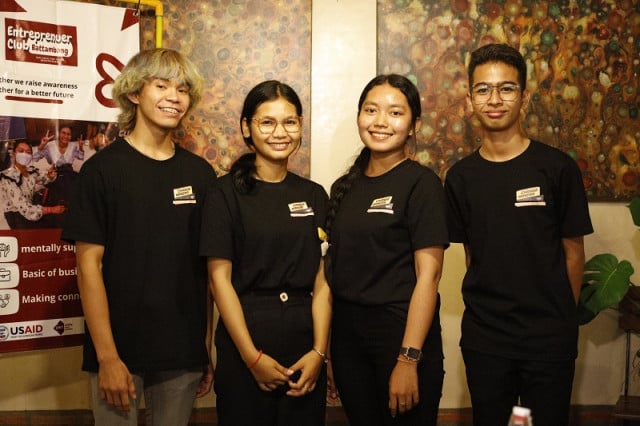 PHNOM PENH – High school students have created an Entrepreneurs Club to provide mental and business idea support and to build connections for young entrepreneurs in the Battambang community.
Starting up a business while studying is never easy, especially when there is no support from family.
That is one reason young entrepreneurs become demotivated and want to quit. There is also the lack of a network for support.
V-Ship Project club was created by four high school students to support young entrepreneurs in Battambang via regular meetings and sessions with invited speakers.
There are also videos to show participants' entrepreneurial journey on social media.
The project team comprises leader Ouk Sopheak; facilitation leader Dok Dalin; communication leader Ney Sreynich and creative leader Chhum Somnang.
All are from Phnom Penh but took up the challenge from Impact Hub Phnom Penh, with help from USAID Cambodia, to provide the training in Battambang. This includes how to build a sustainable business, Self Awareness-Wellbeing 4 Entrepreneur, and sharing experiences.
Somnang, 17, said he was proud as a high school student to provide opportunities for start-ups in the province.
He said start-ups always face challenges with marketing, social media promotion, networking and support from the community. V-Ship provides chances for them to build networks, training and support.


Chhum Somnang is the creative leader of the club. Photo provided

"We lead an Entrepreneurs Club with the intent to provide mental support, business idea support, and building connections for entrepreneurs in the Battambang Community," he said.
"We aim to spread awareness of these topics to maintain the ambition of young entrepreneurs."
As a 11th grade from Chbar Ampov High School, Phnom Penh, Somnang said eight start-ups had joined as members.
These were: Tath Vina of G-Carry; Leay Sovanna, Coconut House; Phai Vanra, We Farm; Rith Riya, K'tre K'trok Café; Mann Din, Petra Café; Lim Searmey, Fashion Shop; Chanra Tang Aor, Goo Eco Bag; and Sing Song, Robean Bondith.
"My impression, I was excited to create and run this project from the beginning until the end with my beloved teamwork," Somnang said.
"It was my first project ever as a high school student working with young entrepreneurs, which was something that I couldn't expect before."
Lay Sovanna of Coconut house said he was thrilled to attend the Entrepreneurs Club Battambang. He gained lots of experience from other participants and guest speakers.


Eight start-ups had joined the club as members. Photo provided

"This is a safe place where I can share something I have never shared before with other members," he said.
Chhunran Tang Aor of Goo Eco Bag said that the opportunity to join the club, where everyone came from different backgrounds and where they all learned and exchanged experiences, was an incredible experience.
"I've obtained a lot of good advice from them, which motivated me to keep going and expand," she said.
Related Articles