Students Urged to Train in Digital Technology in line with Cambodia's Goals for the Future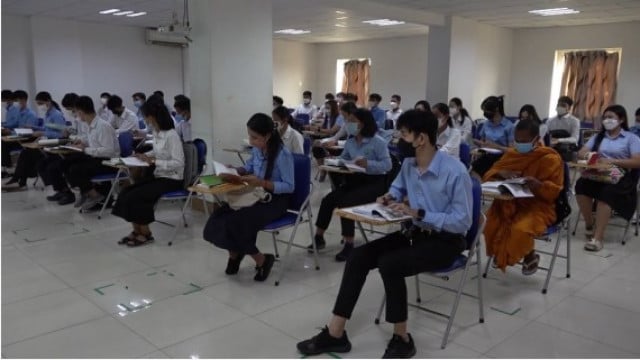 PHNOM PENH – The Ministry of Posts and Telecommunications has launched an appeal to high school students who are to take the 12th grade exam in November to consider opting for information technology (IT) and digital technology as they select fields in which to pursue their education.
In a statement issued on Oct. 18, Ministry of Posts and Telecommunications Chea Vandeth said that, in this digital era, technology plays an important role in people's daily life whether in business or to provide public service as well as other services.
"Since the Ministry of Posts and Telecommunications is in charge of developing posts and telecommunications, I am encouraging all students to consider information technology major and related majors after having passed the 12th grade exam to strengthen their abilities, get opportunities for well-paid jobs to financially support their families, and contribute to accomplishing the government's vision of building a lively government, economy, and digital society," Vandeth said, according to the statement.
Chy Sophat, who is an IT expert in technology and digital security, supported the ministry's appeal, saying that the ability to use technology is required in this Fourth Industrial Revolution (4IR) era.
Sophat offered advice to students who are considering studies and careers in those fields. "They should be prepared," he said. "For example, they should develop ICT [information and communications technology] skills to get familiar with technology—like students in other countries do—including learning through the curriculum at school and studying by themselves, using the various ways offered by relevant ministries to acquire the basis of IT knowledge."
Sophat went on to say that students must try to acquire solid background knowledge in the field and that includes developing problem-solving skills as well as coding skills, which they can learn from various platforms.
One of the advantages of opting for an IT major is that making a career in digital technologies and related fields is no problem at this point as long as people have acquired the required knowledgeable as the demand for digital technology experts keeps on increasing.
According to Sophat, there are platforms through which students can look for jobs and then set their studies and training to match the specified skills and knowledge. However, some jobs require training that is not being offered at universities in Cambodia at this point, such as robotics, he said.
"The career market for IT experts is vast, but the problem is: Are the students ready for the digital technology sector," Sophat said. Opportunities for IT experts in the country and abroad are increasing, not only in the country but also abroad for those who have the required expertise, he said. The market is not a problem, but people who want to make a career in the field must thrive to constantly expand their knowledge, he added.
"From my perspective, if they truly are interested in this major, they, of course, have to build a strong foundation and work with ethics—never use it as a two-edged sword—because the digital technology sector is essential…[for] a country's development to catch up with the world in the era of digitalization," Sophat said.
And even though this still is a developing country, Cambodia should have people in the field whose expertise in the digital technology sector is as strong as that of experts in developed countries, he said.
Related Articles