Study the Master of Business Administration at American University of Phnom Penh (AUPP)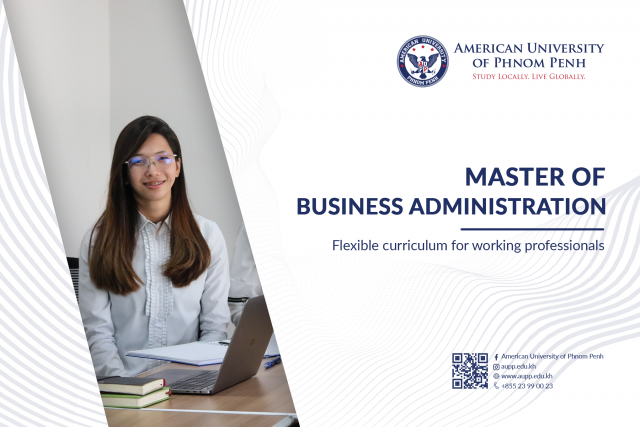 Cambodianess
September 14, 2020 4:13 AM
The AUPP Master of Business Administration (MBA) program offers graduates the advanced degree needed to move their career forward or switch career paths. As importantly, they will also be equipped with the mindset and knowledge to start or advance any business ventures.
Students study in AUPP's state of the art campus. The modern facilities enrich students' learning and empower their leadership skills through AUPP's exceptional teaching and learning community.
Also, they learn from our internationally faculty, who share their business experience and professional networks during and after the Program. Our faculty have many years of business leadership and as educators to prepare students to be ethical leaders in the global marketplace.
AUPP MBA offers a flexible curriculum for working professionals. They can study while working with the weekday evening schedule, two nights a week. Concentrations are offered in three areas: Marketing, Finance, and International Business.


Applications are now open. Spring Semester 2021 starts on January 11, 2021. Scholarships are available.
For more information please contact:
Telephone: 023 990 023,
Email: [email protected], website: www.aupp.edu.kh
Address: #278H Street 201R, Kroalkor Village, Sangkat Kilometer 6, Khan Russey Keo, Phnom Penh, Cambodia.
Related Articles