Stung Treng debris seen linked to Chinese rocket failure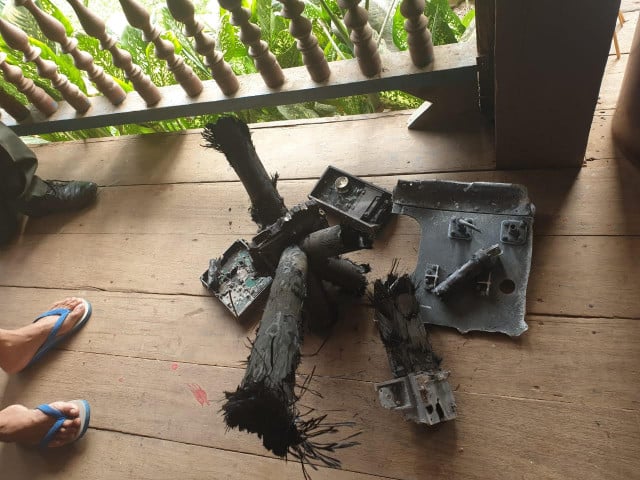 Thmey Thmey
May 24, 2019 8:02 AM
Police call in experts to probe explosion and fallen debris as source in Laos says main crash site is 3 km from Cambodian border

PHNOM PENH — Authorities in Stung Treng have called in experts to investigate an explosion and metal debris which fell from the sky along the Cambodia-Lao border on Thursday.
Major General Mao Dara, chief of provincial police, said authorities had not yet figured out what the debris is.
"We can't make any conclusion about the debris," he told Thmey Thmey Friday.
"We've already notified and requested higher authorities to send experts to investigate," he said.
Speaking with Thmey Thmey earlier, Stung Treng Governor Mom Saroeun said: "We don't know the exact reason for the explosion but our authorities are looking into the matter."
The governor said debris had been gathered and was being kept for further study.
Sources said the mysterious explosion was witnessed by people in Ou Svay Commune in Thala Boriwat District.
"It was a Chinese satellite," a source in the neighbouring Lao province of Champassak told Thmey Thmey Friday.
The source, who asked not to be named, said the satellite crashed at Boeng Ngam, about three kilometres upstream from Veun Kham, a Cambodian-Lao border crossing on the Mekong River.
Xinhua news agency reported earlier that a Long March Rocket-4C carrying a Yaogan-33 satellite had failed after launch from Shanxi Province on Thursday morning.
"The first and second stages of the rocket worked normally, while the third stage had abnormal operation," the official Chinese news agency said.
"Based on monitoring data, the third stage of the rocket and satellite debris have fallen on the ground," the report said.
According to SpaceNews, a US-based industry publication, China says Yaogan satellites are used for "electromagnetic environment surveys and other related technology tests."
But outside analysts understand the satellites to be "optical and synthetic aperture radar satellites for military reconnaissance purposes," it says.
Related Articles