Switch to Electric Vehicles Now, Experts Warn as Air Pollution Intensifies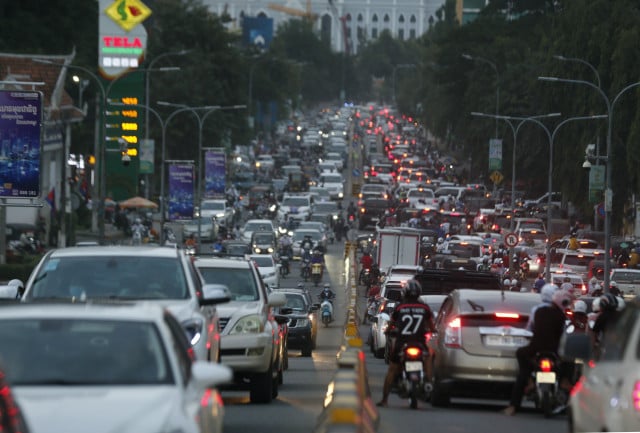 December 26, 2021 4:39 PM
With more than 6 million registered vehicles on the road, Cambodia's air quality is declining and the public health risks are already here—experts say now is the time to switch to electric vehicles to change the future
PHNOM PENH--Cambodia has seen a rapid growth in number of vehicles on the road over the past decade, but this trend has increased air pollution, which is already having a profound impact on public health.
Early December 2021, Minister of Public Works and Transportation, Sun Chanthol said currently registered automobiles in Cambodia risen to the number of cars rose to over 920,000 while the number of motorcycles reaches 5.2 million.
The snowballing car or motorbike usage has already raised some concern among people especially those environmentally concerned citizens as it will further contribute to air pollution in the urban areas especially in Phnom Penh.
According to a report by the United Nations Development Programme in Cambodia (UNDP Cambodia), registered vehicles in the city have increased by 7.4 percent every year between 2007 and 2017—over 80 percent of which are second-hand and lack the emissions-cutting technology of newer vehicles.
With this in mind, experts have warned that now is the time to shift to electric vehicles (EVs)—not only going to mitigate pollution, but also the climate crisis.
Growing Health Costs Associated with Air Pollution
The country has already seen a worsening air quality in populated and urban areas especially Phnom Penh. According to State of Global Air's 2019 report, the air quality in Cambodia has been considered moderately unsafe in accordance with the standard set by the World Health Organization (WHO), and the country's annual mean concentration of PM2.5—particulate matter less than 2.5 microns in width—is 22 micrograms per cubic meter (µg/m3), exceeding the recommended maximum of 10 µg/m3.


Nitrogen Dioxide is one of the main components in PM2.5 and long-term exposure reduces the human body's respiratory function, increases the likelihood of developing bronchitis and asthma while also stunting the growth of lungs in children.
In Cambodia, key contributors to air pollution include vehicle emissions, road dust, the garment sector, tourism, agriculture, mining, power generation as well as congested traffic.
Chou Koksal, a researcher in EVs at the Institute of Technology of Cambodia agreed that the growing number of fuel combustion vehicles in Cambodia now poses a greater threat to public health and the environment. Internal combustion engines, he said, create many daunting impacts, but the main one is emitting CO2 which contributes significantly to the alteration of earth's atmosphere and global warming.
"On average, internal combustion engines produce 0.25 kilograms of CO2 for every kilometer driven or 2.5 kilograms of CO2 per liter of gasoline," Kosal said, adding that the average engine produces 4,600 kilograms of CO2 each year, an amount that the United States Environmental Protection Agency has said would take 219 trees to absorb.
That is why, he added, it is more important than ever for the government to encourage more low emission transportation such as EVs and step up efforts to reduce greenhouse gas emissions and mitigate health impacts.
Transitioning to Lower Emission Transportation
The transportation sector has been the third-largest source of Cambodia's CO2 emissions, accounting for 5.7 million metric tons in 2018, according to the report by Climate Analysis Indicators Tool. The amount of CO2 emissions from this sector reached 6 million metric tons in 2020, according to World Atlas.
This demonstrates that addressing emissions from this sector is critical for Cambodia to achieve its carbon neutrality goal—the most vital contribution to addressing climate crisis.
In its updated Nationally Determined Contributions—known as NDCs—the government pointed out that it requires more policies that introduce low emission transport as well as promoting public awareness on low emission transport and encouraging a switch to low carbon vehicles, particularly EVs.
According to Melissa Liu, country manager at Energy Lab Cambodia, more people are showing an interest in EVs in Cambodia as prices fall and environmental awareness grows.
"We are seeing more people interested and using EVs in Cambodia. As prices for purchasing EVs has dropped significantly due to improved battery technology and the cost to run EVs is cheaper than their petrol counterparts, they are becoming a much more popular option," Liu said in an interview with Cambodianess in February 2021.
"Many people are also concerned about local air pollution from vehicles, which is not an issue with EVs," she added.
But while growing in popularity, the lack of policy on how to regulate EVs is holding back uptake.
Heang Sotheayuth, a spokesperson at the Transportation Ministry, noted that the imported EVs remain insignificant as Cambodia doesn't have a policy that promotes the use of EVs and such policies remain in draft form.
"The import of electricity remains minimal and this is due to the fact that we have not had policy on this electricity vehicles. But now, we are preparing the policy," said Sotheayuth.
When asked about policy detail and when the policy formulation will be completed, he responded that he could not offer any specific answers as the ministry is still drafting the policy.




Investing in Charging Infrastructure
Last week, the Transportation Ministry launched the first feasibility study on charging station installations as efforts to develop EVs' charging infrastructure and the push for electrification drives a greener future for the transportation sector.
According to Sotheayuth, charging states will be installed after the study is completed, but he indicated that the pilot project will focus on Phnom Penh and Preah Sihanouk, Battambang and Siem Reap provinces where there's a higher possibility of people using EVs.
"We are planning to install between four or five stations as a pioneer project. If this can be successful, we will scaleup the implementation," Sotheayuth said.
EV researcher Kosal noted that it is important that the government takes the lead in creating charging stations to support EV users as the current number remains low.
"I think [currently] it's still economic challenging for private companies to operate charging stations at a profit. However, building several charging stations in the middle of main national highways costs relatively little for the government," Kosal explained.
Global Green Growth Institute (GGGI) country representative for Cambodia, Karolien Casaer-Diez, noted that it is one of the most important ways to address concerns of EV users.
"Globally, one of the main barriers towards EV adoption is 'range anxiety.' Drivers fear their vehicle may run out of battery, without having a nearby charging point," Casaer-Diez said, adding that investing in public charging stations and designating space for battery swapping stations is one of the best things a government can do to promote EVs.
She went on to recommend that Cambodia considers linking building permits for commercial buildings or parking lots to the provision of EV charging and battery swapping stations.
In addition to charging stations, Sotheayuth added that the government's study will also look into aspects of the whole infrastructure for EVs that include repairing services, as well as the management of dead batteries.
"In order to do so, we also need specific standards to ensure safety and effectiveness," he added.
Casaer-Diez agreed that public trust is still low when it comes to new technology. Therefore, she added, it is vital that the government work more on setting quality and safety standards.
"And of course, solutions for battery waste are key. Disposing of EV batteries can pose a serious risk to public health and the environment if not managed and recycled correctly," she warned.
Another issue, she explained, is the lack of clarity in the registration process for electric motorbikes in Cambodia.
"More clarity in the registration process would help—without registration it can be difficult to get insurance or to resell a bike. Bank loan options for e-motorcycles are also quite limited," Casaer-Diez continued.
Awareness Campaigns and Incentives Needed
With more attention on EV promotion in Cambodia, Casaer-Diez pointed out that there remains other work needed to get the country to transition to low emission transportation, starting with education.
"The government can start not only by promoting this through school curriculums and campaigns, but also by setting the example and switching public vehicle fleets to EVs, for example," she explained, pointing out that GGGI is working with the Transport Ministry and Cambodia Climate Change Alliance to undertake fleet switching in Cambodia, as well as the introduction of electric buses in Siem Reap City.
"This high-profile pilot project should go a long way in making the public more accustomed to EV technology," she explained.
Speaking of awareness-raising campaigns on EVs, NGOs like the Energy Lab Cambodia also work to promote awareness on EVs.​​​ Early this year, it launched the Sustainable e-Mobility Campaign, and holds an annual electric mobility showcase where people learn about and get to experience EVs—the next showcase is scheduled to be held on January 29, 2022.
Energy Lab's Liu suggested that Cambodia can also look into some policies other countries have been implementing to incentivize people to switch from fuel to EVs, including subsidizing the purchase of EVs, reducing taxation and other costs associated with EVs.
Casaer-Diez concurred that tax reductions will eventually give a greater boost to EV use and also make EVs more competitive—in 2021, she said, the government reduced import tax on electric cars from 30 percent to 10 percent.
"Further reductions of the Duty Rate and Special Tariff Rate are worth considering, while the Electricity Authority of Cambodia could also look at offering lower electricity tariffs for charging and battery swapping stations," she concluded.
Related Articles