Switzerland's Support to Education in Cambodia Focuses on Specialized Training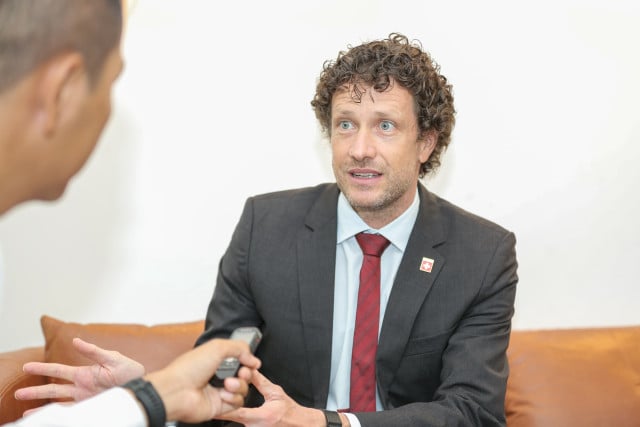 Sao Phal Niseiy
August 30, 2020 3:54 AM
As the country needs workers with technical and sector-specific skills, a Swiss official says
PHNOM PENH--The Swiss government assistance to Cambodia has included helping the country develop Technical and Vocational Education and Training (TVET) programs both to help people get decent employment and meet the country's demand for specialized workers.
As Markus Buerli, director of the Swiss Agency for Development and Cooperation (SDC), explained during an interview in mid-August, supporting Cambodia's TVET development actually is one of the Swiss government's priorities.
"TVET is one topic that Switzerland is working to promote in many countries where SCD is working including in Cambodia," he said.
Since its office began operation in Cambodia in 2013, the Swiss agency has supported Cambodia's development, focusing on three areas: local governance and citizen participation, agriculture and food security, and skill development and employment.
When asked why technical training programs have received such support from Switzerland, Buerli explained that one of the most important reasons is that Switzerland itself has a dual education system—a success story that can be shared with the rest of the world.
"Of the current youth in Switzerland, there are actually two thirds of them going through vocational training," Buerli said.
Another reason is that there is a gap in technical skills in the country as many young Cambodians continue to leave school and immediately enter the job market without being armed with proper skills or sought-after skills.
"I think this is also the main reason we work here: because we see many people dropping out of school and immediately having to enter the workforce without having the chance to go to university," Buerli stressed.
In view of this situation, TVET can help many Cambodians who are somewhat left behind by the secondary and tertiary education system as it enables them to access a more profitable job market while benefitting the private sector, he said.
"I [also] hear that the private sector is complaining that the workforce lacks basic skills," he said. "So TVET on the one hand is helping the private sector and [on the other] helping people [obtain] more profitable employment."
Buerli is hopeful that, by supporting people who don't have the means to access formal education, this will also play a role in poverty reduction in Cambodia.
From 2013 to 2019, the agency has contributed nearly $92 million to Cambodia, he said, adding that the Swiss government is planning to contribute up to $30 million for the country's development in the coming years.
Swiss assistance over the last few months has also included supporting Cambodia's first online platform for TVET institutions that was officially unveiled early this month to help boost young people's technical skills amid the Novel Coronavirus (COVID-19) pandemic.
Public perception of technical skills remains a challenge
While further promoting training through which people will develop market-oriented technical skills will contribute to Cambodia's future, Buerli noted that there remain issues that need to be dealt with, pointing out that people's perception of technical training is the main challenge.
"This happens in many countries, not only here in Cambodia…the perception that TVET is of secondary value," Buerli said. "This is probably one of biggest challenges."
And yet, as he explained, Switzerland has become one of the richest countries in the world and two thirds of its population opt for TVET training. "It shows that our educated workforces are not only university but also 'practically' educated, and they can very much contribute to the prosperity of the country," he said.
While changing a society's view of TVET may take time, Buerli said that he is optimistic in the case of Cambodia since the country has been working on a campaign to raise awareness regarding the importance and value of TVET.
Pointing out that Prime Minister Hun Sen has designated June 15 as TVET National Day, he said, "[t]his kind of…thing can have the potential of changing this perception and is important."
Supporting Cambodia's hospitality industry through staff training
Switzerland will also provide support for the development of Cambodia's tourism and hospitality sector through funding for training programs, Buerli said.
"One of our programs is hospitality [industry] training, working with workers in hotels and restaurants as well as with managers of hotels and restaurants on how to manage profitable businesses," Buerli said.
On Aug. 10, the Swiss development agency through Swisscontact Cambodia also signed a Memorandum of Understanding with Ministry of Tourism to provide specialized training for young people and workers in the hospitality-industry and tourism sector in five provinces, namely Kratie, Mondulkiri, Preah Vihear, Ratanakiri and Stung Treng provinces.
The tourism sector has a huge potential in Cambodia—despite the fact that it currently is hampered by the pandemic—but additional improvement is required in management and service, Buerli said.
"Tourists coming to Cambodia expect to have a good service: clean rooms, good food and properly managed hotels. And of course, they are also ready to pay for that," he said.


Swisscontact Cambodia also signed a Memorandum of Understanding with Ministry of Tourism to support hospitality development in Cambodia. Photo: Swisscontact Cambodia.

The backbone of Cambodia's growth, tourism has suffered a significant blow from COVID-19. According to ministry of tourism data, the ongoing pandemic has led more than 3,000 hotels, guesthouses, restaurants, massage-spa parlors, karaoke clubs, nightclubs, beer gardens, and tour and travel operators across the country to close temporarily.
The program is being launched in the hope that, once this crisis is over, tourists will come back to Cambodia, and the sector will once again be an important element of Cambodia's economic growth, Buerli said.
The Swiss Agency for Development and Cooperation estimates that around 12,000 underprivileged people and workers as well as more than 900 trainers, staff and managers will benefit from the program.
Related Articles