Takeo Lobster and Shrimp Catches Down due to Environmental Degradation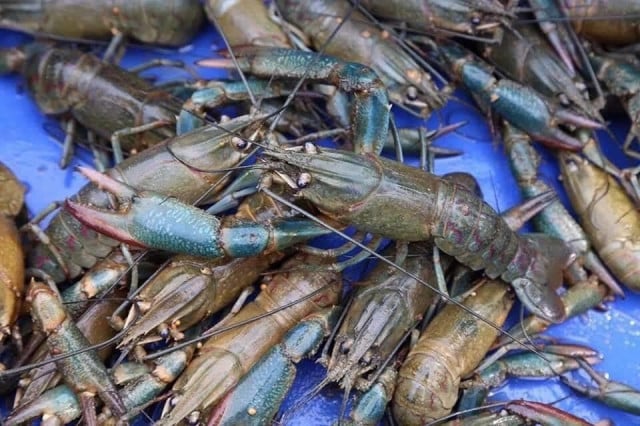 As Takeo Province's floodplains degrade, so too has the livelihoods of lobster and shrimp farmers, according to the Provincial Fisheries Administration.
PHNOM PENH--Officials in Takeo Province on Nov. 11 warned that lower than usual water levels have resulted in decreased freshwater lobster and shrimp catches.
While stressing that the data was not yet complete, Director of the Takeo Provincial Fisheries Administration Sao Kosal said his team have concluded the environmental factors resulting in lower levels of water than previous years are the root cause of the drop in lobster and shrimp production.
"For this year, the fishing season has just started, we have not yet compiled the annual statistics yet, but based on our observations, this year's shrimp production is lower than last year due to the water condition," he said.
Typically, freshwater lobster fishing takes place in Takeo Province's floodplains, notably in Angkor Borei, Bourei Cholsar and Kaoh Andaet districts, with the months of September to November being the best months for fishing. Kosal explained that the province usually catches around 87 tons of lobsters throughout the fishing season that lasts from October to June each year, but that this year has been worse than normal.
He went on to explain that freshwater lobsters are a unique product for Takeo Province and are essential to the livelihoods of fishing communities, but also help bring domestic tourists to the province for the food.
The Fisheries Administration is strengthening and expanding local aquaculture activities related to raising shrimp, frogs and fish, but this year only 10 families remain in the shrimp farming business throughout the entirety of Takeo Province as conditions become less favorable.
The lobsters caught in Takeo Province are typically graded by quality and can sell for anywhere between $25 to $40 per kilogram at the markets.
The Fisheries Administration has organized a fishing community to ensure the sustainability of fishing and the conservation of natural lobster species from extinction and dissemination of the potential of the province's products.
Related Articles