Takeo Military Police Officer Detained on Suspected Drugs Trafficking Charges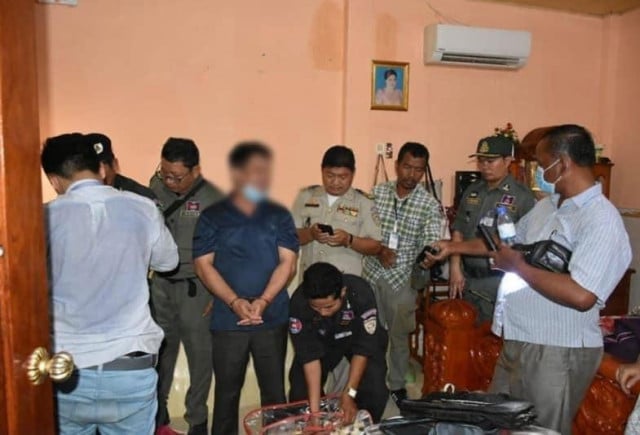 Phoung Vantha
June 8, 2020 11:07 AM
The arrest came following a search of the Military Police officer's home where methamphetamine, marijuana and drug paraphernalia were found.

PHNOM PENH--A Takeo provincial Military Police officer was on Monday (June 8) arrested and sent to Phnom Penh Municipal Court on charges of drugs trafficking. Following a raid on his house, Chhun Somethea and his apparent lover Ken Chanry were found in possession of 2 kilograms of methamphetamine, 8 kilograms of marijuana and two guns.

Phnom Penh Municipal Court prosecutor Kuch Kimlong said that on the afternoon of June 8 the court will hear Somethea and Chanry's case.

Meas Vyrith, secretary-general of the National Authority for Combating Drugs (NACD), said that his organization always reminds law enforcement officers to respect the rule of law and abide by the code of ethics.

"We cannot forgive those officers who think they are above the law, we will handle this case in accordance with Cambodia's drug laws," he said.

On June 4 the pair were arrested at a Sokimex petrol station in the capital's Stung Meanchey commune, in Meanchey district, where authorities found 2 kilograms of methamphetamine in their car.

After questioning the pair, police searched Somethea's house in Tram Kak district's Leay Bor commune in Takeo province and seized three motorcycle license plates, two guns, a weighing scale, and two packages of marijuana weighing 8kg.

Some 60 percent of the near-40,000 Cambodians behind bars are incarcerated on drugs charges, with the number of Cambodians detained for drugs or drugs-related crimes increasing annually.

The NACD has dealt with more than 4,000 cases related to drugs between January and June 2020.


Related Articles