Tea Banh Calls on ASEAN Members to Fight Against Counterfeit Medicine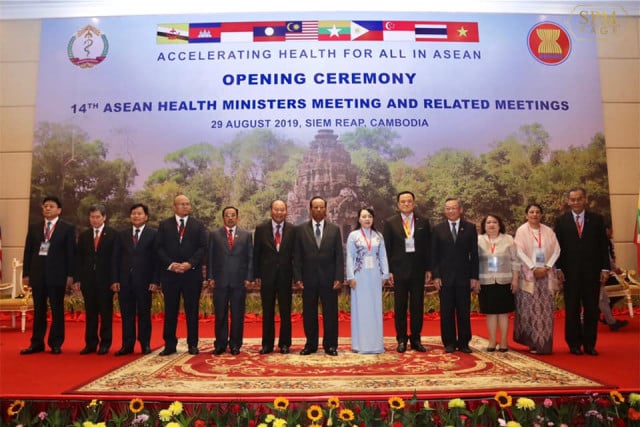 Phoung Vantha
August 29, 2019 10:29 AM
Deputy Prime Minister Tea Banh appealed to ASEAN countries to work together in order to put an end to the counterfeit and below-norm medicine trade in the region and throughout the world.

Speaking Thursday at the 14th ASEAN Health Ministers Meeting taking place in Siem Reap City, Banh said that this trade constitutes a serious issue that all countries face and which affects people's health, social safety as well as economic growth.
"The use of counterfeit and low-quality medicine to treat a disease will cause the disease to become more serious and life threatening," Banh said. "It also affects people's income as well as the state's budget."
Banh, who is also minister of National Defense, explained that illegal-drug brokers use the Internet to sell those unlicensed drugs listed in invalid registries.
Governments' mechanisms to prevent illegal-drug production and distribution have not yet proven effective, he said. However, the dissemination of counterfeit medicine has been limited, he added.
Banh called on ASEAN countries to join force to fight counterfeit and low-quality medicine by strengthening cross-sectoral cooperation, firming legal framework, providing additional training to increase government investigators' capacity, and strengthening good governance mechanisms.
He added that this week's meeting was an opportunity for parties to discuss this issue, provide key inputs and develop action plans to fight counterfeit and substandard medicines—an issue that will be added to the agenda of the 13th Asia-Europe Meeting that Cambodia will host next year.
ASEAN Secretary-General Dato Lim Jock Hoi said that improving the health sector is of major importance for ASEAN people so they can enjoy living in peace and in a climate of positive economic growth.
The 14th ASEAN Health Ministers Meeting focuses on four key issues: combating counterfeit and substandard drugs; ensuring healthcare financing; strengthening capacity to implement the international health regulations of the World Health Organization; and strengthening innovations in healthcare.
The meeting ends Friday.
​
Related Articles