Teacher Battles Disability to Teach Poor Children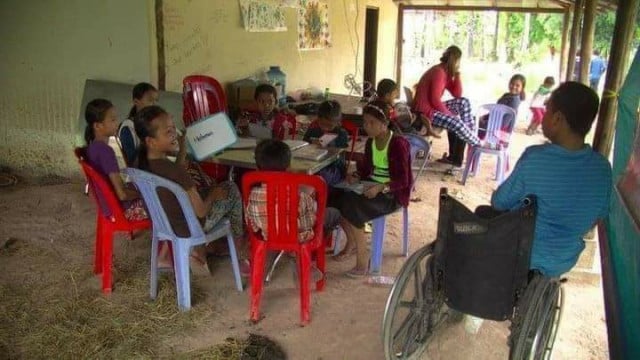 Hardship drives passion to work for society
PHNOM PENH--Despite having both legs paralyzed since birth, Kim Ny has dedicated his life to establishing a free school for poor children in Takeo province.
The program, named "I See I Do", is run in Prey Sbat village in Tram Kak district.
Ny's own story is one of struggles as an orphan, with his disability and with access to education. Diagnosed with osteoporosis at a young age, Ny used to crawl with his hands to school every day.
Later, friends helped by picking him up on their bikes on the way to school. "But then I fell off the bike and my legs got broken, so no one dared take me on their bike after that," he said.
He never gave up on his studies until 10th grade when he had to climb to a higher floor at school to attend class – which was too hard. Ny decided to drop out.
"If I had fallen off the stairs, it could have affected my future," he said.
He completed his studies externally in 1997 and worked at the Cambodian Labor Organization until 2004.
He left after seven years and thought about raising his own family and raising chickens and ducks for sale to make some extra money but he
never thought to stop helping society.
Ny worked with the Maryknoll Organization in Phnom Penh, under the protection program entitled "Little Sprouts" to help children with HIV/AIDs. After resigning from the Maryknoll organization, Ny began helping orphans and poor children, as well teaching English and computer skills.
Wishing to participate more to help society, he did charity work and looked for funds to help older people, children in poverty, people and children with disabilities, homeless people and children who do not get an education.
In 2015, village children and their parents asked him to teach English and computer skills. Understanding the difficulties and poverty of the children, Ny decided to teach them for free.
"When I arrived at my wife's hometown, the village was terribly poor. Therefore, I tried to help them because they, including poor villagers, older people and children, had asked me to – I couldn't refuse," he said.
Ny taught English, computer skills and agriculture, motivated by memories of his own difficult past.
"I want to participate in social work– even though I can't do much to help. I still want to do at least something for my hometown and especially my country," Ny said.
His ambition is to help the next generation become effective members of society.
"I do not want to waste my time by doing nothing," he said. "I should do something useful for the next generation as much as possible.
"On top of that, I want to do good deeds for the afterlife because I was born like this in this lifetime."
"I See I do," the name Ny gave for his school, means "I do what I see necessary without procrastinating".
At the beginning, there were only one wooden flat and a board. Ny sat on a bed teaching as five students sat in circle.
In 2018, the number started increasing. The school now has around 400 students. There are two classrooms, a computer room and a library.
Ny does not teach Khmer literature but welcomes his students' questions.
He says he faces a few challenges when teaching. It is a difficult job, especially with his disability.
"Difficulties are always there because I am disabled," he said. I have to teach English and computer skills alone. Another problem is financial. I have to pay for water, electricity, marker ink, printing paper, materials, tables, chairs, and helping children who lack education."
Regardless of the difficulties, Kim Ny remains courageous because he sees satisfying results.
Some of his students have even returned to help teach the other students, Ny said with pride. Even though teaching many students is tiring, he is motivated to continue by seeing his former students' ability to teach.
"The first motivation is increasing the number of students, because if I do not teach well, their parents will not send them here. The second is getting acknowledgment from parents and guardians," he said.
The third was seeing children walking across fields and riding their bikes for miles to go to study.
Ny gets help from some parents and philanthropists through social media for the school's expenses and the cost of materials for the students.
This is in addition to his own financial contribution while he is also responsible for raising his own children. Despite the cost, Ny stands his ground to teach his students.
Related Articles