Teachers Appeal to Students to Study on Their Own While Schools are Closed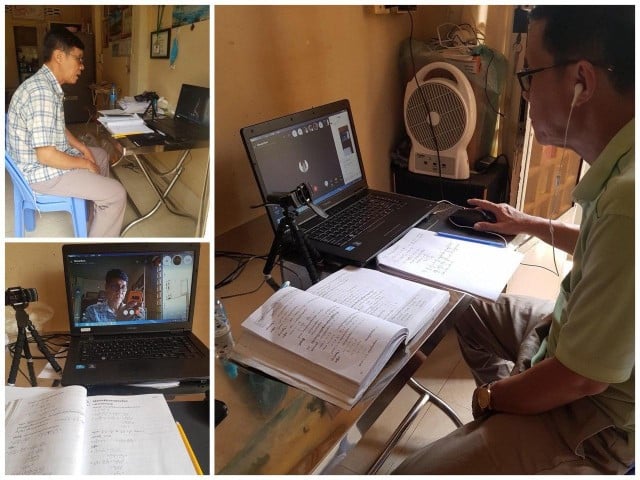 Nhek Sreyleak
April 19, 2020 2:25 AM
They must prepare for exams although they have been postponed, teachers say

PHNOM PENH--With schools ordered closed by the Cambodian government to prevent the spread of the Coronavirus Disease 2019 (COVID-19) and protect students, teachers have called on their students to wisely use their time and self-study so they are ready for their exams when the country returns to normalcy.
Hok Vanhong, who is a mathematics teacher at Hun Sen Phnom Penh Thmey High School, said that students should not take things for granted and stop studying because exams have been delayed. He has created online group studies to help his students learn more effectively during this social-distancing period.
With this online platform, Vanhong said, he can easily send lessons to his students on a regular basis. The students can also communicate and ask questions, he said.
Vanhong has also appealed to parents and guardians to get involved. "Without parents participating and encouraging their children, it is less likely that those students will care about their extra self-studies at home," he said.
In early April, the Ministry of Education, Youth and Sport announced that this year's higher-secondary diploma examinations, which were scheduled to take place between Aug. 3 and Aug. 10, would be postponed until further notice. The higher-secondary baccalaureate examinations, which were to be held Aug. 17 to Sept. 9, have also been postponed.
Seng Yotheara, who is a Khmer literature teacher at the Hun Sen Champouvorn High School, said that she is concerned that students will not study enough on their own now that the exams have been postponed.
"I am afraid that my students will fail the exams if they have not tried hard enough," Yotheara said, to study on their own.
She has been urging students to spend more time self-studying, making herself available online so that students who want to discuss or have questions can reach her.
"All my students: Please be wise in managing your time to review lessons and do exercises," Yotheara said. "You must study hard through self-learning or by following live-stream lessons provided by the Ministry of Education.
"If any of you don't understand a lesson, you can ask through online chat," she added.
Minister of Education Hang Chuon Naron has urged parents and guardians to encourage students to self-study and use virtual-learning courses set up online by the ministry while schools are closed.
As of April 19, the Ministry of Health had confirmed 122 cases of COVID-19. Among them, 105 patients had recovered while the remaining 17 remain in hospital, the ministry said.
Related Articles